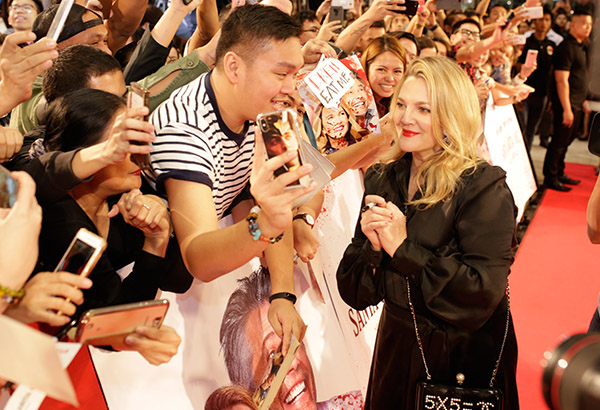 Hollywood star Drew Barrymore taking photos with Filipino fans in Manila on Monday. Nexflix/Released
Drew Barrymore opens up about divorce in Manila visit
MANILA, Philippines — "Happily ever after" seems elusive even to "Ever After" star Drew Barrymore.
Starring in the Netflix original series "Santa Clarita Diet," said Drew, was a "welcome distraction" from what she described as her "worst fear": her divorce from husband Will Kopelman.
The Hollywood sweetheart called it quits with her art consultant husband in 2016, around the same time she first came to the Philippines to study it as a market for her makeup brand.
Last Monday afternoon, the Golden Globe winner spoke with Manila press about her struggles following the end of her three-year marriage, which produced two daughters.
"Entering this show ('Santa Clarita Diet') after the loss of a marriage I thought would last forever and most certainly was my plan, I was happy to engage in a show where a couple can make it work. Because we all know how difficult it is," Drew confessed.
"And the last thing I can ever imagine wanting to sit around is to watch a show about divorce. Now that is not what I want to spend my free time after having gone through that. I like the optimism of a couple that can make it through stuff. I appreciate that. I don't want to watch couples fighting on TV 'cause we have enough of that in real life. No, thank you!"
Functionality, not dysfunctionality
Thanks to the show, Drew said, she has found a "husband who's fun, and cool and tells me when to stop and stuff!"
She is, of course, referring to her husband in the show, Timothy Olyphant.
In "Santa Clarita Diet," Barrymore plays Sheila Hammond, a successful real estate agent and mother in Santa Clarita, California, who leads a perfectly happy life — until one day she wakes up feeling a little well, undead. Despite her hunger for human flesh and a more adventurous life, she tries to carry on and appear normal to the outside world.
Meanwhile, Olyphant plays Joel Hammond, Sheila's high-school sweetheart and husband with whom she shares everything: a career in real estate, a daughter who means the world to them, a picturesque suburban life. After Sheila develops her mysterious condition, he does whatever it takes to keep his family intact.
"I always like to see a couple, like what I said before, that figure it out. Figuring out how to make it work is not always easy, it's not always pleasant…It can be very confusing. But I like that they've always come up with solutions, even if they're opposing sides from each other. There's like a diplomacy in their love that I like watching on the show," Drew said on how she admires Sheila and Joel's strong relationship.
"So, I was really into Joel and Shiela's capability. I wanted to focus and watch functionality, not dysfunctionality," said Drew.
Season 2
The season two of "Santa Clarita Diet" finds the Hammonds trying to adapt to Sheila's now-advanced undead state. Unfortunately, while the family has become markedly better at murder, the number of missing people in Santa Clarita is starting to pile up and it is no longer going unnoticed. Meanwhile, the Hammonds are chasing the source of the virus, so they can stop it from spreading and save humanity. Through it all, Sheila and Joel are grounded by their unconditional love for one another.
For Drew, "Santa Clarita Diet's" second season is as good, if not better, than season one.
"It's fun to come back to a character I've played before. Other than like 'Charlie's Angels 2,' I've never gone back to an old character. Usually you're done and that's it. It's new for me. I like it," Drew said of her character, Sheila.
"I love what we're doing. I feel very lucky to get this job, honestly. Great jobs are not falling from the sky."
For Timothy, the show found its voice in season 2. "Its storytelling got more confidence," he said. "I think we have raised the drama this year…and I love it!"
RELATED: Drew Barrymore, Timothy Olyphant share fond Philippine memories