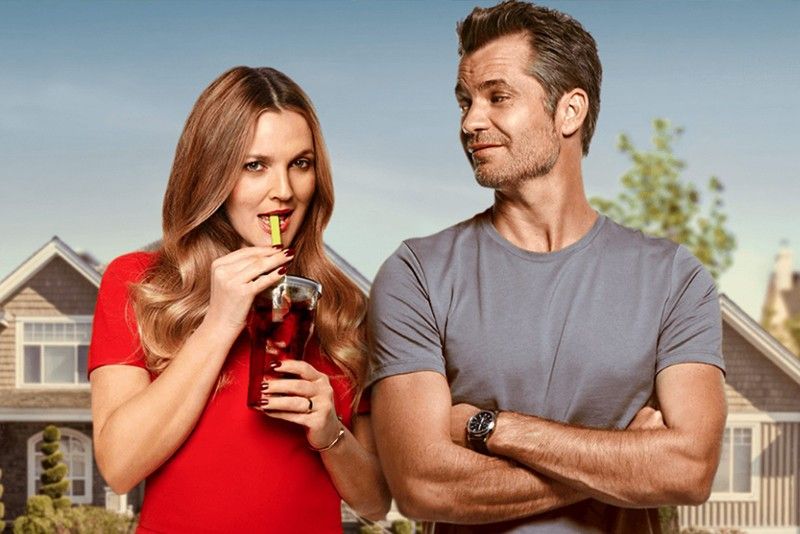 Santa Clarita Diet (also starring Timothy Olyphant) is one of the most popular Netflix series because of the comedic elements of the show combined with the delicious joy of unraveling the mystery at the center of the story.
Why Drew finds her Santa Clarita Diet role 'liberating'
Raymond Lo
(The Philippine Star) - March 12, 2018 - 12:00am
MANILA, Philippines — Drew Barrymore introduced us to her two kids, Douglas and Lucy, during our 30-minute interview last October at the Santa Clarita set of her hit Netflix series Santa Clarita Diet. This writer met with the cast and crew of the series during the visit. On the day we visited, they were filming a pivotal scene for season two of the series, which starts streaming on March 23 worldwide.
Douglas and Lucy are Drew's dogs — and they were adorable! Their panting could be heard when I playback my recording of the interview.
"Douglas, I would bring on the set but he's more high-strung," Drew, who was made up as her series character Sheila Hammond, said after our hellos with her and her co-star Timothy Olyphant. Tim, like us, was also gushing over the dogs.
Earlier, our group of journalists was taken on a tour of the Hammond house. We got to see the master's bedroom as well as Abby's. We had a peek of the garden where the ghoulish pilot episode was shot. We were shown the costumes used in the series as well as the eerie, almost real human cadaver props (one of whom resembled an actor we cannot reveal because it will be one big surprise in season two!)
Later, we watched Drew and Tim film a scene in the kitchen. In the scene, they were arguing about some "prop." Tim was directing the scene that day and surprisingly they don't yell "Cut!" anymore in between takes! The actors just continue on until the desired scene has been achieved.
The fluidity in filming somewhat resonated during our interview when Tim, who plays Joel Hammond, described how season two is like compared to the first season. "Now, we're done with the set-up and we just really had a blast," he said.
"Yeah, it's like the first one is a diet; the second one maybe more like a lifestyle," Drew added.
Picking up right where season one left off, the new season finds the Hammonds trying to adapt to Sheila's now-advanced undead state — even though she's desperately working to hold on to her suburban lifestyle and not be defined as just another monster. Season two promises to also provide some insight on the real nature of Sheila's deadly affliction.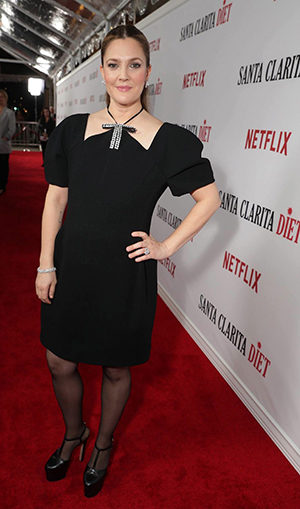 —Photo from Netflix's Facebook page
"I think they know what the mission is now," Drew hinted as to what their characters are up to this season. Returning also this season are Liv Hewson (who plays their daughter Abby) and Skyler Gisondo (who portrays Eric, the next door kid who is a big zombie nerd.)
"They, kind of, know what their boundaries are. If they are victims of this — they are not cannibals; this isn't by choice… and while they have to kill and eat, they're going to get rid of the scum!"
But is season two going to start answering questions why Sheila's character was infected? Was she targeted? Was it truly an accident? Was it a mistake?
Understandably, to keep the series spoiler-free, the reply this writer got from Drew was cryptic at best. "I work with a lot of logic-driven people and I always appreciate payoff and logic and you have to have that kind of diligence in storytelling but I am glad that it doesn't feel procedural in a way of, yes, there's a lot more revealed than answered but it still always feels fun and life is moving forward and the mystery is always exciting when you are learning things."
"That being said, we do get to the bottom to how this happened this year," Tim added, trying his best to supply answers to what many fans of the series have been clamoring after season one ended on a promise of a juicy twist to the story. But he cautioned that there would still be plenty of problems. "We solved the problem but we do uncover the source of the problem."
Santa Clarita Diet is one of the most popular Netflix series because of the comedic elements of the show combined with the delicious joy of unraveling the mystery at the center of the story that is rolled out in a manner that keeps the show more delightful rather than procedural.
"At the end of the day, it's about the family," Tim said. "It's about the relationships, it's about the extended family because Eric is a big part of our family in a lot of ways, specially after we killed and ate his stepfather… The relationships and the love and the bickering that come through. It's always been juggled at the same time."
Tim observed that one of the reasons the show has been received so well all over the world is because it's not a show very specific about the culture in Santa Clarita but rather it's about the universal nature of family and relationships.
For Drew, what she likes about the series is that it highlights the injustices or the frustrations, big or small, in one's daily life. "I like that it has those elements. It's what makes it feel more day-to-day than this sort of unrealistic… zombies, hopefully, are unrealistic."
She added that she likes the mundane daily family stuff — and the fact that her character is a realtor brings her joy as well. Just don't make the mistake of calling Drew's character a cannibal or she would quickly correct you. "I am not a cannibal. No, she's a zombie — it's very different. Cannibals kill by choice because they are a**holes and zombies kill because they can't help it. It's what happened to them."
Drew confided that her character has been so liberating that she sometimes feel like Sheila get under her skin sometimes. She related an incident that happened a few days before our set visit when she felt like she almost lost control of herself. And all because, the box-office guy wouldn't let her into a cinema telling Drew she was late when she technically wasn't!
"I had to walk away from a situation this weekend. I said I am going to Sheila out on this guy! I drove home just so pissed," she told us laughing. "He said I was late to a movie and he wouldn't let me in. And I was like, 'But it's in previews!' I don't want to see the previews, I just came to see the movie and he wouldn't let me in and I drove home really angry."
The Sheila inside her had fantasies of leaping across the table and grabbing the guy by the lapel and eating his face off. "But that's not the right thing to do, obviously, but I find her empowering. I always say she, like, woke me up. Obviously, this is all play. It's a TV show; none of it is real. I just think that in the make-believe world, she has given me so much in my actual real life."
Related video: