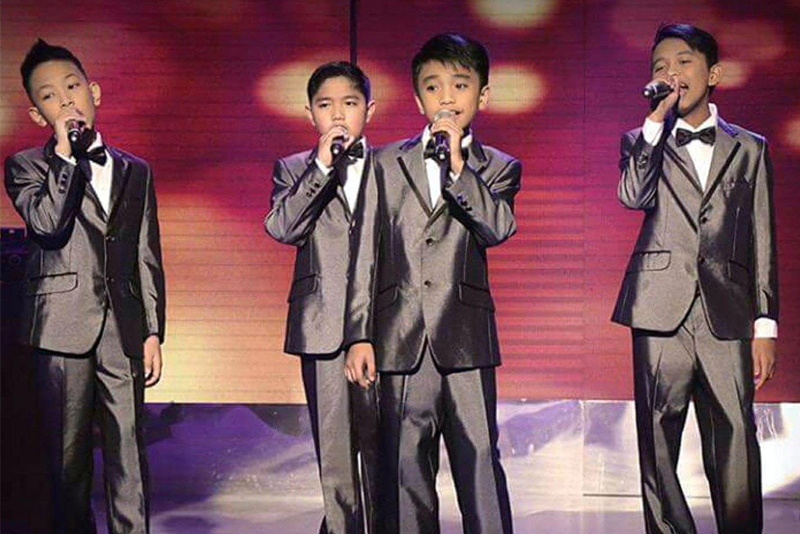 Making up the all-male quartet are Joshua Torino, Joshua Lumbao, Francis Aglabtin and Benedict Aboyme—Photo from Broadway Boys Facebook page
MANILA, Philippines — Boys barely in their teens and singing old songs can be unthinkable. Yet, that is the peg for the creation of television's newest singing group, Broadway Boys. The young, all-male quartet easily surprises, delights and readily impresses their audience when they render mature songs much older than their parents.
They are not products of a popular Broadway musical. They were named Broadway Boys for the simple reason that the group was hatched inside Broadway Centrum, the studio of GMA 7's long-running noontime show, Eat, Bulaga.
Making up Broadway Boys are Joshua Torino, Joshua Lumbao, Francis Aglabtin and Benedict Aboyme. They are winners in Eat Bulaga's Lola's Playlist singing contest, where they dished out old songs — from Matt Monroe, Nat King Cole and Elvis Presley to Basil Valdez and Nonoy Zuñiga.
Francis was the ultimate champion of Lola's Playlist. Hence, he is the most recognized and most popular among the four Broadway Boys today. The group performs live every Saturday in Eat, Bulaga, where they get to do musical numbers with the country's top recording artists, then and now.
Every week, the young boys are subjected to challenges with the music legends and they get to sing in different genres. Yet, they impress even mature performers who commend them for being professionals and always coming prepared even to rehearsals.
To date, the boys got to perform with top OPM artists such as Kuh Ledesma, Lani Misalucha, Celeste Legaspi and sing the signature hits of Rico J. Puno, Marco Sison, Hajji Alejandro, Anthony Castelo, Nonoy, Raymond Lauchengco, Arnel Pineda, Jun Polistico, Imelda Papin, Claire de la Fuente, Regine Velasquez, The CompanY, The Boyfriends, Freddie Aguilar, Dingdong Avanzado and Jessa Zaragoza.
The Broadway Boys also shared the stage with foreign artist John Ford Coley, during the singer's visit to Manila last year. John Ford charted such memorable hits as I'd Really Love To See You Tonight, It's Sad To Belong (To Someone Else), We'll Never Have To Say Goodbye Again and Just Tell Me You Love Me.
The young boys also performed with Eat, Bulaga's Tito, Vic and Joey, as well as homegrown talents Alden Richards and Maine Mendoza in AlDub's second anniversary, sang the hits of the late Francis Magalona and even belted out the signature songs of Aegis and Asin (with soloist Lolita Carbon).
Recently, the Broadway Boys rendered their first original single, Nag-iisa, an inspirational song penned by Sen. Tito Sotto. "I was thinking, they are still too young to sing love songs, so instead, I wrote an inspirational Tagalog song for them," the senator said.
It is understandable that the Broadway Boys had to seriously learn their songs before performing live. They were not even specks in their mother's wombs when the ditties became popular.
They are elated that they got to sing with such female belters as Radha Cuadrado, Ima Castro, Frenchie Dy and Bituin Escalante. With the all-female group Fourth Impact from UK's X Factor, the boys crooned Celine Dion hits — It's All Coming Back To Me Now, Because You Loved Me, To Love You More and My Heart Will Go On.
The Broadway Boys also leveled their voices and sang the hits of The Beatles — Yesterday, I Wanna Hold Your Hand, Hard Day's Night, Get Back, Hey, Jude, All You Need Is Love — with Paolo Santos, Top Suzara and Luke Mejares. Then, too, the boys performed with Joey Generoso, Jett Pangan, Wency Cornejo and the husband-and-wife tandem of Robert Seña and Isay Alvarez.
It's not surprising that the Broadway Boys have successfully established their fan base that loyally supports them. They are bound to be a bigger musical act, not just because they are in Eat, Bulaga. The boys have just started their steady ascent in the local entertainment scene.