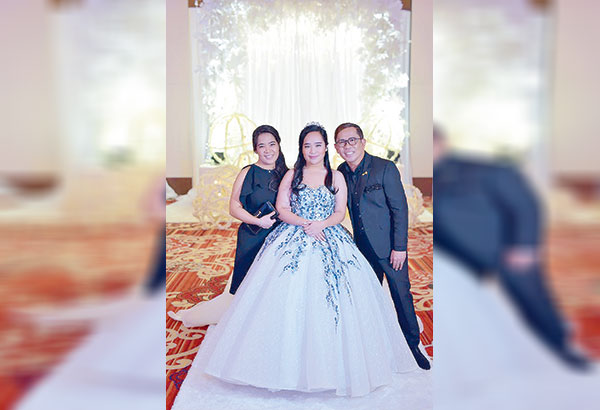 Ruel 'Ahwel' Paz with wife Ma. Theresa San Juan and their only daughter Mary Elijah. 'They are my biggest blessing,' says Ahwel
FUNFARE
-
Ricky Lo
(The Philippine Star) - January 3, 2018 - 12:00am
I thought I knew Ahwel Paz enough through occasional encounters in showbiz coverage and by regularly listening to his dzMM program Show Buzz (formerly Mismo, weeknights 10:30 to 11 o'clock) with Jobert Sucaldito (who calls Ahwel "The lovable...").
Well, not until I tuned in by chance on Niña Corpuz's early afternoon program (also on dzMM) Good Vibe three days before 2017 drifted away. After the show, I told Ahwel that "destiny" led me to Niña's show. I was pressing 2-0 on the remote control for CNN but my finger accidentally touched 5 instead of zero and there was Ahwel as Niña's guest talking, I initially thought, showbiz. Instead, Niña asked about Ahwel's struggle that happily led to where he is now, an inspiration to those born not with a "silver" but an often-empty spoon in their mouths. Life is what we make it and Ahwel showed Niña and her viewers how.
Born Ruel Paz at the corner of Simoun and Algeciras Streets in Sampaloc, Manila, Ahwel is the youngest in a brood of five. His mom, Leonida Paz (a Kapampangan, called Aling Nanay Manok for her specialty), was a familiar sight hawking a bayong-ful of food items (chicken, relyeno, halayang ube, etc.) around Escolta, Quiapo and Jones Bridge.
"I was 10 years old when I started helping Nanay manage a carinderia along Nueva St.," related Ahwel. That's the same street where Holland Bakery is, which sells all kinds of hopia and other Chinese goodies. "We five siblings were going to school kaya nahihirapan si Nanay. Si Tatay (Renato Paz), a tindero at Quinta Market, was giving minimal support."
Today, Ahwel owns not just a carinderia but a restaurant called Dong Juan on #71 Mother Ignacia corner Scout Reyes Sts., (Quezon City, right across from St. Mary's College; call landline 374-0265 for inquiries) in the house used to be owned by Cecile Reyes-Medina, granddaughter of Severino Reyes (the Father of Tagalog Zarzuela.
They say that poverty is the best drive for a person to strive — you know, success is one percent inspiration and 99 percent perspiration.
An achiever, graduated valedictorian from the Juan Sumulong Elementary School, salutatorian from the Ramon Magsaysay (España branch) High School and cum laude with a bachelor's degree in International Studies from Miriam (then Maryknoll) College on a State Scholarship Program of former Pres. Cory Aquino. (Ahwel excelled in declamation, oratorical and storytelling contests. During college, he spoke at an event in Norway and, after Ahwel delivered a speech, somebody from the Ministry of Denmark was so impressed that he offered Ahwel scholarship.)
A day before the opening of classes, the Paz family went to bed with empty stomachs.
"There wasn't a morsel of food in the house. I will never forget that date…May 28, 1989. I thought I would miss my first day in college."
Just like Vivien Leigh as Scarlett O'Hara in Gone With The Wind (GWTW), Ahwel vowed with a vengeance, "I will never be hungry again."
And he and his family never did, waking up every day to the smell of fried garlic and onions. "Pang-gising sa umaga," Ahwel put it.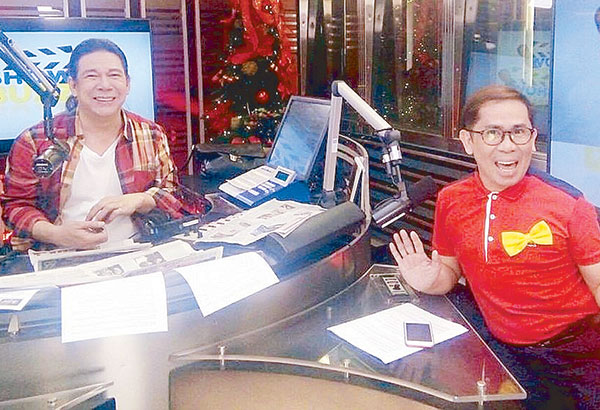 (shown left with Jobert Sulcadito, his co-host on the dzMM program Show Buzz, 10:30 to 11 weeknights).
On his first day in college, Ahwel made the class laugh when the aroma of his baon (fried chicken) filled the air-conditioned room.
"So I made friends with the janitors and the utility staff who also brought baon every day and we would eat together. It took time before I learned how to order fast food and that was during the first semester when I got my scholarship allowance," adding with a good-natured laugh, I ate only one half of the hamburger and I brought home to Nanay the other half, including the sundae na nalusaw na."
Besides Lea Salonga (especially when she started winning awards both here and abroad), Ahwel's inspiration is his mother ("Ang taga-gabay at taga-boost"). When a fire broke out in their neighborhood, the first and only things that his Nanay saved were his medals and trophies.
That's why Ahwel thought of ILMF (I Love My Family) as his "battle cry" with which he ends his dzMM program with Jobert. Last Dec. 23, ILMF held its annual gift-giving among the street children and the needy in the community. Part of the dzMM Caravan is also Ahwel's way of giving back.
"Prayer is a big help," said Ahwel. "Ask and you shall receive…"
One time, a friend needed P50,000 for his hospital bill. Ahwel has set aside some amount for an important family need, and was about to give it to his friend when there was what he described as "divine intervention."
"I prayed very hard," recalled Ahwel, a Marian devotee (who had dreamed of entering the seminary), "I stormed the gates of heaven, so to speak…bless me, Lord, and make me an instrument of Your blessing. And there was an answer. An angel came to my rescue and his name was Coco Martin. He held a raffle among movie writers and, guess what, I won the P100,000 grand prize!" He got the needed amount and he raffled off the rest.
With his youth group, Ahwel led the construction of an Our Lady of Fatima Chapel.
But what Ahwel considers his biggest blessing is his family, wife Ma. Theresa San Juan and their debutante (only) daughter Mary Elijah.
(E-mail reactions at entphilstar@yahoo.com. For more updates, photos and videos, visit www.philstar.com/funfare or follow me on Instagram @therealrickylo.)