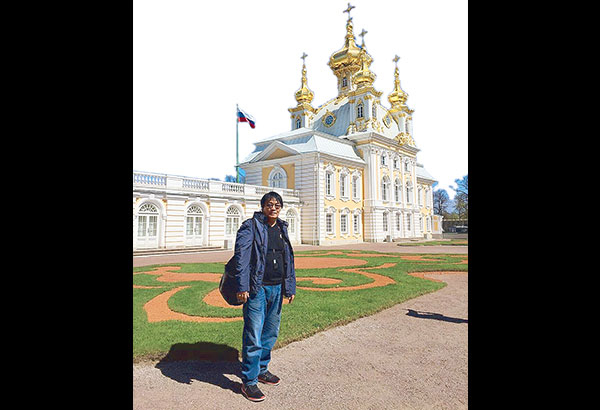 Boy So at the Church of the Grand Palace, Peterhof, Russia
Around the world with Boy So
He owns a resort, the famous La Carmela Resort and Hotel in Boracay Island. And he knows that every traveler must be served well. He has also become an expert, happy traveler, going out of the country, at least twice a year. Those are the only times when he can rest, bond with his family and leave business matters behind.
Boy So of La Carmela has been in the resort and hotel business for the longest time. He is one of the pioneering businessmen who had the foresight to set up business at the world famous Boracay Island when Boracay was not yet on the world travel map.
La Carmela de Boracay Resort and Hotel has expanded, adding more buildings to the old one, but still in Station 2 of the island. It has also become a favorite among celebrities to stay in. Local and foreign tourists also flock to the resort/hotel, the whole year round.
"I know the feel of a traveler, lalo na yung pamilyang nagbibiyahe at namamasyal. I make my observations. Ang nasa isip ko lagi, to make them feel at home while away from home." He sees to it that his staff attends to every visitor in the best way he can. "People always come back if you serve and treat them well."
Since he is in a service-oriented business, Boy sends his people to training sessions and seminars, and updates them on the latest in the hotel and resort business. He also imparts to them, what he has learned and observed during his many travels abroad.
In May of this year, Boy and his family went to the Baltic States. And in October also this year, it was Los Angeles they visited. He spent a good two weeks in both places. The twice a year out of the country trips are a way for him to recharge his energies. During his visit to Los Angeles, Boy and his family went on a road trip, riding on a bus like ordinary tourists, doing away with air travel. The bus ride brought them from Los Angeles to Philadelphia, Maryland, Washington DC, New York and Niagara Falls. In those trips, he and his family made stops at the Hershey's factory, enjoyed the views of countryside, went on water rafting at Niagara Falls. "Sinubukan namin ang iba pang rides sa Niagara Falls. Maganda dun, parang speed boat ang gamit sa water rafting," he recalls.
Boy travels ordinary, books in mid-range hotel and mingles with people. He even joins group tours. "Gusto ko yung sabay kayo sa ordinaryong tao, hindi kayo kilala, yung simple lang, mas enjoy ako sa ganoon."
It is usually him, his wife Loi, only daughter Carmela, his brother Bebot and his wife, Ada. "Every year, ganun kami lagi mag-bonding."
The Baltic States cruise last May brought them to Copenhagen, Berlin, Estonia, St. Petersburg, Stockholm and Helsinki.
They also went on a side trip to Paris and London. "Medyo nakakapagod lang kasi nauna yung cruise before our air travel. Sa susunod baliktarin naman namin," he reflects. Boy also takes notes of his travels, the important and useful ones, he tries to use in his business. He also brings with him souvenirs of the places he goes to.
In Copenhagen, he says, people love going out. "Simple lang. They drink, walang pulutan." In St. Petersburg, Russia, he says people are just different. "Parang even the tourist guide can't really openly speak."
Pubs in Denmark according to him, look like houses but what is good about them is they brew their own beer.
Boy says that he shops only in the place where he is set to take off for home. Like when he was on tour in the US last October. He and his family stayed in L.A., his favorite city in the US because "parang Baguio lang. Mainit sa araw, malamig sa gabi. We went to Philadelphia, Maryland, Washington and New York and only bought ref magnets."
An expert traveler, Boy says he is not a heavy packer, instead, always traveling light. "Pag papunta, very light pag pauwi na tsaka heavy. He also shares some expert travel tips: Pack light, eat what the locals eat, observe what they do, keep an open mind, never expect too much, smile and enjoy.
Boy and his family are already booked for their Mediterranean trip next year. He and his family will be visiting France, Italy, Spain, among other places during their 20 days sojourn.