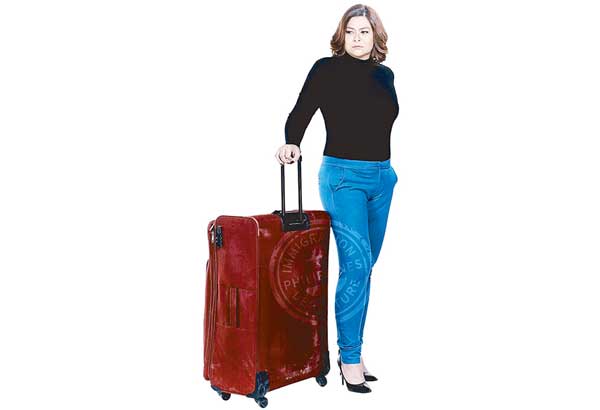 Aiko as an OFW in Singapore
Aiko: No putting up a front
FUNFARE
-
Ricky Lo
(The Philippine Star) - October 8, 2017 - 4:00pm
Curtain-raisers:
From Tempo's Ronald Constantino: I believe that entertainment awards and beauty pageants can't be stopped even if they are a dime a dozen. Perhaps they can be regulated. I believe that Miss Earth is now a major pageant along with those for Universe, World and International.
Zsa Zsa Padilla (when asked if she and her beloved Conrad Onglao have any plan to have a kid together): "Sarado na ang factory. I have three daughters and they are enough. Didn't I harvest my eggs for deposit in a bank? No, I did not. There was no need to." But Ai-Ai delas Alas, her co-star in Bes and the Beshies, who is now also into her 50s, said that hers were deposited in the bank. She and fiancé Gerald Sibayan plan to have a baby after their wedding in December.
Could it be true that a sexy actress has "something" more than just workout with her gym trainer who, according to a Funfare DPA, is macho ("Kasi nga trainer, eh!") and quite a looker. The DPA didn't say if the actress is married or has a boyfriend. All he said was, "When the cat is away…"
* * *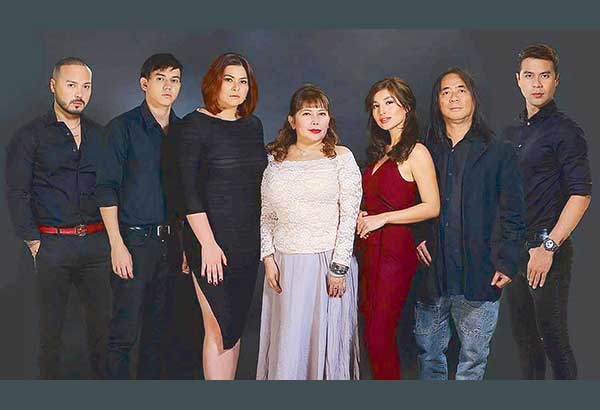 Aiko Melendez (third from left) with the Balatkayo team (from left): Polo Ravales, newcomer James Robert, producer Baby Go, Nathalie Hart, director Neal 'Buboy' Tan and Rico Barrera
As Funfare has been saying, besides being "happily loveless (and celibate)," Aiko Melendez has acquired a positive outlook since she became a member of the Victory Christian Fellowship. No more emotional baggage, according to Aiko, that's why she's traveling through life, with her time devoted to work and her children Andre (by ex-husband Jomari Yllana) and Marthena (by ex-husband Martin Jickain).
So when she and Ara Mina met at the recent wake for movie writer Rommel Placente's father, it was Aiko who approached Ara and offered the peace sign, thus bridging the 10-plus-year gap between them created when they both fell for the same men — with Ara having an affair first with Jomari and then with Bulacan (Bulacan) Vice Mayor Patrick Meneses after Aiko broke up with both men.
"No mention about the past," said Aiko. "Basta, move on na lang…in God's good time. Sa patay kami nagkita at may nabuhay sa aming dalawa."
Because the title of her new movie is Balatkayo (opening nationwide on Wednesday, Oct. 11), Aiko is being teased that the reconciliation (pagbabati with Ara) was mere putting up a front.
"It was for real," insisted Aiko. "She even showed me a picture of her kid (with Patrick) whose birthday is Dec. 17. Biniro ko pa nga siya, eh. I told her, 'Mahal mo talaga ako kasi pati birthday ng anak mo isinunod mo sa birthday ko.' We just laughed about it."
Produced by Baby Go's BG Productions International (distributed by Regal Films) and directed by Neal "Buboy" Tan from a story by Jason Paul Laxamana (who wrote and directed the hit movie 100 Tula Para Kay Stella), Balatkayo also stars Polo Ravales, Nathalie Hart, Rico Barrera and newcomer James Robert. The story is about a dysfunctional family inspired by the spate of sex scandals involving not only celebrities but also ordinary citizens.
"I play an OFW who works in Singapore, separated from my husband (Polo) who works in Dubai," related Aiko. "My character has an illicit relationship with an OFW (Rico) and Polo's character with another OFW (Nathalie). I am forced to come home when our son (James) gets involved in a sex video that goes viral."
Said co-producer Dennis Evangelista, "I admire James who agreed to do frontal nudity, kasi nga nasa sex video ang character niya. He's very professional for a newcomer."
As part of her preparation for the role, Aiko was told to watch the sex video of a comedian.
"I couldn't take it," Aiko squirmed. "After a few seconds, I stopped watching na."
Asked what lesson people can learn from the movie, Aiko said, "Working abroad can do your family harm, so it's a choice between your family and money which you want to make abroad to give your family a good future, but in the process your family can fall apart."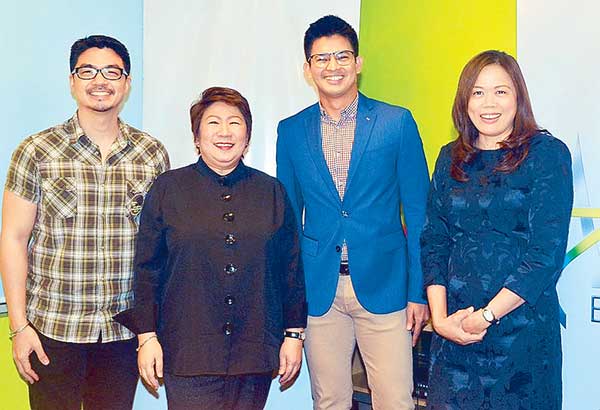 Jason Abalos during the contract-signing with (from left) Simoun Ferrer (GMA assistant VP for talent managing and marketing), Lilybeth Rasonable (senior VP for Entertainment), and Gigi Santiago-Lara (senior assistant VP for alternative productions)
Jason Abalos is now a Kapuso
The "musical chairs" in showbiz continues, with Kapuso stars jumping ober da bakod to the Kapamilya camp, and vice-versa.
The latest to join the game was Jason Abalos who has signed a five-year management contract with the GMA talent arm.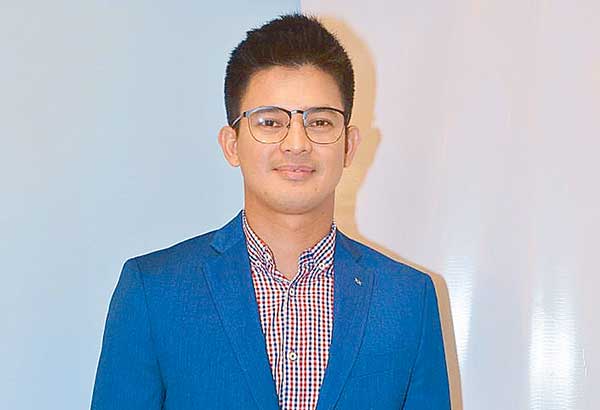 "I want to try roles that I haven't done before," said Jason (whose first girlfriend, Bela Padilla, was formerly with GMA and is now with ABS-CBN). "I want to explore and learn more as an actor."
(E-mail reactions at entphilstar@yahoo.com. For more updates, photos and videos, visit www.philstar.com/funfare or follow me on Instagram @therealrickylo.)