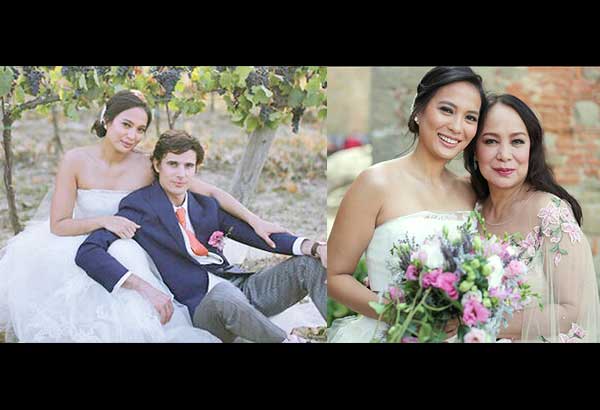 Isabelle Daza and Adrien Semblat during their September 2016 wedding in Italy. Right: Isabelle with mom Gloria Diaz. – Photos from Isabelle's Instagram
• Gloria a lola for 4th time
FUNFARE
-
Ricky Lo
(The Philippine Star) - September 18, 2017 - 4:00pm
CONFIRMED: Isabelle Daza is infanticipating for her and husband Adrien Semblat's first child, a year after they got married in Italy.
"Belle is always very sleepy," her mom Gloria Diaz told Funfare. "She's in a relax chill mode all day and eats practically only fruits."
By June next year when she gives birth, Isabelle will make Gloria a lola four times over. Gloria's son Raphael has three children with her girlfriend. "They are not married yet," added Gloria whose other daughter Ava is still single.
It's a pity that Bong Daza won't be around to cuddle his fourth apo. He died last year, barely two months before Isabelle and Adrien's wedding in which Bong's bosom buddy former Sen. Bongbong Marcos gave the bride away.
Isabelle is one of the so-called "It Girls" together with Solenn Heussaff and Georgina Wilson who got married ahead of Isabelle to Nico Bolzico (Solenn) and Arthur Burnand (Georgina). A first cousin of Isabelle, Georgina beat her "It" colleagues to the maternity ward. She delivered a baby boy early this year.
After the wedding, Isabelle took an indefinite leave from showbiz (last seen in the Kapamilya soap Tubig at Langis). The couple lives in the Philippines where he works as head of Adidas Philippines.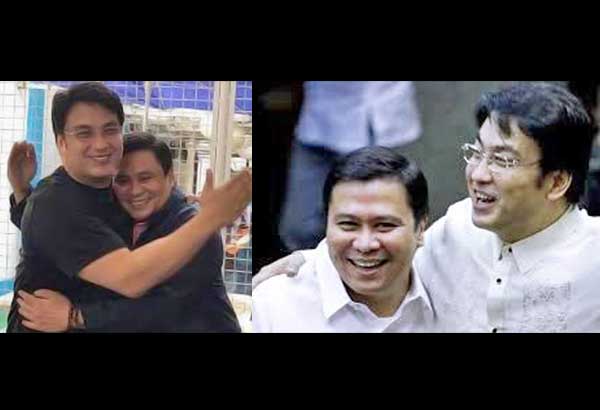 Former Sen. Jinggoy Estrada hugs fellow detainee former Sen. Bong Revilla before leaving the Camp Crame detention cell last Saturday. Right: File photo shows the cellmates during 'freer' times.
• Jinggoy's 1st act as free man
* * *
Guess what former Sen. Jinggoy Estrada did the morning after he was freed on a P1.3M bail after four years in detention at Camp Crame ­— yes, he went back to his "old home" not to stay but to visit ex-fellow detainee, former Sen. Bong Revilla.
Asked what he brought Bong, Jinggoy said, "Sugpo! Bong's favorite."
Like every visitor (no exception) at Camp Crame, Jinggoy was asked to sign in, state purpose of visit and name of the detainee being visited, duration of visit, leave an ID with the guard at entrance, frisked by another guard and surrender his celfone. With a "Visitor" ID clipped to his breast pocket, Jinggoy proceeded to the cell...with a big "I'm back!" smile...where he was met with a tight embrace by a slightly teary-eyed Bong (who is celebrating his 51st birthday on Monday, Sept. 25).
Upon Jinggoy's release, Bong posted on social media a kilometric "emo" piece, saying all he has now for company were cockroaches and rats. Asked if he missed the cockroaches (ipis), Jinggoy squirmed, "Yuck!!!" Cockroaches are his pet peeves.
"I will miss Jinggoy not only for his kakulitan (playfulness) but his company," Bong texted Funfare. "For four years, we shared breakfast together. Now, I'm having breakfast alone."
Jinggoy once told Funfare that the hardest part of "being inside" was the goodbyes from family and friends after visiting. "Naiiyak ako," admitted Jinggoy, "so I just turned away and not look at them disappear at the corner. I'm sure Bong feels the same way."
Did Bong look away (to hide tears) as Jinggoy bade him goodbye (see you "outside" soon) that Sunday afternoon? Did the sugpo lessen the pinch of (temporary) goodbyes? Did the cockroaches and rats shed a tear of farewell?
Who will be Bong's next cellmate (if ever)?
Jinggoy told reporters upon his release that he would go nationwide to thank his supporters.
Asked what else were his short-listed plans (will he run again and resume his rudely-interrupted showbiz career?) now that he's free again (as the song goes, "free again, lucky, lucky me free again..."), Jinggoy laughed.
"Lose the 20 lbs. that I gained. Go on a diet and work out."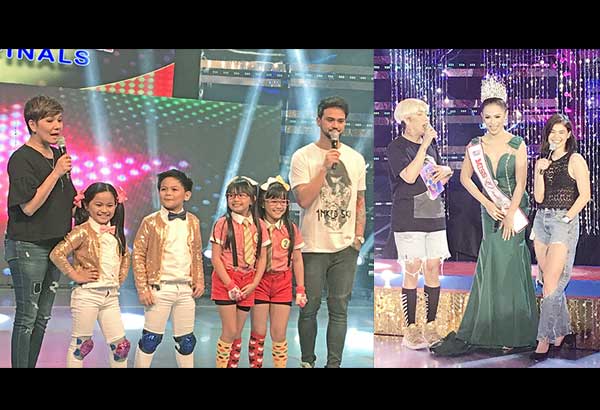 Left: Amy Perez and Billy Crawford host the Idol Kids segment of It's Showtime while (right) Vice Ganda and Anne Curtis (with reigning 'queen') ham it up on the show's Miss Q&A segment.
PHOTOS BY RAINIER LO
• The Vice-Anne chemistry
* * *
My nephew Raymond de Asis Lo (this paper's Hollywood correspondent) was here for a two-week homecoming from L.A. (purposely to attend the fiesta in our hometown Las Navas, Northern Samar, last Sept. 8, birthday of Mama Mary) and his wish to watch It's Showtime "live" was readily granted by Kapamilya PR boss Kane Errol Choa (who writes the Kapamilya Day column in this section).
"It's Showtime is very popular among our group in L.A. and we never fail to watch it on YouTube," Raymond told Kane. "Our favorite segment is Miss Q&A. Sumasakit ang tiyan namin sa katatawa. Ang galing makawala ng stress."
In that segment, gays in colorful costumes compete with gusto, gamely answering questions as out-of-this-world as their make-up and acquitting themselves with witty answers capped with a chin-up "I thank you."
The segment is made more exciting by hosts Vice Ganda and Anne Curtis who clown around and engage in lively repartee, much to the delight of the studio (and, I presume, home) audience who cheer them right on! Like their co-hosts Amy Perez and Billy Crawford (for the Idol Kids segment), Vice and Anne have a magical chemistry that sustains the three-hour-and-a-half show that successfully recovered from the AlDub (of Eat, Bulaga!) avalanche when it introduced the Tawag ng Tanghalan segment (also hosted by Vice and Anne with equally witty/humorous twin punches). Vice and Anne are so hilariously, insanely and riotously entertaining/thrilling/exciting that, why not, they should have a talk show to be called, yes, Talak.y.Talk (Oops! I just copyrighted that title, haha!!!).
Thanks to Miss Q&A, my nephew Raymond flew back to L.A. laughing on his Cathay Pacific economy seat. His friends must be turning green with envy that I won't be surprised if they rush home to watch It's Showtime "live!"
Sa uulitin, Sir Kane, ha.
(E-mail reactions at entphilstar@yahoo.com. For more updates, photos and videos, visit www.philstar.com/funfare or follow me on Instagram @therealrickylo.)