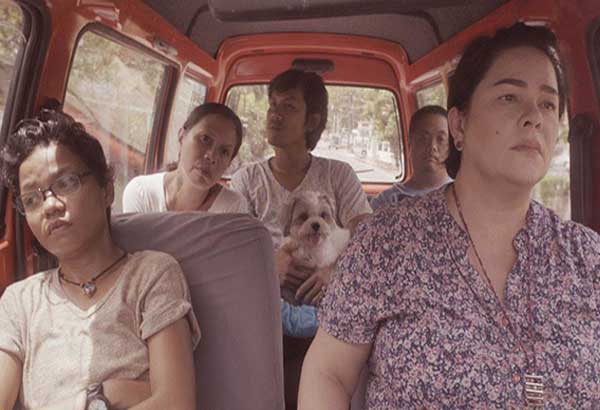 Jaclyn Jose (rightmost) leads the cast of the Cebuano road-trip comedy Patay na si Hesus including (from left) Chai Fonacier, Mailes Kanapi, Melde Montañez and Vincent Viado — Photos from the film's Facebook page
Eat, 'cray,' laugh with Patay na si Hesus
MANILA, Philippines - Patay na si Hesus pulls you along on a road trip loaded with endearingly "cray-cray" characters, outrageously LOL scenes and an inter-island itinerary of sights and eats.
In the film, single mom and food vendor Iyay (Jaclyn Jose) learns that her ex-husband has died. She forces her indifferent children — eldest Hubert (Vincent Viado) who has Down Syndrome, only daughter-turned-lesbian/transman Jude (Chai Fonacier) and the still-unemployed Jay (Melde Montañez) — to travel with her from their home in Cebu to attend the funeral in Dumaguete.
The film sent yours truly down memory lane, having traveled this Cebu-Dumaguete route countless times before being a Cebuana who studied in the neighboring island's Silliman University. For anyone who has never been to this part of the country, consider the film an introduction.
Cliché as it seems, the journey matters just as much, if not more than the destination. Directed by Victor Villanueva and written by Fatrick Fabada, Patay na si Hesus follows this dysfunctional family's journey through bumps, roadblocks and detours (literal and otherwise) and how they make it through anyway. You get to eat, (go) "cray" (that's millennial speak for crazy, in case you don't know) and laugh with this family, who comes across as very real people even with the irreverent humor all throughout.
Film opens with a scene on Cebu's signature pungko-pungko food experience (where customers dine on low tables and benches). Amidst the bustle of her food stall and patrons enjoying the assortment of fried food and hanging rice called puso, Iyay announces — tearless and deadpan — "Patay na si Hesus," referring to her estranged husband and father of her children. Her daze over the sudden news is betrayed only by her intense mincing of what was supposed to be pork chop.
Although primarily known as a multi-awarded dramatic actress, Jaclyn is a joy to watch with her understated, comedic timing delivered with Cebuano dialogue (in perfect accent!) no less. Her Cebuano co-stars are given equal turns to shine as well.
When Jaclyn gathers her children (plus a few companions) into her multi-cab (mini-van), she finds herself driving a vehicle not just overloaded with passengers but also with problems.
Jude/Judith Marie brings along the daughter of her girlfriend who is M.I.A. (missing in action). Jay is a bum harboring issues of his own, with no one to tell to. Halfway through the trip, Iyay learns that she loses her business space.
It seems it is only Hubert who is at peace the most with the trip, as well as their beloved pet dog Hudas.
Now, what's a roadtrip without the food and vistas? You'll salivate over Cebu's famous lechon and aerial views of the coastal towns as the mini-van traverses southern Cebu.
This area of the island-province is particularly famous for its Spanish-era churches. Some of them are featured in the film. The character names might make you entertain some religious ideas but no, there's nothing religious in this film. The closest it gets, if any, is when the crew stops by Simala Church (more recently built though and called Castle Church by tourist websites) to fetch Iyay's sister-in-law, Sister Linda (Mailes Kanapi), ushering in some of the film's most outrageous scenes. So zany, they will make you weep… with laughter.
As the mini-van trudges along, their troubles further unravel. They come up with different excuses to quit the trip but at the same time, they also make each other stay on.
Some of my favorite scenes involve Hubert, the most determined of them all to see this trip through. The irony is not lost when Iyay says that when Hubert was born, she thought her special child was going to be a burden to the family, but as it turns out, they were the ones who are a burden to him.
As the passenger load lightens so do their problems. Jude finds out a truth about the girlfriend, Jay tells the truth why he is a bum. And it's back to just the four of them, going through the revelations and reactions as a unit, and finding some semblance of resolution as they near their destination.
In Dumaguete (a.k.a. City of Gentle People), the film features Rizal Boulevard, Silliman University Hall, among others, lending an idyllic calm to the uncertainty, especially of Iyay, on how to feel about the death of Hesus, who has long been out of their lives.
Nevertheless, the family gets to unleash big, wailing, heavy-drama tears in true madcap fashion.
It's been often said that long drives bring out the worst and best out of people. Patay na si Hesus brings the best out of Cebuano and Bisaya filmmaking and storytelling. It may not be appropriate for the whole family (i.e. kids because of some raunchy humor) but it's a film about the family, and truly, in the end, the family (warts and all) is all that matters.
Patay na si Hesus is now showing in cinemas nationwide as one of the 12 films selected by the Film Development Council of the Philippines (FDCP) for its first-ever Pista ng Pelikulang Pilipino (PPP).