Oops, Britney did it again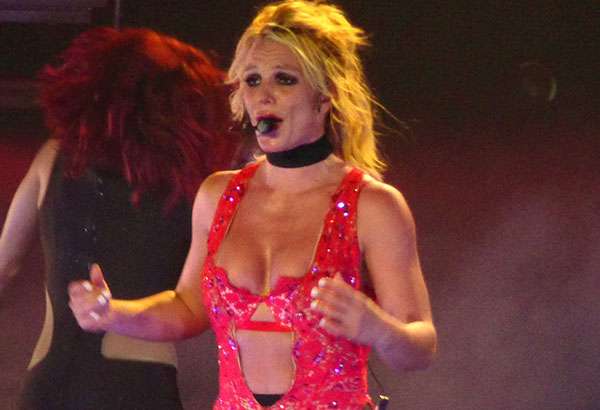 MANILA, Philippines - Britney Spears lip-syncs her songs. But almost everyone does nowadays, including the late Michael Jackson. The mere fact that she dances almost nonstop for two hours plus the spectacular sets that change almost after each song is more than reason enough to watch her concert.
My awareness of Britney started when she rose to stardom from her humble mouseketeer days with Justin Timberlake and Christina Aguilera. The ton of hits she made and most importantly the notorieties and controversies she got involved with, from shaving her head to being photographed sans underwear, to displaying her shaved glory with Paris Hilton, not to mention the various men who walked in and out of her life, have always piqued my curiosity. Currently at 35 years of age, her life now is bereft of controversy, stable and mostly concentrated on her two kids whom she has taken custody and her music career.
My wife grew up during Britney's blossoming career and is an avowed fan therefore it was just natural that she would jump at the opportunity to watch her when Caesars Palace sent us an invite to her current Piece of Me concert tour.
It was a warm Saturday night when we crossed from Caesars Palace to Planet Hollywood where Britney was in residence 'til the end of 2017. We arrived 90 minutes early at the venue to get settled and shake the cobwebs in our heads caused by severe jet lag.
The 4,500 Axis Theater was already filled with anxious Britney fans. To my surprise, I even saw people older than me in attendance. Half an hour prior to show time, the big LED screens on the left and right side of the stage flashed the countdown. A couple of minutes before the show started, an announcement was made that the audience should stand and dance all throughout the concert. "Oh no," I secretly groaned. I preferred to watch concerts sitting comfortably.
When the lights dimmed, the almost full Axis Theater broke into thunderous applause as Britney's 14 dancers hit the stage amid flashes and dizzying video effects on the LED-filled stage. They vigorously danced and cavorted on stage for a couple of minutes before Queen Britney appeared with the first notes of her EDM 2013 hit Work B**ch, which she co-wrote and co-produced with a bevy of writers that included will.i.am of Black Eyed Peas, from her eighth studio album Britney Jean. I had to reluctantly stand as everyone in the audience was on their feet dancing furiously. From then on, the theater seats became un-utilized.
Next song was Womanizer from Circus, her sixth studio album released in 2008. Then it was Piece of Me followed by Change Your Mind. All throughout the concert Britney danced vigorously with gusto. Oops!... I Did It Again was met with thunderous applause and so was her version of Joan Jett's smash hit I Love Rock & Roll that featured a giant revolving guitar which she mounted.
In order for Queen Britney to change outfits and take in between breathers, music videos of her hits were interspersed with the performances. All her costumes were sexy outfits that left nothing to the imagination, tailored the Las Vegas way with lots of shimmer and glitter. The only song where she was fully covered was when she performed Everytime where she hung from the ceiling garbed in a white, flowing angel outfit complete with wings.
In all, Britney performed 24 songs (plus music videos) that included hits from her nine studio albums like Do You Wanna Come Over that featured gymnasts in neon-colored outfits; Boys; Slave that included lots of gyrations; Make Me; Freak Show with participation from the audience; Circus; If You Seek Amy; Breathe On Me; Slumber Party; Touch Of My Hand (R-rated); Toxic (worldwide No. 1 hit from 2003); Stronger; Crazy; and Till The World Ends that closed the show with flashes and explosions coupled with a confetti shower.
Britney's Piece of Me tour hits Manila for the first time on June 15 at the Mall of Asia (MOA) Arena. Tickets are available at SM Tickets and the show is presented by my friends, the Llamas Brothers a.k.a. Wilbros Live, together with Smart and Bench. A must-see if only for the spectacle!