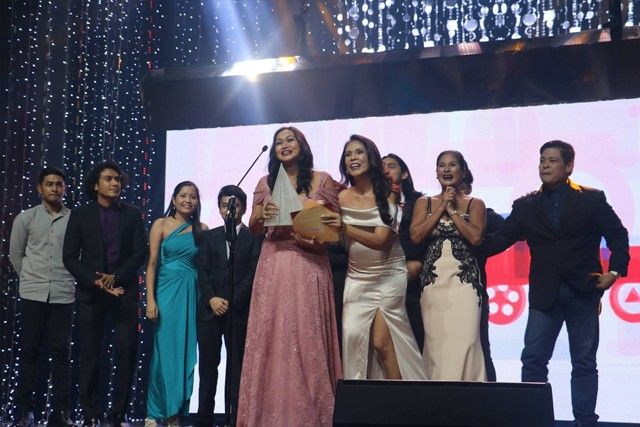 The cast of "Oro" headed by Mercedes Cabral and Irma Adlawan, who won the Best Ensemble award.
MMFF/Facebook
MMFF withdraws FPJ award from 'Oro'
MANILA, Philippines — The Metro Manila Film Festival (MMFF) executive committee on Tuesday announced the withdrawal of the Fernando Poe Jr. (FPJ) Memorial award previously granted to the film "Oro" amid issues of animal cruelty.
The MMFF executive committee said they decided to withdraw the FPJ Memorial Award for Excellence received by the film last Thursday, upon consultation with the family of late actor FPJ.
On Monday evening, Sen. Grace Poe, daughter of FPJ expressed disappointment over the complaints on the dog slaughter scene, which was allegedly real. She urged the MMFF to conduct an immediate investigation into the matter and said if proven true, she will move to invalidate the award in honor of her father.
The MMFF executive committee subsequently acted on the matter and held a probe.
READ: Poe to have FPJ award for 'Oro' revoked if dog slaughter scene real | MMFF probes 'Oro' over dog slaughter scene
"Without making any judgment on the artistic merit of the film or cinematic depiction, MMFF finds the present controversy on the alleged killing of a dog in the course of the filming of the movie effectively casts a doubt on the movie's ability to exemplify the human and cultural values espoused by the late Fernando Poe Jr.," the committee's statement read.
Aside from the FPJ award, "Oro" also received Best Ensemble Cast Award. One of the cast members, Irma Adlawan, won best actress for her role.
Despite the awards, the film drew flak because of the animal cruelty issue noticed by the viewers. The Philippine Animal Welfare Society raised its animal cruelty concerns to the Metropolitan Manila Development Authority and the MMFF Executive Committee and said it is mulling on filing charges against "Oro" filmmakers.
The film's production team, however, denied the dog killing and dog eating allegations, saying the scene was only depicted as it was relevant to the narrative and maintained no animals were harmed. Further, the director and executive producer of "Oro" said the scenes were shown as the acts were part of the tradition.