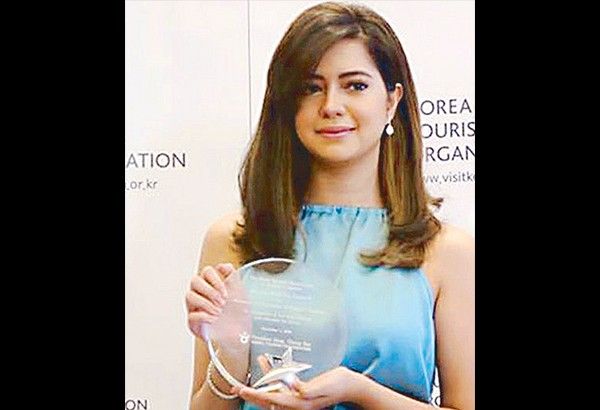 Sue: It is a wonderful chance for me not only to learn the fascinating culture and heritage of Korea, but to share the Philippine culture as well.
Sue Ramirez, new KTO honorary envoy
MANILA, Philippines - She loves Korean heartthrobs Lee Min-Ho and Kim Soo-Young. She craves for Bibimbap and Bulgogi all the time and cries over K-dramas. She's the ultimate Korean fan. Meet Sue Ramirez, the new honorary ambassador for Korean Tourism.
Sue, an actress and a singer, said she feels elated over the appointment.
"I am deeply humbled and honored for this rare opportunity. I am so excited. This is a wonderful chance for me not only to learn the fascinating culture and heritage of Korea, but to share the Philippine culture as well," said Sue during the formal ceremony at the Fairmont Hotel in Makati recently.
Inshik Park, director of Korean Tourism Organization (KTO) Manila Office, said they chose Sue because of her celebrity status and her great interest in the Korean culture and its people.
"We are very happy to have Sue Ramirez as our honorary ambassador for Korean tourism. She is a rising star in the field of showbiz in the Philippines and we saw how much she appreciate Korea and the Korean culture," Park said.
As the honorary ambassador, Sue will visit tourist spots in Korea and will share her experiences during her trips on her social media accounts. Sue has more than 1.5 million fans from Instagram, Facebook and Twitter.
Sue specially requested to visit in winter because she has never seen snow and not visited Korea before.
"This is my first time to visit Korea and I really told them that I would like to see the country when there is snow. I am also looking forward to eat Korean food. The other day, I went to a Korean restaurant to have a feel of my forthcoming visit already," Sue enthused.
Sue would also like to visit Seoul, Jeju Island and Busan because she saw Train to Busan.
"I would like to do some adventure, like trying the zip line," she said.
Her duties also include promoting Korea at various events, which will be arranged by the KTO and Korean government agencies. Sue will serve as the honorary ambassador for two years.
Filipino tourists continue to be one of the top visitors in Korea.
According to KTO, Korea received a total of 465,782 Filipino tourists from January to October in 2016, posting an increase of 38.7 percent compared to previous year's total of 335,868 from January to October.
Park, a celebrity ambassador, certainly helps in promoting Korean tourism.
"It is huge factor that people recognize and know about Korean tourism in a fast and easy way. For example, our former ambassador Jessy Mendiola posted her Jeju travel photos on her SNS. She went to Seongsan Ichubong (Sunrise peak), Jusnggeolli cliff and Cheonjiyeon Falls (those are UNESCO Heritage attractions) and tried Korean seafood and kimchi. A lot of people commented on her photo and said they also want to go to Jeju to experience it. It is very simple but it creates a big impact," Park said.
Park invited Filipino tourists to check out Gangwondo.
"Gangwondo offers wonderful tourist attractions and visitors can experience various activities all year round. The best time to visit is when the mountains are blanketed in snow. Visitors can also chose from the many ski resorts, some of the best in the nation, and winter festivals in the area," he said.
He added that the most popular tourism attraction in Gangwondo is Nami island, which is located on the outskirts of Chuncheon.
"Nami is the filming site of a world-hit Korean drama Winter Sonata in 2002, and it is famous for its Metasequioia road. At nearby Nami Island, you can enjoy Seorak Mountain, a popular landmark in Gangwondo, with scenic views of the east sea to its fullest," Park said.
He also invited Pinoys to visit Pyeongchang, the host city of the 2018 Olympic and Paralympic Winter Games.
"Your worries will fly away as you take in the pure air and beautiful scenery of Pyengchang," Park said.