The first-ever interactive rom-com series
After Wish I May which ended on May 20 on its 18-week run, the Kapuso love team Bianca Umali and Miguel Tanfelix are back to give viewers some delectation in the GMA Network mini-series Usapang Real Love (URL). The show is set to change the landscape of mainstream TV as it bridges with social media through the first-ever interactive romantic-comedy series. Also starring is newcomer Jak Roberto.
URL is an extraordinary mini-series that connects social media with romantic comedies in an interactive narrative or interacTV. Netizens who are engaged online will have a chance to be featured on TV through their video submissions.
URL will highlight stories topbilled by Kapuso love teams where every story will be told in four weekly episodes beginning tomorrow, Sept. 25, at 4:45 to 5:45 p.m., replacing Conan, My Beautician.
BiGuel (Bianca and Miguel) is the first love team in the mini-series, which also includes Yayo Aguila, Lloyd Samartino, Ces Quesada and Gene Padilla.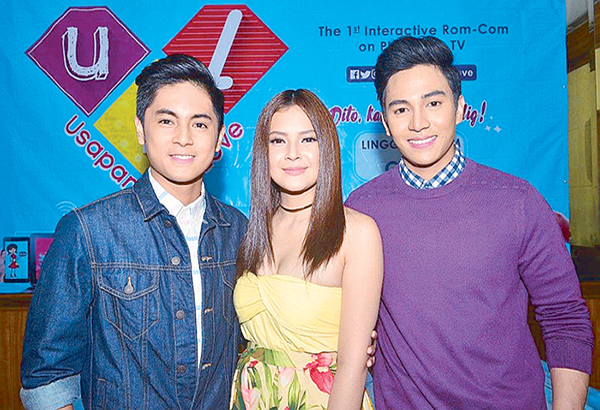 Jak Roberto is also part of the URL's love triangle with Miguel and Bianca
The pilot story is about a love triangle between Bianca, Miguel and Jak.
Bianca plays Grace who eventually falls in love with Chef Yuan (Jak) while Miguel plays Diego with a secret love for Grace.
According to Bianca, this is the first time to do a Kapuso network interactive program which few viewers can be on the scene by means of social media.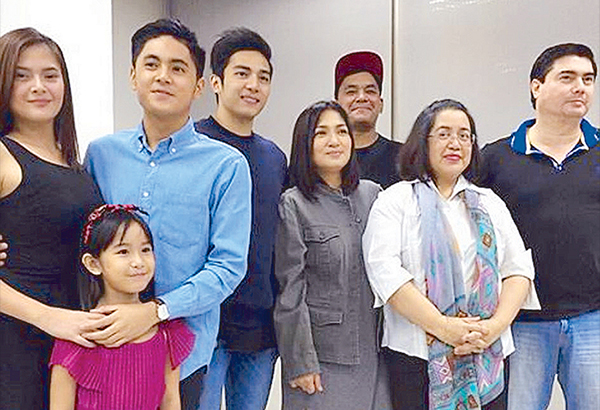 With BiGuel are Jak, Yayo Aguila, Lloyd Samartino, Ces Quesada and Gene Padilla.
"It is the first-ever interactive rom-com of GMA. When we say interactive, it means that while shooting, it's possible for our fans to interact (with us) or to join us in a scene through Skype, so live. Per month nag-che-change, so Miguel and I are (in) the pilot episode for URL so we are featured in the first month. The next month is a different story, with a different love team," said Bianca.
Surely, many netizens will be glad and excited because they have the opportunity to watch their self with their favorite Kapuso love team. They should simply like the Facebook page of URL and watch out for the video challenges.
For the fans who want to participate need to video themselves doing the challenge and send the video to URL Facebook, Twitter or post it on Instagram and tag only @UsapangRealLove using the hashtag #MagpaFANSin.
Bianca and Miguel are also part of the comedy series Ismol Family with Ryan Agoncillo and Carla Abellana after 24 Oras Weekend every Sunday.
Watch URL Sundays and maybe it is your chance to see yourself on TV.
(For your comments call us through landline 571-1569, e-mail at bibsyfotos@yahoo.com. The first-ever interactive rom-com series LIVEFEED Bibsy M. Carballo After Wish I May which ended on May 20 on its 18-week run, the Kapuso love team Bianca Umali and Miguel Tanfelix are back to give viewers some delectation in the GMA Network mini-series Usapang Real Love (URL). The show is set to change the landscape of mainstream TV as it bridges with social media through the first-ever interactive romantic-comedy series. Also starring is newcomer Jak Roberto. URL is an extraordinary mini-series that connects social media with romantic comedies in an interactive narrative or interacTV. Netizens who are engaged online will have a chance to be featured on TV through their video submissions. URL will highlight stories topbilled by Kapuso love teams where every story will be told in four weekly episodes beginning tomorrow, Sept. 25, at 4:45 to 5:45 p.m., replacing Conan, My Beautician. BiGuel (Bianca and Miguel) is the first love team in the mini-series, which also includes Yayo Aguila, Lloyd Samartino, Ces Quesada and Gene Padilla. The pilot story is about a love triangle between Bianca, Miguel and Jak. Bianca plays Grace who eventually falls in love with Chef Yuan (Jak) while Miguel plays Diego with a secret love for Grace. According to Bianca, this is the first time to do a Kapuso network interactive program which few viewers can be on the scene by means of social media. "It is the first-ever interactive rom-com of GMA. When we say interactive, it means that while shooting, it's possible for our fans to interact (with us) or to join us in a scene through Skype, so live. Per month nag-che-change, so Miguel and I are (in) the pilot episode for URL so we are featured in the first month. The next month is a different story, with a different love team," said Bianca. Surely, many netizens will be glad and excited because they have the opportunity to watch their self with their favorite Kapuso love team. They should simply like the Facebook page of URL and watch out for the video challenges. For the fans who want to participate need to video themselves doing the challenge and send the video to URL Facebook, Twitter or post it on Instagram and tag only @UsapangRealLove using the hashtag #MagpaFANSin. Bianca and Miguel are also part of the comedy series Ismol Family with Ryan Agoncillo and Carla Abellana after 24 Oras Weekend every Sunday. Watch URL Sundays and maybe it is your chance to see yourself on TV. (For your comments call us through landline 571-1569, e-mail at bibsyfotos@yahoo.com or text 0917-8991835.) or text 0917-8991835.)