Theater (not school) is where Carla's heart is
FUNFARE
-
Ricky Lo
(The Philippine Star) - August 15, 2016 - 12:00am
What does Carla Guevara-Laforteza have in common with Lea Salonga, Monique Wilson, Jamie Rivera, Leila Florentino, Janine Desiderio, Maan Dionisio and Joanna Ampil?
Like them (and a few others), Carla (whose maiden surname is spelled with a single "r," she would remind people) has also played Kim in Miss Saigon (in London's West End) for one year, 1995 to 1996.
And with Tanya Manalang, who has just completed her stint as Kim (also on West End), Carla is in the cast of the long-running hit musical Rak of Aegis (at the PETA Theater Center in Quezon City, until end of the month), playing Kapitana Mary Jane. Another Saigon alumna, Isay Alvarez (the original Gigi), is also part of Rak of Aegis.
Carla recalled that she was so obsessed with getting into Rak of Aegis that when she auditioned, she sang a song from Miss Saigon, rap-style. She was hired on the spot, just like what happened when she auditioned for Miss Saigon in 1993 when she was 16, fresh from high school.
"I watched it on Broadway with my dad in 1992," related Carla (now 40, married for 15 years to former Powerdance member Godfrey Laforteza by whom she has three children ages 14, 13 and 5). "When the actress playing Kim appeared, I pointed to her and told my dad, 'That's gonna be me.' He didn't know that I was serious."
Because the family was into some other business (that has nothing to do with showbiz), Carla's parents frowned on her venturing into acting and insisted that she finish school, period.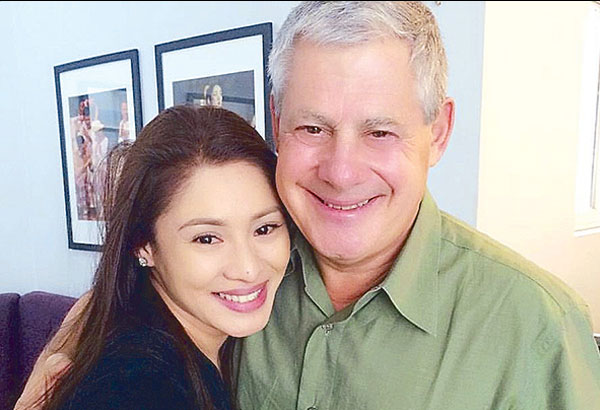 Carla with Miss Saigon producer Cameron Mackintosh.
"But my heart is in theater and not in school, so I really did everything in pursuit of my dream. While enrolled in a Catholic girls' school, I did everything in my power to get kicked out," recalled Carla with a laugh. "Even if I knew the answers, ginagawa ko talagang mali, and then I would deliberately cheat. I admit that I was pasaway," continued Carla who is the fourth of five siblings, all girls. "I was kicked out and I was happy. The punishment? My parents transferred me to a never-heard school. They promised to move me back to an exclusive school if I got good grades, and I did."
True enough, the next school year Carla was enrolled at a school where some Repertory actresses were also studying. Eureka! That paved her way to Repertory. Dream come true!
"To please my dad, after high school, I took up a course in Interdisciplinary Studies in college. Secretly, I auditioned for Miss Saigon and my parents learned that I passed only two weeks before I go to London because I was 17 and I needed parental consent to get a visa. They had no choice. They gave me their go-signal on one condition — I should go back to school after Miss Saigon. I went to London alone."
One of Carla's fond West End memories was meeting Antonio Banderas and his then wife Melanie Griffith.
"They went backstage to congratulate me. Tanungin mo ako kung humingi ako ng autograph nila," she said with a guess-what smile. "No! Sila ang humingi ng autograph ko!"
Back home after Miss Saigon, Carla did movies for Viva Films and Regal Films while also doing shows on ABS-CBN as a Star Magic talent. Her showbiz career was rudely interrupted when she met Godfrey, fell in love with him and got pregnant.
"My mom didn't know that Godfrey was my boyfriend. I had fired my driver and it was Godfrey who was driving for me. When she learned that I was pregnant, she was shocked, 'Ano, nabuntis ka ng driver mo?' Hehehe!!!"
To keep her pregnancy under wraps, Carla was "exiled" to the US where she lived with her aunt. She worked in a bakery, saved half of her salary for Godfrey's ticket.
"Godfrey's passport didn't have any stamp yet and he had no show money when he applied for visa," said Carla. "He was then doing Little Mermaid. On the way to the US Embassy, he borrowed the Little Mermaid jacket of a cast-mate who was accompanying him."
The Q&A went this way:
Consul: What are you going to do in the US?
Godfrey: I'm going to watch Broadway shows.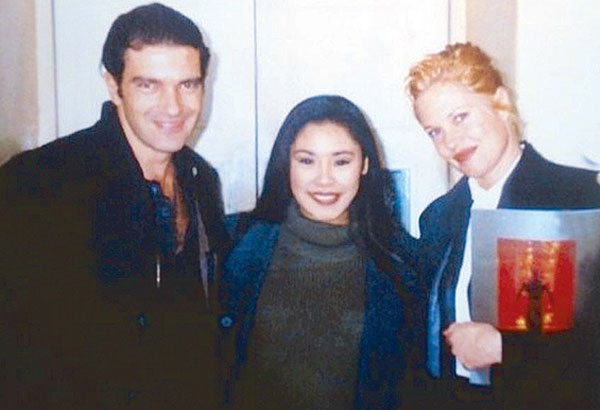 Carla with Antonio Banderas and Melanie Griffith.
Consul: What is your job?
Godfrey: I'm a dancer and actor.
"The consul looked at Godfrey's jacket and said, 'Oh, I just watched it last night!' Pak! 10 years/multiple entry agad!"
They came back in 2006 and Carla resumed her theater career. By then, Carla's mom had accepted Godfrey.
"Godfrey has a way of making my mom laugh," said Carla. "Mahirap patawanin ang mom ko!"
When Rak of Aegis opened last year, Carla said that she started making parinig to Maribel Legarda, artistic director of PETA (Philippine Educational Theater Association).
"I'm the type of person who doesn't stop until I get what I want," said Carla.
(Carla is performing in Rak of Aegis at the PETA Theater up to Aug. 28 with 8 p.m. shows on weekdays and 3 p.m./8 p.m. shows on weekends. For tickets, call Ticketworld at 891-9999.)
(E-mail reactions at entphilstar@yahoo.com. You may also send your questions to askrickylo@gmail.com. For more updates, photos and videos visit www.philstar.com/funfare or follow me on www.twitter/therealrickylo.)