Body Talk with Arjo Atayde Out of mom's shadow
FUNFARE
-
Ricky Lo
(The Philippine Star) - May 28, 2016 - 12:00am
His mom, Sylvia Sanchez, is so versatile and so well-awarded that, initially, Arjo Atayde found it challenging to move out of the giant shadow that she casts. Slowly but surely, Arjo is succeeding in making a name of his own by winning awards --- three so far: 2012 Best New Male TV Personality (for the Bangka episode of Maalaala Mo Kaya?), 2013 Best Drama Supporting Actor (for the ABS-CBN teleserye Dugong Buhay) and 2014 Best Single Performance by an Actor (for the Dos Por Dos episode of MMK), all from the PMPC Star Awards for TV.
A Scorpio, Arjo was born on Nov. 5, 1990 (dad is businessman Art Atayde). He is the eldest among four siblings — Ria (also venturing into showbiz), Gela and Xavier. After studying at La Salle Greenhills, Arjo enrolled at Reedley International School.
"I would bring Arjo to the set and that must be how he got interested in acting," related Sylvia. "At first, Art and I didn't want him to go into showbiz because we wanted him to finish school first. Eh, mapilit, so we let him. We thought that he would get tired after a while. Well, he got stuck."
Arjo practically grew up in the glare of showbiz, starting as a child actor (as Jepoy in E-Boy) and graduating to more mature roles. He's cast as the nemesis of Coco Martin (in the titular role) in Ang Probinsyano, the top-rating Kapamilya series.
As one of the most promising young actors of his generation, Arjo is also attracting the attention of advertisers. As one of this year's Axe Black ambassadors, Arjo said that the brand is "perfect for the understated man on-the-go," he says. As an active athlete himself, he understands that sporty can definitely be classy if done the right way. His goal is to introduce the Axe Black men to the world of luxury sportswear.
The #AxeBlackArjo store carries a fantastic mix of athletic and leisure brands to cater to various needs of men on-the-go. G3 Athletic Apparel, Capital PH, The Ilustrados, Halo Halo, Fly Art, The Gentleman Project and Straightforward Clothing are just some of the concessioners that guests can look forward to. Aside from the apparel, guests can also expect to learn more about the important role of scents in tying together a man's over-all aesthetic.
Arjo, stands 5'11', weighs 156 lbs. and wears small/medium-size shirt.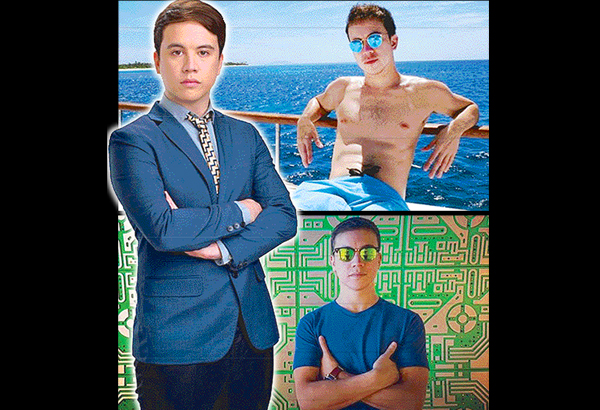 How do you keep yourself in tip-top shape?
"I work out as much as I can and I lessen my food intake."
How's your diet?
"Chicken, fish, veggies. Less carbs. After working out in the gym, I eat beef."
What's for breakfast, lunch, dinner?
"Breakfast: hard-boiled eggs, or a bit of rice with chicken or fish. Lunch: protein and veggies, plus fruits. Dinner: Same as lunch."
Favorite food?
"The only thing I'm not allowed to eat is my favorite, which is lechon! Pork is the only thing I cannot eat."
Snacks?
"Fruits and a bit of chips but just a handful."
Vitamins that you are taking?
"Multivitamins (Usana) and Vitamin C."
How much water do you take per day?
"Five to eight glasses."
What workout do you do?
"I do footwork and circuit training. I rarely lift heavyweights."
What part of your body needs improvement?
"I have to work more on my shoulders and chest."
What part of your body is your favorite?
"My legs, hahahaha!!!"
What part of a girl's body do you notice first?
"Hips or legs."
What turns you on in a girl?
"It turns me on when a girl can carry herself well."
How much sleep do you get per night?
"Four to seven hours."
How many pillows do you sleep with?
"Four to six pillows."
Favorite sleepwear?
"Boxers and sando or pajamas."
Do you snore?
"Yes, especially when I am tired."
Do you talk in your sleep?
"Yes, I do!!!"
Do you sleepwalk?
"No…I hope not!!!"
Last thing that you do before you go to sleep?
"Take a shower then go to bed, eat a bit then I brush my teeth."
First thing that you do as soon as you wake up?
"Watch TV."
Lights on or lights off?
"Lights off."
How's your nightlife?
"Chill nights…I don't like going out."
How do you cope with stress?
"Stress? I find a solution; whatever could make things better I try to do."
Outlook in life?
"More of an optimist."
Using only body language, how would you make a woman know that you admire her?
"Make my arm touch hers? Hahahahahahha!!!"
(E-mail reactions at entphilstar@yahoo.com. You may also send your questions to askrickylo@gmail.com. For more updates, photos and videos visit www.philstar.com/funfare or follow me on www.twitter/therealrickylo.)