A series promoting love of country
Dreamscape Entertainment introduced its newest series Because You Love Me starring Gerald Anderson, Jake Cuenca and Yen Santos.
It is helmed by Dan Villegas, the award-winning director behind such films as English Only, Please, The Breakup Playlist and Walang Forever.
It promises to be different as it will focus on triathletes and the sport of triathlon, which has been growing in popularity in the country over the past few years but has yet to reach the same level as the likes of basketball or volleyball.
Gerald said Because You Love Me features a lighter tone than most TV shows, and claimed that it will be revolutionary. "It is light but the back story has something to do with profound pain. Neither is it the type that will make you cry. We are going to do it in a different way. I believe that it will change the landscape of TV shows," he said.
He is also happy being reunited with Jake, his former co-star in the drama series Tayong Dalawa in 2009.
Direk Dan admitted that he is looking forward to the challenge of recapturing the intensity of a triathlon for televiewers.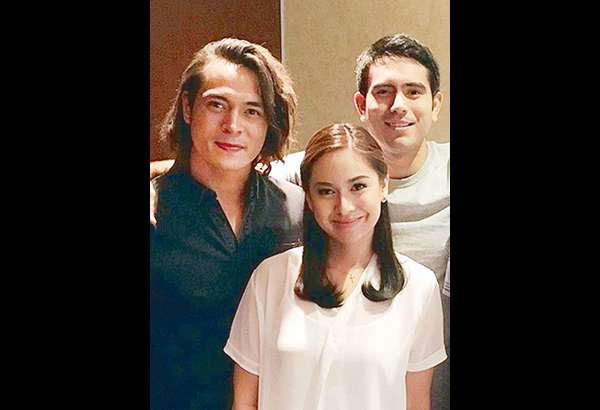 From left: Jake Cuenca, Yen Santos and Gerald Anderson, stars of Dreamscape Entertainment's drama series Because You Love Me
"Things happened so fast, so many things happening, there is an underwater scene, the size and scope of the show is huge," the director said.
Direk Dan is also proud of the scenic spots in Mindoro where the series will be shot. It's on the opposite side of Puerto Galera. It is another beautiful scenery to be highlighted and also to promote tourism in the area.
Yen, for her part, said that it has always been her dream to be cast with Gerald and Jake whom she had worked with in an episode of Wansapanataym. Yen first appeared in Pinoy Big Brother (PBB) 2010 teen edition. She gained popularity as one of the lead stars in the hit drama Pure Love with Alex Gonzaga, and in All of Me, her last series with Albert Martinez and JM de Guzman.
Joining them are Dante Rivero, Joel Torre, Tonton Gutierrez, Bing Loyzaga, Nico Manalo and Helen Gamboa, who worked with Jake and Gerald in Tayong Dalawa.
There is no date yet as to when Because You Love Me will air but it will be handled by the same team behind On The Wings of Love (OTWOL).
(For comments, call 571-1569, e-mail at bibsyfotos@yahoo.com or text 0917-8991835.)