TV5 marks New Year countdown
At the stroke of midnight in this side of the globe, Pinoys welcomed 2016, as cliché as it may sound, literally with a bang! With our freshly or maybe rehashed New Year resolution listed down, everyone celebrated another year's passing and welcomed with eager eyes and a dollop of hope a fresh start for the coming year.
Making this transition into a festive event is what TV5 Network, through its president and CEO Emmanuel C. Lorenzana (ECL), aimed at in partnering with the Quezon City government led by Mayor Herbert Bautista to celebrate the New Year countdown at the Quezon Memorial Circle. "2016 is sure to be very exciting and something to look forward to," according to ECL. "We have a line-up of shows that are looking very good and will be a treat to watch for viewers this coming year."
TV5's 2016 New Year countdown started last year (2014) and for this second edition last Dec. 31, TV5 gathered its veritable stars and program talents led by Derek Ramsay, Janno Gibbs, Ogie Alcasid, Tuesday Vargas, Ritz Azul, Empoy Marquez, Alberto Bruno, Akihiro Blanco, Mark Neumann, Malak So, Chris Leonardo, Nicole Estrada, Martin Escudero, Ella Cruz, Hi-5 Philippines, Jun Sabayton and VIVA artists Roxanne Barcelo, Josh Padilla, Alonzo Muhlach, Pop Girls, Mark Bautista and Yassi Pressman, among others. It was truly a night to remember as the entire QC Circle came alive with a burst of color and light just as the last seconds of 2015 faded into the rainy night.
ECL said that the Kapatid Network has also lined up several shows that are pure excitement such as thrilling game shows as well as global sports events.
As the leading broadcast network for Sports, ECL was happy to announce that "TV5 will be the official Philippine broadcaster of the 2016 Rio Olympics." Before the year ended, TV5 had announced that it will be the exclusive broadcaster of the UFC, the Ultimate Fighting Championship which is the world's most watched mixed martial arts event that will be aired live exclusively on Cignal. "But beyond entertainment, the network has also boosted its News and Public Service component with the 2016 Presidential elections just around the corner as it also launched the Bilang Pilipino campaign that aims to bring the widest and deepest multi-screen coverage of what they call the millennial elections," ECL added.
For the 2016 New Year countdown, the 22-hectare QC Memorial Circle started to fill up as early as 9 a.m., as families came in droves in anticipation of the much-talked about fireworks display and the animated laser projection at the QC Memorial pylon. Despite intermittent drizzle, an estimated crowd of around 20,000 stayed to watch TV5 stars showcasing their talents and the 15-minute fireworks extravaganza. TV5 chairman Manny V. Pangilinan together with Bautista and ECL were joined by TV5 talents and executives and in chorus with the vast crowd counted the seconds to 2016. Our fervent wishes for a prosperous New Year to one and all!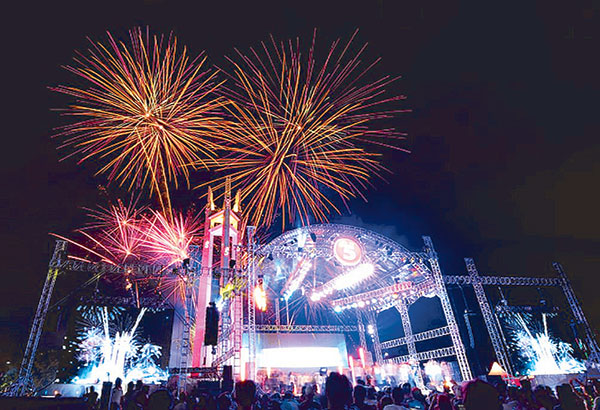 TV5 New Year countdown at the Quezon Memorial Circle