Reimagining Mrs. Recto, the Regine original starrer
MANILA, Philippines – Award-winning director-production designer Dante Nico Garcia has transitioned from commercial to indie filmmaker.
Garcia uploaded last Christmas the online version of Mrs. Recto, the reimagined Regine Velasquez drama-comedy starrer of the same title brought to the present time. He posted it on social media, primarily Facebook, YouTube and Instagram.
The original Mrs. Recto is set in Claro M. Recto Ave. in 1994 where Velasquez plays Clara M. of Recto, a takilyera who is a die-hard fan of Vilma Santos until the moviehouses of Recto Ave. turned obsolete due to the coming of mall-based theaters and had to close down.
Clara is a single mother to a precious daughter named Monica Quijano, Vilma Santos' character in Ibulong Mo Sa Diyos to refer to her fixation with the Star for All Seasons. She tried to survive by turning into a shop owner on Recto Ave. who peddles fake certificates and enrolment documents for a living.
Original characters included Elmo Magalona as Hero is a teen promdi newly arrived in the city, Coney Reyes as Chona Aquino as the boarding house operator and Pen Medina as the gay Luchi Rizal.
Produced by Panoramanila Pictures, Inc., the same team that brought Ploning, the Philippines' official entry for the Best Foreign Language Film in the 81st Academy Awards, worked on Mrs. Recto. Garcia also megged OMG (Oh, My Girl) for Regal Multimedia, Inc.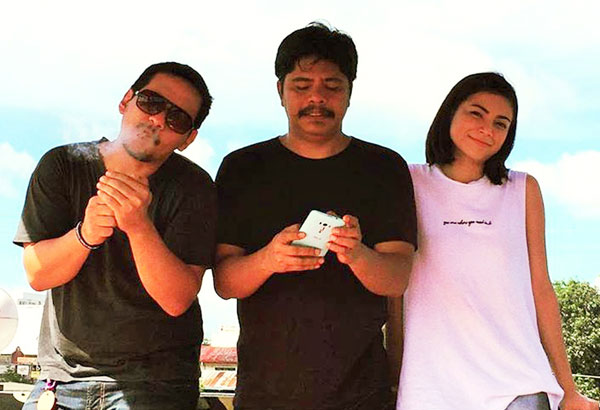 From left: Yan Yuzon, Jun Sabayton and Glaiza de Castro
Garcia is the film's scriptwriter and director. Its production had to stop in August 2010 before Velasquez married Ogie Alcasid. Principal photography went over budget as a result of schedule backlog caused by the difficulty to shoot on the avenue's clogged sidewalks.
Garcia has three reasons for wanting to complete Mrs. Recto. "Ayokong mamatay ng may hindi natapos na obra. Naipangako ko rin sa yumaong cinematographer ng pelikula na si Charlie Peralta na tatapusin ko ito. At nahihiya rin ako kay Regine kasi dapat huling movie niya ito bago siya ikasal. How Ploning was to Juday (Judy Ann Santos). Kaso hindi in-allow ni Lord," Garcia clarified.
The reimagined Mrs. Recto is now set in Palawan in the present time. Monica, Clara's daughter, has grown up as an aspiring filmmaker. She is in Puerto Princesa to look for collaborators for her first screenplay about the story of her mother. She wants Velasquez to play the lead role.
Monica finds her cast and crew in Casa Nieves, an artist's hub in Puerto Princesa where like-minded creatives search for dreams and find happiness as mentored by art benefactor Toting as acted by Jun Sabayton.
Blending the footage of the original Mrs. Recto with the reimagined version, Yan Yuzon is Benny Aquino, the grown-up son of Chona. He has turned into a painter who does Mrs. Recto's hand-painted billboards based on the pegs of Monica's characters.
He accomplished this by completing the film at zero-cost: "Walang may talent fee sa mga artista sa new story. Kanya-kanyang pamasahe at gastos pati food and accommodation. Pati equipment libre. Lahat sila kaibigan lang na matagal ng alam ang ginagawa ng foundation ko dito sa Palawan at nagprisintang tumulong."
Garcia dressed up Casa Nieves, the real site of his advocacy of www.isdarevolution.com, where he uploaded Mrs. Recto. For the event, he dressed up Casa Nieves to look like the old moviehouses of Recto Avenue.
Garcia plans to screen the Director's Cut of Mrs. Recto on Dec. 5, 2016, the 15th anniversary of Lyrics & Sheets Foundation that he founded. "Diretso na nakapakete ang tatlong pelikula ko bilang pagsasara ng kabanata ng buhay ko sa commercial filmmaking," he shared.