Celebrities call to #StopTheHate on social media
(Philstar.com) - November 10, 2015 - 1:19am
MANILA, Philippines - Celebrities joins the call of Liz Uy to stop people who "bashed relentlessly and unfairly."
On her Instagram account on Monday, Uy posted a photo with the hashtag "#StopTheHate" after she filed a libel complaint against "Fashion Pulis" blogger Michael Sy Lim.
This is in relation to his blog post regarding Maine Mendoza's outfits at the "Tamang Panahon" event last month.
READ: Liz Uy speaks up on libel case vs 'Fashion Pulis'
As support to Uy, some celebrities took to social media their take on the issue of "cyber bullying" and "responsible journalism."
Here are some of their posts:
Marami na tayong nasaktan at marami na ring nakasakit satin. Let's spread Good Vibes na lang para clap clap clap Champion! #StopTheHate

- jose marie viceral (@vicegandako) November 9, 2015
Anne Curtis: In this time and age where everyone is so passionate about "freedom of speech" people seem to have forgotten the difference between freedom of speech and cyber bullying. I stand with @lizzzuy as she makes a statement #StopTheHate

Ruffa Gutierrez: NO TO CYBER BULLYING!!#StopTheHate

Paulo Avelino: Posting this in support of fair and responsible journalism and ethical behavior online. #StopTheHate

Billy Crawford: You may hide behind a screen, be tough on the keyboards, but when judgement day comes, you won't be able to hide everything you've said and done. God sees us, and only He can judge us. I admit I am not perfect, but I do strive to be a better person. There are people in this world who use up all their efforts in trying to destroy the people around them. It's a waste of time, energy and emotion. As an "educator" in a prestigious school, you could have used your stature to inspire and influence the youth entrusted to you, instead of brainwashing people and instigating hate. That's not someone who children are supposed to look up to.#STOPtheHATE

Rhian Ramos: If you have trouble reading this, see facebook.com/rhianramosofficial
Boycott negative sites and people who bring others down by spreading malicious and made-up stories.
Boycott individuals who encourage people to be bashers and haters.#StopTheHate

Andi Eigenmann: Yes. We should never let anybody's hate, drama, and negativity stop us from being the best person we can be. But won't the world become a much better place if we just didnt have any of them at all? Ive been a victim of cyberbullying one too many times. I never bothered, because I know myself better, and the people that love me too. But it doesnt make this OK. Only love stops hate. Lets change our world.#STOPTHEHATE#RESPONSIBLEJOURNALISM we are all on your side on this @lizzzuy

Meanwhile, Michael Sy Lim posted a screenshot of Maine Mendoza's personal message to him on his Twitter account.
On the message, Maine thanked him for "being nice" after he posted his story about the gown issue in the "Tamang Panahon" event.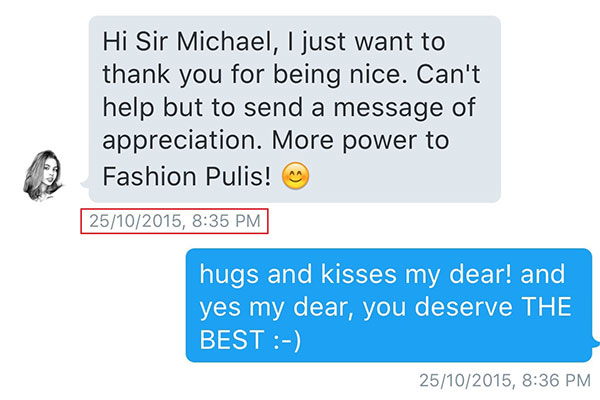 READ: Liz Uy speaks up on issue over Maine Mendoza's 'Tamang Panahon' gown