Lauren Young takes charge
When her older sister Megan made pageant royalty late last year, Lauren Young tried her best to ward off nudges from showbiz denizens encouraging her to follow suit. She is not her sister, the Kapuso actress repeatedly answered. Her passions lie somewhere else.
"I love acting," says 20-year-old Lauren, younger sister to Miss World 2013 Megan Young. "There's some- thing very fulfilling about it. It's not just about the glitz and the glamour and the fame of it all. It's about you as a person — channeling someone else, telling a story, reaching out to the audience and teaching them something new."
The Filipino-American beauty refers to herself as the more "out- spoken" Young, a polar opposite to the more reserved Megan. Lauren's unapologetic candor is what defines her, she says. This is precisely why she's very direct in interviews — she's never one to sugarcoat her statements.
But she's pleasant and funny, vivacious even. And like her world- famous sister, her eloquence is un- deniable. "What makes me happy is that I'm living my life the way it should be lived. I'm doing it the right way. I'm taking care of myself, I'm starting my path on a healthier life and I'm just enjoying what I do, working hard along the way."
That's her approach to life, she says.Sheneverwantstorelyonstar power to get ahead. "I work hard for what I do," she maintains. "I don't want to be the girl who is handed everything. I want to always be the girl who is always trying to prove herself. Because that will give me a certain push."
To a few unknowing eyes, Lau- ren's foray into showbiz came easy. Megan already paved the way, they said — Lauren just had to trail be- hind. "But everything that I had, I had to audition for," defends Lauren, conveying her distaste for getting things easy. "I had to show people that I deserved to be there. And that's what I don't want to lose."
Lauren made headway as a film and TV actress in 2006 — finally transferring to GMA in 2012. As one of the network's youngest leads, Lauren headlined her own teen-thriller Dormitoryo and starred in the prime- time drama Mundo Mo'y Akin.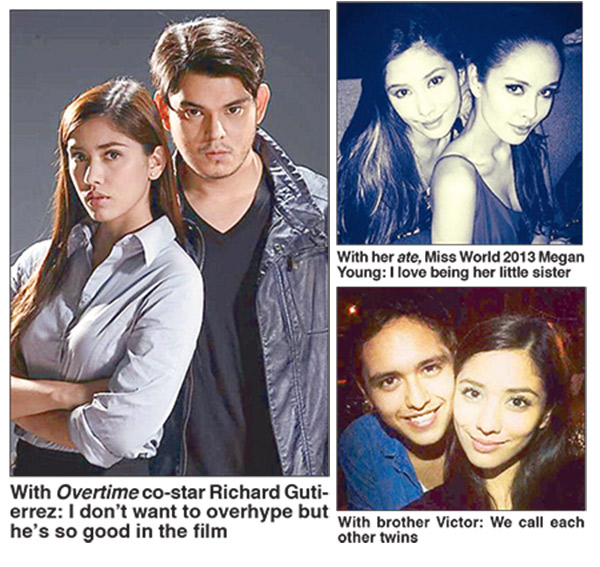 She also takes on occasional film projects, enjoying an assorted fare of indie and mainstream ventures. Her recent cinematic undertaking: GMA Films' suspense movie Overtime opposite Richard Gutierrez.
Overtime tells the story of a hacker who exacts ven- geance on a pharmaceutical company by sending the resident secretary on a deadly mission: To wear a tick- ing bomb to a press conference. In the film, Lauren's character falls prey to the romantic trappings of an "Internet boyfriend" played by Richard.
"I don't want to overhype it but he's so good here, and people will appreciate him more as an actor here," she says of her leading man. Overtime is Richard's come- back film after his hiatus from showbiz late last year.
How is Richard as a leading man? "Magaling siya mag-guide, especially for newbies," she answers. "He's been in this business for a long time, and I'm fairly new. When I had questions about my scenes, how to execute them, he was there, guiding me every step of the way. He has brilliant ideas, and he's very articulate."
Off-cam, he's also good company. "It's hard to find someone whom you can converse with on a certain level, and I really enjoyed having conversations with Richard."
Lauren adds that she found it easy
to interact with Richard behind the camera because she's good friends with his girlfriend, Sarah Lahbati.
"During this film, mas nakilala ko siya as a person, mas na-appreciate ko siya," she says of Richard, who was previously only an acquaintance. "I see why Sarah is so in love with him. He's a very sweet guy. Sobrang bait niyang tao."
This is Lauren's first lead role on mainstream cinema. "I want to be the actress that can literally do anything she's given. I want to experiment. I want to have fun with what I do. I want a challenge. I want to do a drug addict, a lesbian, a young mother. I want to do so many things."
Outside the limelight, she still keeps herself busy. Currently a culi- nary student at the De La Salle-Col- lege of Saint Benilde, Lauren intends to shift to filmmaking very soon to learn more about her craft. "I'm a typical girl," she says casually, calling herself the marriage of a homebody and a social butterfly. "I blog, I go on- line, I stay at home to watch movies, I go out with my friends, I play with my dog, I do charity work."
In 2013, Lauren partnered with her celebrity best friend Saab Mag- alona (daughter of rap legend Francis Magalona and Lauren's manager Pia Arroyo-Magalona) for Ukay Ala- lay — a bazaar for a cause that sells pre-loveditemsfromparticipating celebrities.
Busy or not, love life is out of the equation for now, says Lauren. "I used to be the type of person who was constantly looking for it and it would never come to me. So I just stopped looking. I'm more of like, if it happens I'm not going to dismiss it. But at the same time, I'm not gonna force it. I'm not gonna look for it. Love can wait. I still have a lot more to accomplish."
In the interim, her focus is on her career and her family. "Megan who?" she quips, lighting up on the subject of her sister. "My sister Megan, we're super close. But actually, my brother and I are closer," she says, playfully referring to her older brother Victor, the middle child in the Young brood of three. "Megan hates hearing that, but it's the truth," she lets out another laugh.
"Victor and I call each other twins because we're a year and a half apart. We like doing the same stuff together, we have the same barkada. Megan's an ate kasi. Sometimes she's KJ (killjoy)," says Lauren, throwing one playful jab after another at her sister.
"But we love ate. She's nice. She just has different priorities, kasi matanda na siya," she jokes again. "Megan doesn't like going out. I like going out. So we just stay at home and watch movies," says Lauren.
Recently, she and Megan have found a new way to bond — film editing. "Megan is a film student in Be- nilde, while I'm about to shift to film," explains Lauren. "She's passing her knowledge on to me. So what we do is, we literally just sit in our rooms, in our computers, nag-e-edit lang kami."
With Megan's international achievement, Lauren says she does not have any qualms about being in her older sis- ter's shadow. "I love being her little sister. But career-wise, I do have to find a way to not make myself Megan's little sister," she answers. "That will take a long time because I still have a lot to prove. It will probably take a life-changing role for me to do that, but di naman ako nagmamadali. I'm still very young. I still have a long way to go. So that's okay, I'll stay in her shadow first. It's cooler there."