Webmasters, Jaguars mag-ilog sa no.3 spot
November 26, 2022 | 12:00am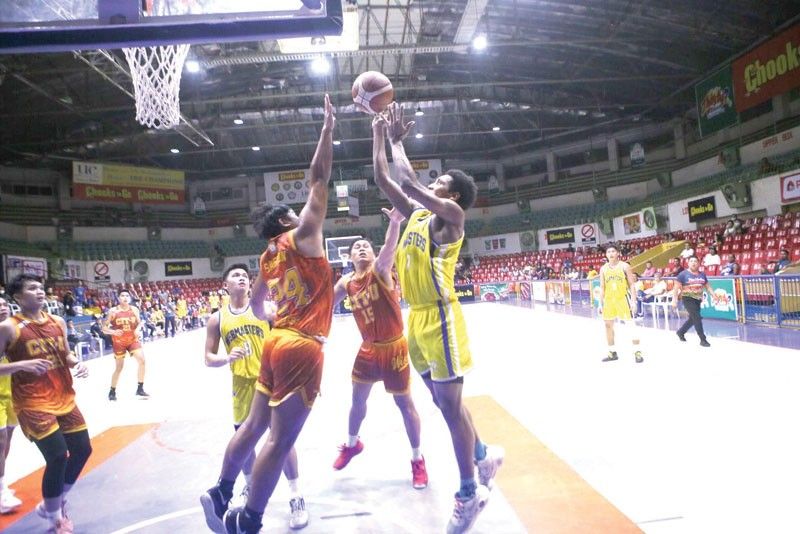 Trailblazers gikan sa Bogo 9-0 sweep ang tirade
CEBU, Philippines — Ang University of Cebu (UC) Webmasters ug ang University of San Jose-Recoletos (USJ-R) Jaguars mag-abot sa usa ka mahinundanong duwa sa 2022 Cebu Schools Athletic Foundation, Inc. (CESAFI) men's basketball tournament karong adlawa sa Cebu Coliseum.
Ma-angkon sa modaog sa ilang sangka nga gikatakda sa alas-5 sa hapon mao ang ikatulong puwesto padung sa semifinal round.
Ang Webmasters nakabira na og luna sa Final Four uban ang 5-4 win-loss record human sa 95-77 nilang demolisyon sa Cebu Institute of Technology-University (CIT-U) Wildcats niadtong Huybes sa gabii.
Apan ang mga batos ni coach Kernn Sesante nanginahanglan gihapon nga latigohon ang Jaguars aron masilyohan ang No.3 seed ug makalihay nga banggaon ang top-ranked University of the Visayas (UV) Green Lancers sa semis.
Susama sab ang tumong sa Jaguars mao nang ang mga fans lagmit makasaksi og usa ka hugtanong pinaksitay tali sa duha ka kampo.
Sa laingh bahin, ang City of Bogo Science and Arts Academy (CBSAA) Trailblazers ni coach Leode Garcia naglaraw nga mokulit og makasaysayanong 9-0 sweep sa dihang ilang harongonj ang UCLM sa alas 12:30 sa hapon.
Sa laing mga aksiyon sa juniors division, ang University of Southern Philippines Foundation (USPF) Baby Panthers makigtige sa University of San Carlos (USC) Baby Warriors sa alas-2 sa hapon samtang ang defending champion Sacred Heart School-Ateneo de Cebu (SHS-AdC) Magis Eagles mohamag sa UC Baby Webmasters sa alas 3-30 sa hapon.
Ang Baby Panthers nahagsa sa 3-4 human giparotan sa Baby Lancers duha ka gabii pa ang milabay. Ilang engkwentrohon ang Baby Warriors nga kausa pa makadaog sud sa walo ka duwa.
Samtang ang Magis Eagles ug Baby Webmasters magbugno alang sa solo nga ikaduhang puwesto. Nagtabla sila sa kasamtangan bitbit ang managsamang 6-1 nga baraha.