EDITORYAL - Uwahi na ang pagmahay
January 30, 2023 | 12:00am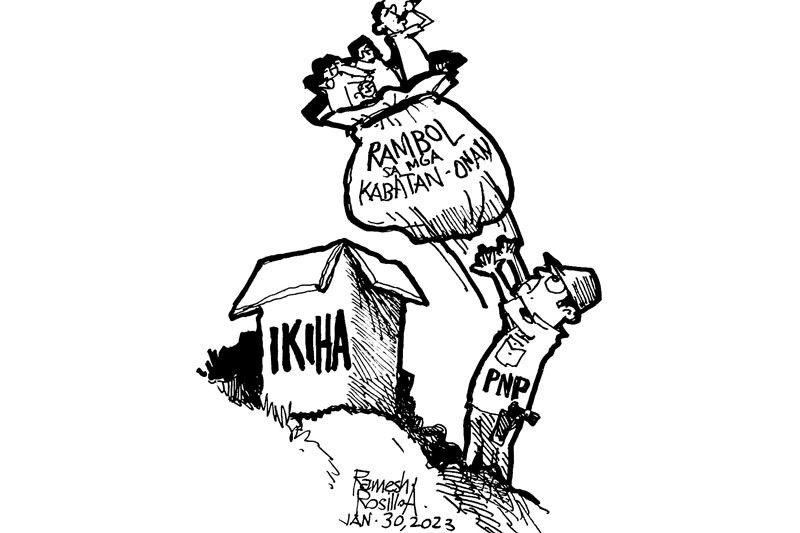 Angay gyud nga pasakaan og kaso ang mga makalapas sa balaod bisan pa man kun unsa kini kagamay kun daghan ang mahasol sa gihimo nilang kalapasan.
Ang Cebu City Police Office napul-an na sa pagsige og pagpasaylo aning mga kabataang mag-rambol diha sa kadalanan sa siyudad.
Sukad sa nakalabay nga tuig, ubay-ubay nang mga grupo sa mga kabataan ang gipangpasakaan og kaso sa CCPO tungod sa ilang gihimong kagubot.
Niadto lang nakalabay nga semana, dunay grupo sa mga batan-on gikan sa Brgy. Mambaling ug Brgy. Lahug ang nagkarambola ug gipangdakop sa mga sakop sa Abellana Police Station.
Sagad sa hinungdan gagmay ra kaayo nga pwede ra gyud untang palabyon ug likayan nga dili mosangpot sa binukbokay o sinumbagay.
Husto gyud ang karaan na kaayong pahimangno nga subling gipahinumdom ni CCPO Police Director Ireneo Dalogdog sa mga manginomay, "kung moinom ibutang sa tiyan ug dili sa ulo."
Apan ang impluwensiya sa bino usahay makapa-brayt, makapa-gwapo ug gwapa sa uban ug labaw sa tanan makapa-isog.
Apan adto lang kini mahitabo sa mga tawo nga kuwang og disiplina sa kaugalingon hinungdan nga magkainitay gyud ang estorya hangtud magkasukmagay na hinuon.
Kaning pagpasaka kanila og kasong alarm and scandal ug posibilidad nga damages to properties, physical injuries ug uban pa, kun makombikto sila bisan asa aning mga kasoha, makapapriso ug multa kini.
Gawas pa niana, posibleng magka criminal record sila sila kun tungod sa ilang kahubog makabuhat sila og bug-at nga sala. Kun malason pa gyud mapriso og dugay, guba ang kaugmaon tungod lang sa gamay nga deperensiya, kuwang og disiplina sa kaugalingon.
Ini og kadakop ug nangapriso, uwahi na ang pagmahay ug ayha pa makapanghinuklog ug moingon 'maypa nilikay nalang ko' ug daghan pang ubang maayo ug angayan unta nga maoy ilang gibuhat.
Sa laktod, isog karon, mahay ugma. Angay kining panaminan sa mga kabataan nga mahiligon og 'night life' o party-party.