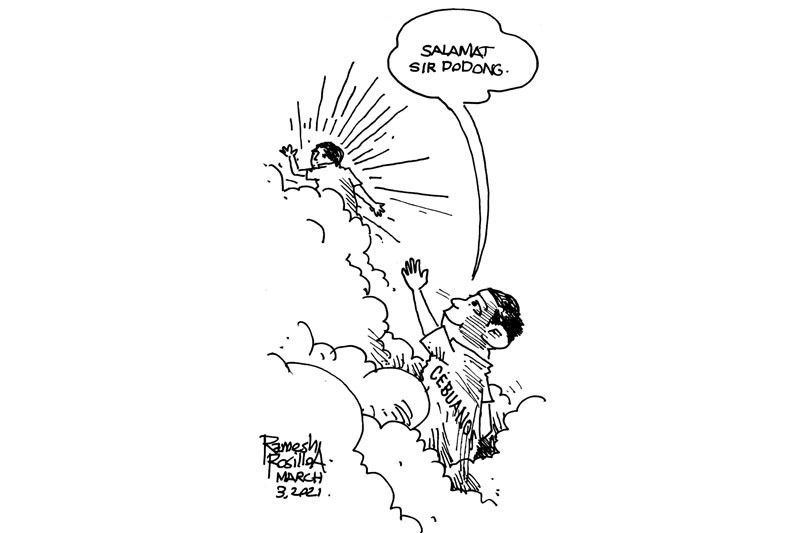 EDITORYAL - Daghang salamat Sir Dodong
(Banat) - March 3, 2021 - 12:00am
Nawad-an og usa ka maayong binhing Sugboanon ang Sugbo sa pagtaliwan ni The Freeman/Banat News Chairman Dr. Jose "Dodong" Gullas kinsa gikatakdang ihatud sa kataposang pahulayan karong adlawa diha sa Valladolid, Dakbayan sa Carcar.
Ang lawas ni Gullas gi-motorkada padung sa mga dapit nga dako siya og natampo sama sa The Freeman Newspaper ug Banat News sa eskina V. Gullas ug D. Jakosalem; ang JRG Halad Museum sa mao gihapong dapit u gang University of the Visayas sa Colon. Gikan sa Cebu City mibiyahe ang motorkada og kapin duha ka oras padung sa ayha pa nilahos ngadto ingon maong siyudad kagahapon sa hapon ug gibilaran kini kagabii sa mga madre sa Daughters of Saint Teresa sa Valladolid diin usab nahimutang ang Domos Teofilo Camomot ang kapilyang gihimong tipiganan sa mga memorabilia ni kanhi Archbishop Teofilo Camomot.
Sa mga wala makaila personal kang Gullas, ang ilang tan-aw kaniya usa lamang siya sa mga adunahan ug impluwensyadong Sugboanon.
Apan dili sa mata sa mga nakauban niini sa buhi pa siya. Ang tinuod mapahiubsanon ug matinabangon si Dodong Gullas sa mga nagkinahanglan ug maisugon manalipod sa mga gilupigan. Sa iyang 87 ka tuig nga panahon dinhi sa kalibotan daghang kinabuhi siyang natandog tungod sa iyang pagkamatinabangon. Wala man tuod tingali niya nahatag ang tanan apan ang iyang lamang pagpakabana sa mga nagkinahanglan lisod nang tupngan sa uban. Naila si Dodong nga usa relihiyosong tawo ug deboto sa Balaang Batang si Senior Sto. Niño, Birheng Maria, Sacred Heart of Jesus ug ni Blessed Archbishop Teofilo Camomot.
Sa buhi pa si Gullas ug bisan gani nagmasakiton na kini, wala siyay laing kanunay hisgotan, gusto pa niyang dugangan ang gidaghanon sa mga tawong iyang natabangan kutob sa iyang mahimo.
Dako iyang pagtuo nga ang tawo lumalabay lamang dinhi aning kalibotana gamit ang hinuwamang oras.
Natapos na ang misyon ni Sir Dodong dinhi sa yuta. Hinaut nga dunay moamuma ug mobisbis sa liso sa kaayo, pagkamatinabangon, manggiluluy-on, pagka Diyosnon, nga iyang gitanom aron dili mausik ang iyang legasiya.
Daghang salamat Sir!