EDITORYAL - Sayon ipamulong, lisud buhaton
August 29, 2020 | 12:00am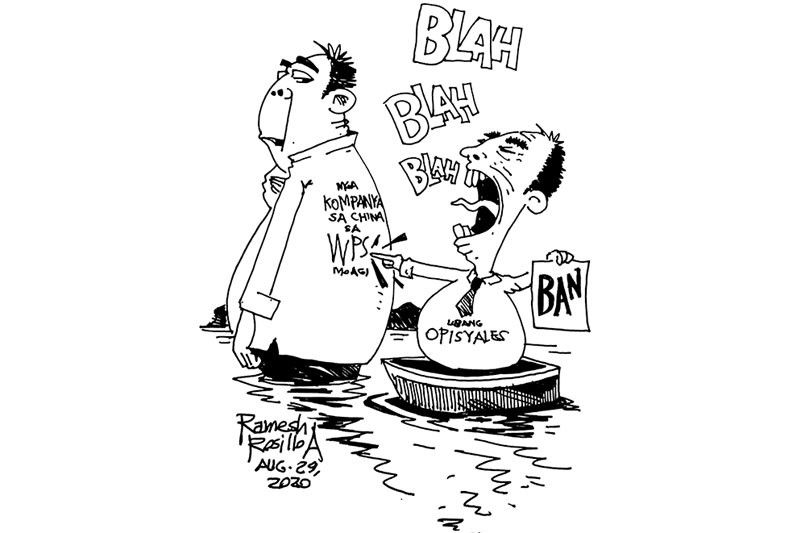 Sayon ra kaayong ipamulong apan lisud ipatuman kining pipila ka mga gusto nato untang buhaton apan sayod kita nga wala kitay kontrol niini.
Si Philippine top diplomat, DFA Sec. Teodoro Locsin Jr. miingon nga makiangayon lang ug pinauyon sa tanan kun i-ban sab sa Pilipinas ang mga kompanyang maoy nitrabaho sa pagtukod sa mga artipisyal nga isla didto sa West Philippine Sea.
Ang US mi-blacklist na sa 24 ka mga kompanyang gipanag-iya sa gobiyerno sa China nga nalambigit sa pagkubkob, paghakot, paghimo ug pagpatukod sa mga estraktura sa mga bahora sa kadagatan diha sa South China Sea apil na niini ang mga giangkong teritoryo sa Pilipinas diha sa West Philippine Sea.
Basin na-amnesia ni si Locsin o ba kaha paukyab ra iyang pamahayag nga sayod man siya nga si Duterte adunay "build, build, build program" kansang mga kompanyang nakadaog sa project gikan man sa China. Pila na kaha aning mga kompanyaha ang nakasulod sa mga dagkong proyektong pang-imprastraktura sa gobiyerno dinhi sa Pilipinas nga natunol na sa Department of Transportation and Communications ug National Economic Development Authority (NEDA).
Dili kini basta-basta mapahunong aron pailisan og laing kontraktor tungod kay may tagal ang mga kontrata aron kini kompletuhon, kun tumanon ang sugyot ni Locsin, maglisod na og apas paghuman ang mga proyekto sa tukmang oras.
Magkaproblema sab ang mga local government units ug nasudnong mga ahensiya gobiyerno nga nikuha sa serbisyo aning mga kompanyaha pagpangita og ikapuli, labaw sa tanan mahikawan nasab ang katawhan nga makabenepisyo na unta niini. Labaw sa tanan, mosugot kaha si Duterte?
Kung US moingon nga ilang i-blacklist ang usa ka indibidwal o kompanya kaya nila kining buhaton kay daghan mang makig-ilog nga mopuli tungod kay galante ug adunahan ang Amerika.
Ang Pilipinas dili makahimo niini ilabi na nga giingong ang uban niining maong mga proyektong imprastraktura utangon pa ang pundong gamiton.
Mao nga usahay kaning ubang mga opisyales sa gobiyerno makapabuhi og dugo kun mopagawas og pamahayag, apan kinahanglang bantayan kun unsa ilang mga gipamulong, kun posible bang mahitabo o bulatik lang.