UK to vaccinate over 12s against COVID-19
September 14, 2021 | 7:46am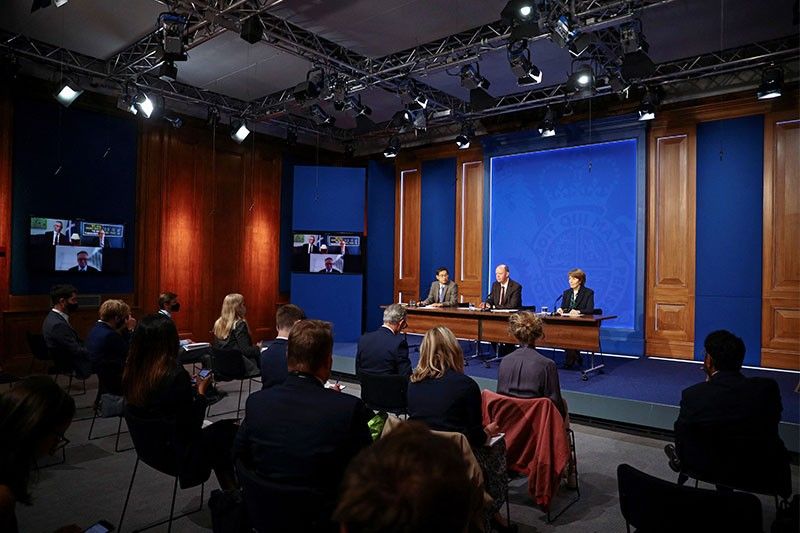 LONDON, United Kingdom — All children aged 12-15 will be offered Covid-19 vaccinations, Britain announced Monday, following the advice of four top medical officers.
Britain has been one of the countries hardest hit by Covid-19, recording more than 134,000 deaths.
Despite a successful vaccination programme, case rates remain stubbornly high due to the emergence of the Delta variant, and officials are anxious about them rising further now that schools have returned after the summer break.
"I have accepted the recommendation from the Chief Medical Officers to expand vaccination to those aged 12 to 15, protecting young people from catching COVID-19, reducing transmission in schools and keeping pupils in the classroom," Health Minister Sajid Javid said.
The programme will be rolled out at schools, with the consent of parents or guardians, according to the health ministry. It targets around three million children.
Vaccinating children has become a thorny issue, despite other countries pushing ahead with jabs for youngsters.
The Joint Committee on Vaccination and Immunisation (JCVI), which advises UK health departments on immunisation, currently says the "margin of benefit, based primarily on a health perspective, is considered too small to support advice on a universal programme of vaccination of otherwise healthy 12 to 15-year-old children at this time".
But the chief medical officers (CMO) of England, Scotland, Wales and Northern Ireland said earlier Monday that the vaccines should be made available, after taking into account wider issues such as education and mental health.
'Difficult decision'
The CMOs said vaccinating 12-15 year-olds "will help reduce transmission of Covid-19 in schools", with around three million children potentially eligible for the first dose of the Pfizer vaccine.
"Covid-19 is a disease which can be very effectively transmitted by mass spreading events, especially with the Delta variant," they said.
"Having a significant proportion of pupils vaccinated is likely to reduce the probability of such events which are likely to cause local outbreaks in, or associated with, schools."
Over four in five adults across the UK have received two doses of COVID-19 vaccine, with over half of 16-17 year olds coming forward for their first jab.
Chris Whitty, CMO for England, later told a news conference that it had been "obviously a difficult decision" but that "the disruption in education that has happened in the last period has been extraordinarily difficult for children".
Whitty said that in the "great majority of cases, children and parents come to the same decision", but accepted that there was "some debate" about what to do in the event of a clash between children and their parents.
Prime Minister Boris Johnson is due to present his government's plans for tackling coronavirus during the winter months, amid fears of a spike in infection and the return of seasonal ailments which would put a further strain on the health service.
As It Happens
LATEST UPDATE: September 18, 2021 - 9:14am
Pharma giants Sanofi and GSK said on July 29, 2020, that they have agreed to supply Britain with up to 60 million doses of a potential COVID-19 vaccine. The agreement covers a vaccine candidate developed by France's Sanofi in partnership with the UK's GSK and is subject to a "final contract."
This thread collects some of the major developments in the search for a vaccine to ease the new coronavirus pandemic. (Main photo by AFP/Joel Saget)
September 18, 2021 - 9:14am
A panel of leading US medical experts advising the government vote in favor of authorizing boosters of Pfizer's coronavirus vaccine for everyone aged 65 and up, as well as people at high risk of developing severe Covid.
The same committee however rejected an initial proposal, submitted by Pfizer and backed by President Joe Biden's administration, to fully approve boosters to everyone aged 16 and over.
The decisions came after a day-long meeting full of data presentations and at times charged debate that was convened by the Food and Drug Administration (FDA). Tens of millions of Americans will soon be eligible for a third shot. — AFP
September 17, 2021 - 12:51pm
US medical experts will meet Friday to debate and vote on the controversial question of giving out booster doses of Pfizer's Covid-19 vaccine to the general population.
President Joe Biden's administration announced in August a plan to roll out third shots to everyone, not just the immune compromised already able to receive them, starting from September 20.
But experts have since expressed reservations about whether they are required, amid concerns over global inequity, the greater need to vaccinate the unvaccinated, and possible increased risk of side effects. — AFP
September 16, 2021 - 5:21pm
China has fully vaccinated more than one billion people against the coronavirus — 71% of its population — official figures showed Thursday.
The country had mostly curbed the virus within its borders but is racing to get the vast majority of its population vaccinated as a new outbreak takes hold in the southeast.
"As of September 15, 2.16 billion vaccine doses have been administered nationwide," said National Health Commission spokesman Mi Feng at a press briefing.
Chinese health authorities said late last month that 890 million people in China had been fully vaccinated and two billion doses administered.
The government has not publicly announced a target for vaccination coverage, but top virologist Zhong Nanshan said last month that the country is likely to have 80% of its population inoculated by the end of the year.
China is currently battling an outbreak of the Delta variant in the southeastern province of Fujian that has infected almost 200 people so far in three cities, many of whom are schoolchildren. — AFP
September 16, 2021 - 7:21am
Cuba says it would seek World Health Organization approval for two home-grown coronavirus vaccines it hopes to commercialize widely.
A vetting process will start Thursday with WHO experts examining the nation's Abdala and Soberana 02 jabs, says Rolando Perez of state pharma group BioCubaFarma.
Perez says the experts would examine the vaccines' "safety, immunogenicity (the ability of a vaccine to provoke an immune response) and efficacy." — AFP
September 15, 2021 - 6:09pm
The European Union is to donate another 200 million COVID-19 vaccine doses to low-income countries, more than doubling its present pledge, the bloc's chief says.
The extra doses announced by European Commission President Ursula von der Leyen come on top of 250 million shots the EU has already promised to give to other countries, particularly ones in Africa.
"I can announce today that the commission will add a new donation of another 200 million doses until the middle of next year," she tells the European Parliament in her annual State of the European Union address. — AFP