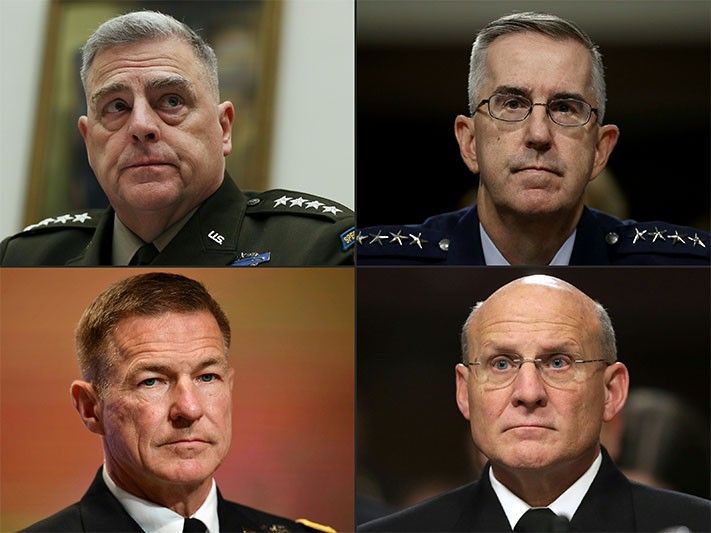 This combination of pictures created on October 06, 2020 shows Chairman of the Joint Chiefs of Staff Gen. Mark Milley on Capitol Hill February 26, 2020 in Washington, DC, US Air Force Gen. John E. Hyten, on July 30, 2019 in Washington, DC, US Army Chief of Staff General James C McConville in Bangkok on September 9, 2019, and Chief of Naval Operations Admiral Michael Gilday on Capitol Hill December 03, 2019 in Washington, DC. General Mark Milley, chairman of the US Joint Chiefs of Staff, tested negative for Covid-19 but is self-quarantining after contact with an infected Coast Guard officer, a defense official said October 6, 2020. "The chairman, the vice chairman and all the service chiefs tested negative," said the official, who requested anonymity. The Pentagon said a number of senior US military officers were self-quarantining after attending meetings last week with the Coast Guard's vice commandant, Admiral Charles Ray.
AFP/WIN MCNAMEE, CHIP SOMODEVILLA, Lillian SUWANRUMPHA/GETTY IMAGES NORTH AMERICA
After White House, COVID-19 breaches Pentagon
(Agence France-Presse) - October 7, 2020 - 9:08pm
WASHINGTON, United States — The US commander-in-chief has COVID-19 and the top military brass are isolating as the coronavirus pandemic takes a toll on the national security establishment of the most powerful nation in the world.
As COVID-19 breached the walls of the Pentagon, the Defense Department was quick to stress on Tuesday that there had been "no change to the operational readiness or mission capability of the US Armed Forces."
President Donald Trump, custodian of the nuclear codes, tested positive for the coronavirus last week and was hospitalized for three days, returning to the White House on Monday.
No sooner had Trump returned to work than the Pentagon announced that members of the Joint Chiefs of Staff, including General Mark Milley, the chairman, were self-quarantining.
They all tested negative for COVID-19 but would isolate after coming into contact during meetings last week with the vice commandant of the Coast Guard, Admiral Charles Ray, who tested postive for the coronavirus.
The list of those who attended meetings with Ray read like a Who's Who of the US military's top brass.
Besides Milley, they included General John Hyten, the Joint Chiefs vice chairman, Admiral Michael Gilday, chief of naval operations, General James McConville, the army chief of staff, and General Charles Brown, the air force chief of staff, a Pentagon official said.
Also attending meetings with Ray were General Daniel Hokanson, the head of the National Guard, General John Raymond, chief of the Space Force, and General Paul Nakasone, the director of the National Security Agency and head of US Cyber Command, the official said.
"All have been tested with no positive results to report and none are exhibiting any symptoms," the official said.
'Abundance of caution'
Pentagon spokesman Jonathan Hoffman said those who had come into contact with Ray would self-quarantine "out of an abundance of caution."
"We are conducting additional contact tracing and taking appropriate precautions to protect the force and the mission," Hoffman said. "Senior military leaders are able to remain fully mission capable and perform their duties from an alternative work location."
The Coast Guard said Ray had tested positive on Monday after experiencing mild symptoms and was quarantining at home.
Defense Secretary Mark Esper was on a foreign trip last week and was not among the Pentagon officials who are going into isolation.
Esper took part in a conference on the future of the US Navy on Tuesday but did not make any comments about the quarantine situation at the Pentagon.
Senior officials said the US threat level had not been heightened last week following the announcement that the president had Covid-19 and no new threats had been detected.
But former US officials said the administration needed to remain wary.
"We have to look at whether or not any of our global adversaries want to take advantage of the distraction taking place right now," John Brennan, who served as CIA director under president Barack Obama, said on NPR radio.
"A country like China might try to do something in Hong Kong now, or in the South China Sea, while Trump is focused on his health," Brennan said.
"(Or Russia) might decide to do something in Belarus or in another country, taking advantage of what they see as a possible opportunity," he said.
Stephen Hadley, who served as national security advisor to former president George W. Bush, also warned that "adversaries may think that America may be distracted, so that they can get away with something."
Representative Adam Smith, chairman of the Democratic-majority House Armed Services Committee, lashed out at Trump's handling of the coronavirus crisis and said it had endangered national security.
"While our military can still operate while leadership is quarantined, the national security implications of the president's recklessness cannot be overstated," Smith said in a statement. "Our adversaries are always looking for any weakness to exploit.
"President Trump's pathetic attempts to exude strength aren't fooling anyone -– Americans know he is weak and so do those who wish us harm," Smith said.
"Instead of leading, President Trump continues to willfully jeopardize the safety and security of the American people and our military apparatus."
As It Happens
LATEST UPDATE: January 4, 2021 - 1:39pm
US President Donald Trump said in a video released on Twitter Saturday night that he was feeling "much better" in his battle against the coronavirus -- but the next few days would be "the real test."
The 74-year-old assured the public of his progress hours after a source with knowledge of the president's condition had warned his vital signs were worrying, with the next 48 hours critical.
"I came here, wasn't feeling so well," said Trump, who is being treated at Walter Reed military medical center near Washington following his Covid-19 diagnosis.
"I feel much better now, we're working hard to get me all the way back." — AFP
Photo: US President Donald Trump holds a face mask as he speaks during the first presidential debate at the Case Western Reserve University and Cleveland Clinic in Cleveland, Ohio on September 29, 2020. AFP/Jim Watson
January 4, 2021 - 1:39pm
US officials reject Donald Trump's claim that the national COVID-19 death toll of more than 350,000 has been exaggerated, but defend the stumbling campaign to vaccinate millions of Americans.
Some 4.2 million people in the US have received initial doses of the two-dose vaccines from Pfizer-BioNTech or Moderna — far below official predictions of 20 million by the new year.
The president blamed local authorities for the delays, tweeting that "the vaccines are being delivered to the states by the Federal Government far faster than they can be administered!" — AFP
December 7, 2020 - 11:34am
Donald Trump said Sunday his personal lawyer Rudy Giuliani has tested positive for COVID-19, the latest member of the US president's inner circle — where mask wearing is rare — to contract the disease.
The 76-year-old former New York City mayor's age puts him in a high-risk group, and the New York Times and ABC reported he was hospitalized on Sunday in Washington as the US faces a record surge in coronavirus cases.
Giuliani's diagnosis comes after he had been crisscrossing the country, leading the president's defiant — and unsuccessful — effort to undo Joe Biden's victory in the November 3 presidential election.
During his travels, Giuliani has been seen frequently without a mask: on Wednesday, he was at the Michigan state assembly in Lansing with his face uncovered for a hearing that lasted more than four hours. — AFP
November 10, 2020 - 8:21am
Two more people close to US President Donald Trump tested positive for the coronavirus, media reports said Monday.
Housing and Urban Development Secretary Ben Carson. 69, has contracted the virus, his deputy chief of staff Coalter Baker told NPR.
"He is in good spirits and feels fortunate to have access to effective therapeutics which aid and markedly speed his recovery," Baker said in a statement.
According to ABC television, Carson was briefly treated at Walter Reid military hospital outside Washington DC, where Trump himself was treated for the virus.
Carson had spent Tuesday evening at the White House watching the election results come in.
Another top aide to the president, David Bossie, was also at the White House event and tested positive on Sunday and has been self-isolating at home, NBC news said. — AFP
October 28, 2020 - 8:39am
Joe Biden flayed Donald Trump on Tuesday with accusations the US president has surrendered to a surging pandemic, as the Democrat took his campaign to the Republican stronghold of Georgia one week before the US election.
While the former vice president went on electoral offense, seeking to expand the campaign map and his state-by-state path to victory on November 3, Trump barnstormed the Midwest in a last-gasp bid to shore up states that voted for him in 2016 but which polls show are tilting Biden's way.
And with the campaign narrowing down to its final days, Biden tapped one of his top surrogates, popular former president Barack Obama, to deliver a closing argument for Democrats in Florida, a must-win swing state for Trump if he is to defy the odds and earn reelection. — AFP
October 25, 2020 - 2:18pm
US Vice President Mike Pence's chief of staff tested positive for COVID-19 on Saturday, a spokesman said, the latest in a list of figures connected to Donald Trump's administration to do so.
Marc Short began quarantine and was assisting in the contract tracing process, Pence spokesman Devin O'Malley said in a statement.
"Vice President Pence and Mrs. Pence both tested negative for COVID-19 today, and remain in good health," he added. — AFP