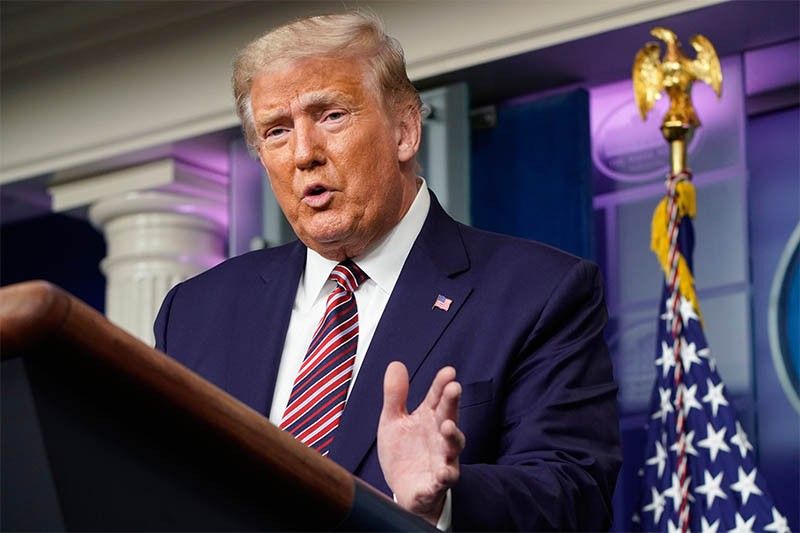 WASHINGTON, DC - SEPTEMBER 27: U.S. President Donald Trump speaks during a news conference in the Briefing Room of the White House on September 27, 2020 in Washington, DC. Trump is preparing for the first presidential debate with former Vice President and Democratic Nominee Joe Biden on September 29th in Cleveland, Ohio.
AFP/Getty Images/Joshua Roberts
Trump says he has tested positive for COVID-19
(Agence France-Presse) - October 2, 2020 - 1:13pm
WASHINGTON, United States (Updated 2:28 p.m.) — US President Donald Trump said early Friday he and First Lady Melania had tested positive for the coronavirus.
"Tonight, @FLOTUS and I tested positive for COVID-19. We will begin our quarantine and recovery process immediately. We will get through this TOGETHER!," Trump tweeted.
Tonight, @FLOTUS and I tested positive for COVID-19. We will begin our quarantine and recovery process immediately. We will get through this TOGETHER!

— Donald J. Trump (@realDonaldTrump) October 2, 2020
US President Donald Trump went into quarantine Thursday night after a potential COVID-19 exposure.
Trump's close White House aide Hope Hicks had tested positive earlier in the day, and the president and first lady Melania Trump were awaiting the results of their own tests, Trump tweeted.
"The First Lady and I are waiting for our test results," he said on Twitter. "In the meantime, we will begin our quarantine process!"
"You know I spend a lot of time with Hope, and so does the first lady," Trump had told Fox News earlier in the evening.
Hicks was on board Air Force One with the president as he traveled to Cleveland, Ohio for the first presidential debate with his rival, Democrat Joe Biden, on Tuesday.
And she also joined Trump on his trip to a campaign stop in Minnesota on Wednesday.
The president routinely receives tests for Covid-19, though the exact frequency is not clear.
Trump's rallies, disinformation, exacerbating spread of COVID-19 in the US
While Trump has access to regular tests and the United States Secret Service at his disposal, his supporters do not.
Despite this, Trump has held several rallies for his reelection campaign amid the COVID-19 crisis, flaunting his own administration's recommendations for social distancing.
Weeks after he he held a controversial rally in Tulsa, Oklahoma in June, the city reported record-high COVID-19 numbers. The city's top health official, Dr. Bruce Dart, in a news conference said that this spike was "more than likely" linked to Trump's rally.
This coming weekend, Trump was expected to hold two rallies in Wisconsin, a state reporting a major spike in infections, even though his own coronavirus task force urged that social distancing be increased "to the maximal degree possible," according to the New York Times.
Following criticism, Trump's campaign relocated one of the rallies although his recently-announced infection will likely result in the cancellation of both events.
A recent study conducted by Cornell University found that Trump has been the world's biggest driver of COVID-19 misinformation during the pandemic.
A team from the Cornell Alliance for Science evaluated 38 million articles published by English-language, traditional media worldwide between January 1 and May 26 of this year.
They identified 522,472 news articles that reproduced or amplified misinformation related to the coronavirus pandemic, or what the World Health Organization has called the "infodemic."
The authors found that comments by Trump drove major spikes in the "miracle cures" topic, which appeared in 295,351 articles, led by his April 24 press briefing where he mused on the possibility of using disinfectants inside the body to cure the coronavirus.
Similar spikes were seen when he promoted unproven treatments like hydroxychloroquine.
"We conclude therefore that the president of the United States was likely the largest driver of the COVID-19 midinformation 'indemic,'" the team wrote.
This is made all the more alarming by the fact that the US accounts for the highest number of COVID-19 cases and fatalities in the world with over 7 million infections and more than 200,000 deaths recorded by Johns Hopkins University.
An article by CNN showed that, though it accounts for only 4% of the global population, the US makes up 25% of the entire world's COVID-19 caseload. A later article by the same publication shows that the global superpower also accounts for more than 20% of the world's death toll. — with a report from Bella Perez-Rubio