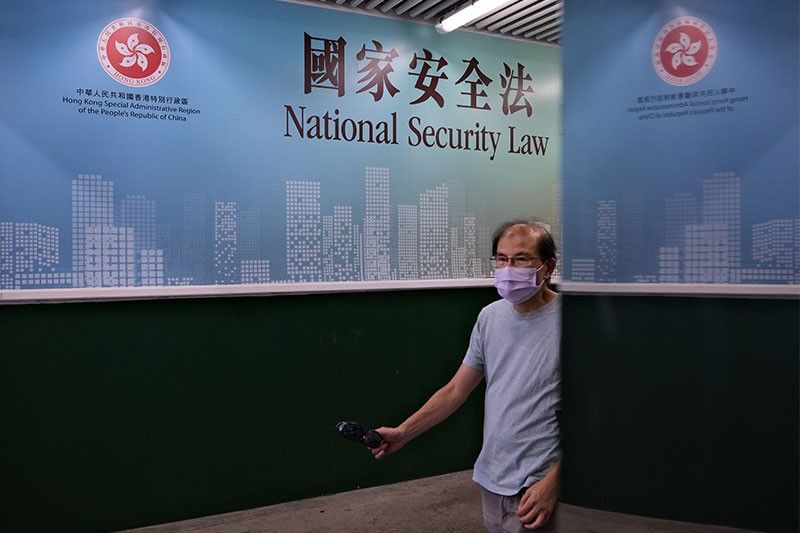 A man walks past a poster for the National Security Law in Hong Kong on July 28, 2020. The European Union will restrict exports to Hong Kong of equipment that could be used for surveillance and repression after Beijing imposed a controversial new security law, diplomatic sources said on July 28.
AFP/Anthony Wallace
EU to restrict exports to Hong Kong over security law
(Agence France-Presse) - July 29, 2020 - 9:43am
BRUSSELS, Belgium — The European Union on Tuesday agreed to limit exports to Hong Kong of equipment that could be used for surveillance and repression after Beijing imposed a controversial new security law.
The bloc voiced "grave concern" over the new law, saying it would severely erode freedoms in Hong Kong that were supposed to be protected under the terms of its handover from Britain to China.
The EU has struggled to agree a united response to China. Member states deeply divided over whether to stand up to Beijing -- a hugely important trading partner -- or to try to cooperate with it.
But following a proposal by France and Germany, the 27 member states on Tuesday agreed to limit exports to Hong Kong of technology that could be used for "internal repression, the interception of internal communications or cyber-surveillance".
"The EU considers the national security legislation for Hong Kong... to be a matter of grave concern," said a statement from the EU council, where all member states' leaders have a seat.
"The EU is particularly concerned about the extensive erosion of rights and freedoms that were supposed to remain protected until at least 2047."
Along with the export restriction, the EU will also bring in measures to support the population of the former British colony, granting visas, scholarships and academic exchanges to make it easier for them to travel to Europe, diplomats said.
German Foreign Minister Heiko Maas said that with the new security law in place, "It makes sense to treat Hong Kong no differently from mainland China" when it comes to the export of equipment that can be used for repression.
Beijing on Tuesday announced the suspension of extradition treaties with Canada, Australia and Britain, following similar moves by those countries over the new law.
Hong Kong's former colonial ruler Britain suspended its extradition treaty last week saying the security law had "significantly changed key assumptions" including a provision to try certain cases in mainland China.
Beijing insists the security law is needed to restore stability in the financial hub after prolonged political unrest.
As It Happens
LATEST UPDATE: August 1, 2020 - 12:26pm
Millions march in Hong Kong in a powerful rebuke of an extradition law feared to expose them to China's capricious justice system.
August 1, 2020 - 12:26pm
Hong Kong's arrest warrants for activists overseas show that exile and foreign nationality are no protection against the city's sweeping national security law, one of the targeted dissidents warn.
Democracy campaigner and US citizen Samuel Chu, who runs the Hong Kong Democracy Council in Washington, says he had learned he is wanted for allegedly "inciting secession and colluding with foreign powers".
Chinese state media earlier reported Hong Kong police had ordered the arrest of six pro-democracy activists living in exile on suspicion of violating the new law. — AFP
July 30, 2020 - 5:02pm
Uber will keep its Asian headquarters in Singapore for now, the ride-hailing giant says, blaming regulatory uncertainty for thwarting a mooted shift to Hong Kong.
The decision came weeks after China imposed a controversial national security law on Hong Kong -- although Uber did not mention the legislation in its announcement.
The company announced massive layoffs in May due to the coronavirus, and said it was ready to move its regional base to the semi-autonomous Chinese city if there was progress on regulation there. — AFP
July 19, 2020 - 11:17am
Hong Kong's status as a bastion of press freedom is in crisis as authorities toughen their line against international media and fears grow about local self-censorship under the city's sweeping new security law.
For decades the former British colony has been a shining light for journalists in Asia, lying on the fringes of an authoritarian China where the ruling Communist Party keeps a tight grip on public opinion.
The civil liberties that have stewarded the city's success were promised to Hong Kongers for another 50 years under a deal that returned the trading hub to Chinese rule in 1997. — AFP
July 15, 2020 - 1:07pm
China's new security law has sent a chill through Hong Kong's schools and universities with many teachers fearful the city's reputation for academic freedom and excellence is now at risk.
Just a week after the sweeping legislation was imposed on the territory, staff at some institutions have already been warned by their administrators to be careful how they teach.
"Remain neutral in your teaching and be mindful of the language you use," read one email to staff of HKU SPACE, a college attached to the prestigious University of Hong Kong (HKU). — AFP
July 15, 2020 - 11:45am
China says it would retaliate after US President Donald Trump signed into law an act allowing sanctions on banks over Beijing's clampdown on Hong Kong.
The Hong Kong Autonomy Act "maliciously slanders" national security legislation imposed by Beijing on the city, China's foreign ministry says in a statement.
"China will make necessary responses to protect its legitimate interests, and impose sanctions on relevant US personnel and entities," the ministry says. — AFP