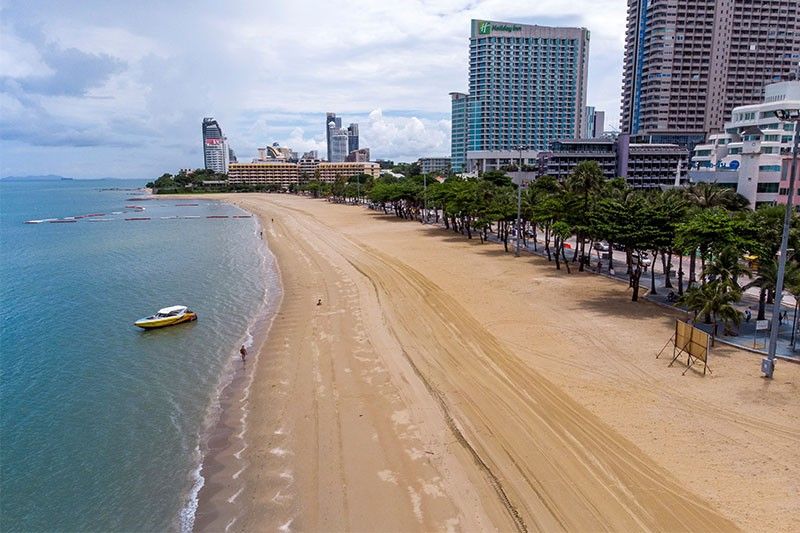 An aerial photo shows the main beach in Pattaya on June 1, 2020. Authorities lifted coronavirus restrictions for all the beaches in Thailand's Pattaya for the first time in more than two months.
AFP/Mladen Antonov
Thais seek sun and surf as officials re-open some beaches
PATTAYA, Thailand — People returned to some of Thailand's famed sandy beaches Monday, keeping well apart but enjoying the outdoors, as authorities eased some coronavirus restrictions for the first time in more than two months.
In Pattaya, visitors marvelled at the clarity of the turquoise-blue waters of the Gulf of Thailand, and pensioners eager for exercise promenaded along the beach.
Social distancing rules still applied, with local authorities ordering beachgoers to stay at least a metre (three feet) apart.
German expatriate Heidi Glemeau was one of the first to take an early-morning dip in the water, and couldn't believe how empty it was.
"I couldn't resist the temptation," she told AFP. "It's become a paradise — just like it was 30 years ago."
Not all beaches were closed during the lockdown, and not all re-opened Monday.
Phuket, in the south, is still off-limits, while Hua Hin remained open throughout.
Thailand has been under various lockdown restrictions since mid-March, when authorities declared a state of emergency against the coronavirus -- shuttering malls, leisure centres and public spaces, including its beaches.
But the number of new infections slowed in May, and on Monday cinemas as well as tattoo and massage parlours across the kingdom were given the green light to return to business.
"I think it's been long enough," said Nutthawut Kanasup, 29, who waited for a foot massage at a downtown Bangkok spa.
Student Prayos Plodchai, who had tickets for US blockbuster "Bloodshot", said he was not very confident about the hygiene standards at Central World mall's cinema.
"But I'm willing to take the risk because I've been stuck at home for so long," the 19-year-old said.
Official records show the kingdom escaped the worst of the disease relatively lightly, recording just over 3,000 infections and 57 deaths.
Some experts, however, say a lack of testing may mask the true toll.
Regardless, the exodus of foreigners and a ban on new arrivals hit the economy hard — particularly as the country is so reliant on tourist dollars in resorts such as Pattaya.
Tourism revenues dropped by 40 percent in the first three months of the year, and the government has warned the virus's impact on the second quarter will be more severe.
A major tourist destination with an infamous nightlife and red-light district, Pattaya has turned into a virtual ghost town.
Bars and clubs remain shuttered, and it is not clear when normal activity will resume.
As It Happens
LATEST UPDATE: June 12, 2021 - 6:41pm
Follow this page for updates on a mysterious pneumonia outbreak that has struck dozens of people in China.
June 12, 2021 - 6:41pm
The government of Saudi Arabia will allow 60,000 vaccinated residents to perform hajj.
June 12, 2021 - 3:21pm
Queen Elizabeth II will recognize those responsible for Britain's successful COVID-19 vaccine rollout in her annual Birthday Honours list, Buckingham Palace says.
Sarah Gilbert, lead developer of the Oxford/AstraZeneca vaccine, and Kate Bingham, the former chair of Britain's vaccine taskforce, are both to receive damehoods -- one of the highest honours bestowed by the monarch. — AFP
June 12, 2021 - 12:32pm
Indian start-up Mylab Discovery Solutions hopes that its inexpensive COVID-19 home test kit -- the country's first -- will help the massive South Asian nation better track the pandemic's spread among its 1.3-billion people.
CoviSelf was launched earlier this month and is the first home testing kit to be approved in India, which is slowly emerging from a brutal second wave that overwhelmed its hospitals and crematoriums, with almost 30 million infected so far and over 350,000 dead.
But many experts suspect that the real numbers are much higher, blaming insufficient testing and inaccurate recording of the cause of patient deaths. — AFP
June 10, 2021 - 7:31pm
The novel coronavirus has killed at least 3,764,250 people since the outbreak emerged in China in December 2019, according to a tally from official sources compiled by AFP at 1000 GMT on Thursday.
At least 174,350,990 cases of coronavirus have been registered.
The vast majority have recovered, though some have continued to experience symptoms weeks or even months later. — AFP
June 10, 2021 - 5:14pm
Taiwanese rights activists urge authorities to revoke a "discriminatory" ban on migrant workers going outside after a coronavirus outbreak spread to the island's lucrative tech sector.
The local government in central Miaoli county this week imposed a stay indoors order on all migrant workers unless they were explicitly commuting to work.
The order came after four electronics companies reported clusters among their workforce, which includes many low paid migrants from nearby countries like Indonesia, Vietnam and the Philippines. — AFP