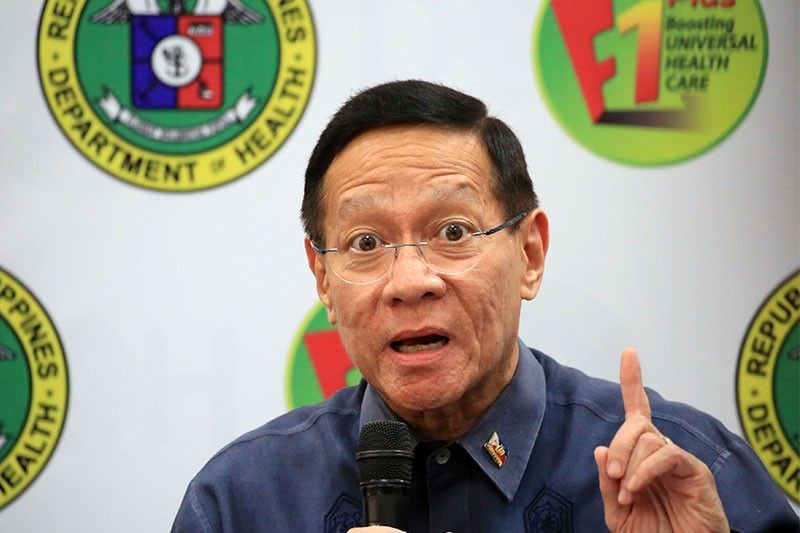 In this Feb. 3, 2020 photo, Health Secretary Francisco Duque III holds a press conference on the 2019 Novel Coronavirus Acute Respiratory Disease.
The STAR/Edd Gumban
Philippines watching developments on Thailand's potential 2019-nCoV cure
MANILA, Philippines — The Philippines will be waiting for further research on the effectivity of a cocktail of anti-virals that supposedly cured a Chinese woman infected with the novel coronavirus (2019-nCoV) in Thailand.
A 71-year-old patient tested negative for the deadly virus 48 hours after Thai doctors gave her a mixture of medicines used to treat flu and HIV.
Health Secretary Francisco Duque III said the treatment in Thailand lacks scientific basis and noted that the "drug cocktail" was only applied to mild novel coronavirus cases.
"We need further advisories because it will be difficult if something bad happens due to the medicine, it will be our liability, the situation will be more complicated," Duque told radio dzMM in Filipino.
Duque added that the DOH will be willing to use the so-called drug cocktail if proven effective.
"It will be better if we wait. If there is proof that the cocktail is really effective, why will we refrain from using it?" the Heatlth chief added.
According to Thailand's health ministry, the doctors combined anti-flu drug drug oseltamivir with lopinavir and ritonavir, anti-virals used to treat HIV to the patient.
Thailand has 19 confirmed cases of the novel coronavirus, the second highest number of cases outside of China, next to Japan with 20.
WATCH: 'Everything is well': Duterte assures nation on novel coronavirus risk
First death outside China
The Philippines confirmed the first recorded death from the virus outside China over the weekend.
The patient was a 44-year-old Chinese man, a companion of the 38-year old woman, who was the first confirmed carrier of the virus in the Philippines.
The man passed away on February 1, days after being admitted for fever, cough and sore throat. According to the DOH, the man was in stale condition in his last few days before his sickness worsened within 24 hours.
The DOH is monitoring 80 patients suspected of having the virus, 67 of which are confined and isolated in various hospitals in the country while 10 have benn discharged but under strict monitoring.
As It Happens
LATEST UPDATE: March 28, 2020 - 6:29pm
Follow this page for updates on a mysterious pneumonia outbreak that has struck dozens of people in China.
March 28, 2020 - 6:29pm
Iran announces that 139 more people had died from the novel coronavirus, raising the official death toll to 2,517 in one of the world's worst-affected countries.
Health ministry spokesman Kianoush Jahanpour says in a press conference that 3,076 more cases had been confirmed in the past 24 hours, bringing the total number of infections to 35,408. — AFP
March 28, 2020 - 3:53pm
Actress Iza Calzado tested positive for the coronavirus disease, her manager says.
March 28, 2020 - 1:30pm
Toyota Makati Inc. announces that a team member tested positive for COVID-19.
"The safety and security of our employees, customers, and all of our stakeholders, is paramount to us. Keeping this in mind, and under the guidance and support of the relevant national and local authorities, we are taking immediate and comprehensive actions necessary, including disinfection of the dealership, to prevent any spread of the virus," the company says.
"Furthermore, all employees who have had close contact with the infected member have been quarantined," it adds.
March 28, 2020 - 10:43am
The United States now has more than 100,000 confirmed cases of the new coronavirus, a tracker maintained by Johns Hopkins University shows.
There have been 100,717 cases including 1,544 deaths as of 6:00 pm Eastern time (2200 GMT).
The biggest cluster by far is in New York, home to almost half the cases, overwhelming the hospital system. — AFP
March 28, 2020 - 9:08am
Manila Development Authority General Manager Jojo Garcia has tested positive for the coronavirus disease.
"I wish to inform everyone that I will have to work from home as I have been found positive for COVID-19," Garcia says in a statement.
"I embrace this challenge with full trust and faith in God that I will overcome the same with your prayers," he adds.