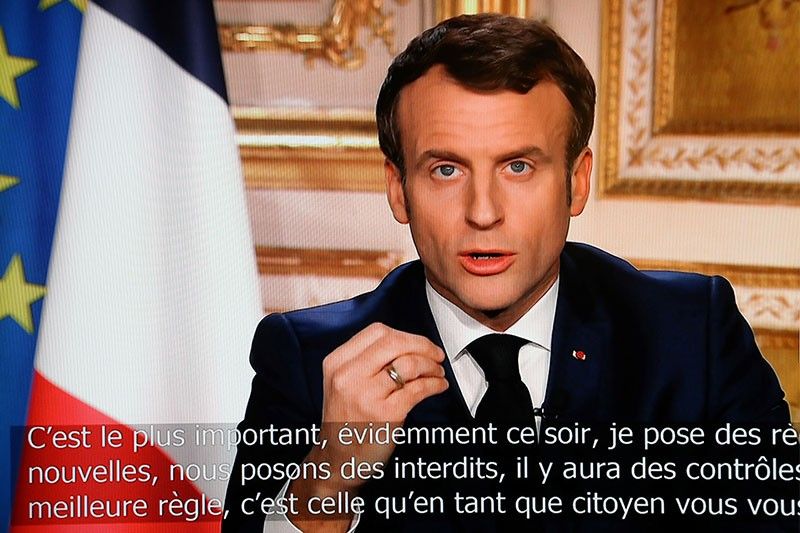 French President Emmanuel Macron is seen on a television screen as he speaks during a televised address to the nation on the outbreak of COVID-19, caused by the novel coronavirus, on March 16, 2020, in Paris. The French president addresses the nation, with many expecting him to unveil more strict home confinement rules in a bid to prevent the virus from spreading. France has closed down all schools, theatres, cinemas and a range of shops, with only those selling food and other essential items allowed to remain open. The balance sheet of the epidemic climbed to 127 dead and 5,423 confirmed cases in France.
AFP/Ludovic Marin
Macron ramps up French 'war' on coronavirus
PARIS, France — French President Emmanuel Macron on Monday ordered people to stay at home to avoid spreading the new coronavirus, saying only necessary trips would be allowed and violations would be punished.
Macron's orders came as France's national health agency announced 21 more coronavirus deaths and 1,210 new cases of infection in the past 24 hours, bringing the total number of fatalities to 148.
In the 20-minute address to the nation, he said the French had to "severely restrict movements for the next 15 days at least" and limit social contacts as much as possible.
Interior Minister Christophe Castaner later said anyone outside would have to provide proof of their reasons for travelling and 100,000 law enforcement officers would be enforcing the measures.
Anyone who does not observe the confinement, Castaner added, could be fined 135 euros ($150).
Macron said under the new regime gatherings among friends and family would no longer be allowed, only "necessary movements" like shopping, medical visits or working when tele-commuting was not possible.
In addition, he said the European Union would close all external borders for 30 days from Tuesday to curb the outbreak, though citizens of EU countries would be allowed to return.
And on the domestic front, the second round of municipal elections set for this weekend has been postponed to June 21 after the first round of voting Sunday was marred by record no-shows.
Given the urgency of the crisis, Macron also said he would ask parliament on Thursday to approve a law granting his cabinet the power to govern by decree, "only in areas required to manage this crisis".
'As if life had not changed'
France had already announced stringent new measures to close bars, restaurants and cinemas, which came after the closure of schools and a ban on large gatherings.
Macron said the new measures were needed after people flocked outside in defiance of warnings over the weekend.
"Even while medics were warning about the gravity of the situation, we saw people get together in the parks, busy markets and restaurants and bars that did not respect the order to close," Macron said.
"As if life had not changed," he said, warning such behaviour put the lives of others in danger.
With concern growing over the economy, Macron also vowed that "no company would be abandoned to the risk of bankruptcy" because of the draconian measures that have seen businesses shut and factories forced to idle factories.
"Those facing difficulties will not have to spend any money, not for taxes or social charges," Macron said. He also indicated that rents and utility bills could be suspended for small and medium-sized companies in distress.
France will also ensure that all bank loans to companies are backed by a state guarantee totalling 300 billion euros ($340 billion), he said.
He also suspended the application of his signature reform of the country's pension system, which had prompted France's longest transport strike in decades over the Christmas holidays.
"Because we are at war, the entire focus of the government and parliament must be on fighting this epidemic," he said.
"That is why I have decided that all reforms under way will be suspended, starting with the pensions overhaul."
As It Happens
LATEST UPDATE: May 15, 2021 - 6:49pm
Follow this page for updates on a mysterious pneumonia outbreak that has struck dozens of people in China.
May 15, 2021 - 6:49pm
The novel coronavirus has killed at least 3,359,726 people since the outbreak emerged in China in December 2019, according to a tally from official sources compiled by AFP.
At least 161,795,290 cases of coronavirus have been registered. The vast majority have recovered, though some have continued to experience symptoms weeks or even months later.
These figures are based on daily tolls provided by health authorities in each country and exclude later re-evaluations by statistical organizations, as has happened in Russia, Spain and Britain.
May 15, 2021 - 3:27pm
Taiwan orders stricter social distancing measures for its capital and surrounding areas on Saturday after a sudden spike in coronavirus cases in a place that has so far weathered the pandemic comparatively unscathed.
Authorities raised the alert level for Taipei and New Taipei City after 180 new domestic coronavirus infections were confirmed, up from 29 cases the previous day.
The new restrictions mean no more than five people can gather indoors and 10 outdoors -- but authorities stopped short of ordering a total lockdown. — AFP
May 14, 2021 - 9:00am
The top US health agency on Thursday said it was lifting mask-wearing guidance for people who are fully vaccinated against COVID-19, a watershed moment that President Joe Biden called "a great day" in the long pandemic fight.
The announcement by the Centers for Disease Control and Prevention (CDC) marked an abrupt turnaround after more than a year of urging people to cover their faces to stem the spread.
"Anyone who is fully vaccinated can participate in indoor and outdoor activities, large or small, without wearing a mask or physical distancing," CDC director Rochelle Walensky said during a briefing.
"If you are fully vaccinated, you can start doing the things that you had stopped doing because of the pandemic." — AFP
May 13, 2021 - 3:30pm
At the peak of Kenya's third wave of COVID-19 in March, hospitals — buckling under the strain of the virus — saw their oxygen reserves fizzle out.
Since then, they have been scrambling to increase capacity of the lifesaving element, fearing the nightmare scenario currently unfolding in India due to oxygen shortages.
On the roof of the Metropolitan Hospital, a 150-bed private institution that targets the middle class, a brand-new oxygen production unit has just been installed that is capable of producing up to 600 liters of the gas per minute.
Metropolitan CEO Kanyenje Gakombe said the hospital accelerated plans to produce its own oxygen after supplies were squeezed to the limit during the height of the third wave, fanned by the variants of the coronavirus first detected in Britain and South Africa.
In April Kenya registered a record 571 deaths, and the health ministry warned hospitals were overrun with fewer than 300 patients in the Intensive Care Unit and fewer than 2,000 hospitalised countrywide. — AFP
May 12, 2021 - 6:19pm
The catastrophic scale of the Covid-19 pandemic could have been prevented had the warning signs been heeded, the global panel investigating the world's coronavirus response concluded Wednesday.
The Independent Panel for Pandemic Preparedness and Response blamed a "toxic cocktail" of dithering and poor coordination, said the World Health Organization could have sounded the alarm sooner, and urged rich countries to donate one billion vaccine doses by September, in its long-awaited final report. — AFP