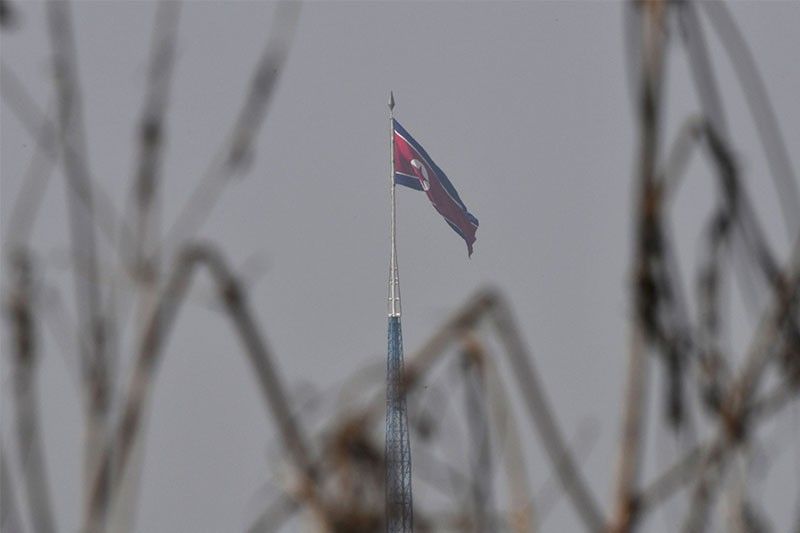 A North Korean flag flutters in the propaganda village of Gijungdong as seen from South Korea's Taesungdong freedom village, in the Demilitarized zone dividing the two Koreas in Paju on September 30, 2019.
AFP/Jung Yeon-je
North Korea says no talks unless US stops hostile policies
(Agence France-Presse) - October 7, 2019 - 8:42am
SEOUL, South Korea — North Korea said Sunday it has "no intention" to continue nuclear talks unless the United States takes steps to end hostilities, a day after negotiations in Sweden broke down.
The discussions in Sweden followed months of stalemate following a February meeting between the North's leader Kim Jong Un and President Donald Trump, and came after Pyongyang's defiant test of a sea-launched ballistic missile on Wednesday.
The North walked away from the Sweden talks saying it was disappointed at the lack of "new and creative" solutions offered by Washington, although the US insisted it was willing to meet again in two weeks.
But a spokesman at the North's foreign ministry said Washington's claims about another meeting was "ungrounded".
"We have no intention to hold such sickening negotiations as what happened this time before the US takes a substantial step to make complete and irreversible withdrawal of the hostile policy toward the DPRK," he said using the acronyms of the North's official name.
In a statement carried by the North's Korean Central News Agency, the spokesman warned that their "dealings" may immediately end if the US sticks to its old playbook.
"The fate of the future DPRK-US dialogue depends on the US attitude, and the end of this year is its deadline," he added.
Good discussions
In Stockholm, the nuclear-armed North's leading negotiator, Kim Myong Gil, blamed the US for not giving up their "old attitude" which led to talks ending "without any outcome".
But Washington called the talks "good discussions", saying the comments by North Korea did not reflect the content or the spirit their eight-and-a-half-hour discussion.
The United States accepted host Sweden's invitation to resume talks in two weeks' time, State Department spokeswoman Morgan Ortagus said.
Ortagus added in a statement that the US "previewed a number of new initiatives" that would allow progress on the statement reached in Singapore at the first Trump-Kim summit last year.
The two leaders adopted a vaguely worded document on the "complete denuclearisation of the Korean peninsula" at their first summit in June last year, but little progress has since been made.
On Wednesday, North Korea claimed to have entered a new phase in its defence capability with Wednesday's test of a submarine-launched ballistic missile -- the most provocative since Pyongyang began dialogue with Washington in 2018.
Trump has said he sees no problem with a string of short-range missile tests conducted previously by North Korea, while insisting his personal ties with the North's leader remain good.
North Korea is banned from ballistic missile launches by the United Nations Security Council resolutions.
The Security Council is expected to hold closed-door talks early next week on the latest test at the request of Britain, France and Germany, diplomats said.
As It Happens
LATEST UPDATE: July 8, 2020 - 5:55pm
The United States formally concluded that North Korea ordered the murder of Kim Jong-Nam, a half-brother and potential rival to ruler Kim Jong-Un, with the VX nerve agent.
"This public display of contempt for universal norms against chemical weapons use further demonstrates the reckless nature of North Korea and underscores that we cannot afford to tolerate a North Korean WMD program of any kind," US State Department spokeswoman Heather Nauert said.
The finding triggered another layer of US economic sanctions against Pyongyang, just as South Korea reported that the regime is ready for talks to end a nuclear standoff.
July 8, 2020 - 5:55pm
US Deputy Secretary of State and North Korea envoy Stephen Biegun pour cold water on reports Washington had sought a meeting with Pyongyang officials, with nuclear discussions at a standstill.
Biegun is on a four-day trip to Seoul and Tokyo to discuss North Korea's denuclearisation.
The visit triggered speculation in the South that Washington was trying to rekindle diplomacy with Pyongyang ahead of the US presidential election in November -- even though the North has repeatedly said it had no interest in talks. — AFP
July 4, 2020 - 5:55pm
A senior diplomat says North Korea does "not feel any need" to resume talks with Washington, days after Seoul called for a summit as it seeks improved ties with Pyongyang.
The statement by the North's vice foreign minister Choe Son Hui comes after former US national security advisor John Bolton reportedly said President Donald Trump might pursue another meeting with leader Kim Jong Un in October. — AFP
April 28, 2020 - 9:58am
US President Donald Trump appears to confirm that North Korean leader Kim Jong Un is alive, saying he wished him well after days of speculation over the dictator's whereabouts.
Asked if he had new information about Kim's health, Trump says "yes, I do have a very good idea, but I can't talk about it now. I just wish him well."
"I hope he's fine," Trump continues, speaking at a White House press conference. "I do know how he's doing, relatively speaking." — AFP
December 31, 2019 - 4:44pm
State media says North Korean leader Kim Jong Un has called for "diplomatic and military countermeasures", ahead of a year-end deadline for Washington to change its stance on stalled nuclear talks with Pyongyang.
His latest comments, made during a meeting of top ruling party officials in Pyongyang on Monday, came ahead of his set-piece New Year speech that could flesh out a threat to seek a "new way" forward after the expiration of the year-end deadline.
He spoke for seven hours during the ruling Workers' Party meeting, the North's official KCNA news agency said in a report released Tuesday, calling for measures to rebuild its economy and "diplomatic and military countermeasures for firmly preserving the sovereignty and security" of the isolated nation. — AFP
December 21, 2019 - 4:42pm
North Korea on Saturday warned Washington would only aggravate tensions and "pay dearly" for criticising Pyongyang over human rights, with nuclear negotiations between the two deadlocked.
The international community has frequently condemned North Korea for political repression, and for decades of prioritising its military and its nuclear weapons programme over adequately providing for its people.
Criticising Pyongyang's human rights record would only aggravate the "already tense situation" on the Korean peninsula, "like pouring oil over burning fire", a North Korean foreign ministry spokesperson said, according to the official Korean Central News Agency (KCNA).
The statement was in response to concern expressed by a US state department official over North Korea's human rights situation, KCNA said. — Agence France-Presse