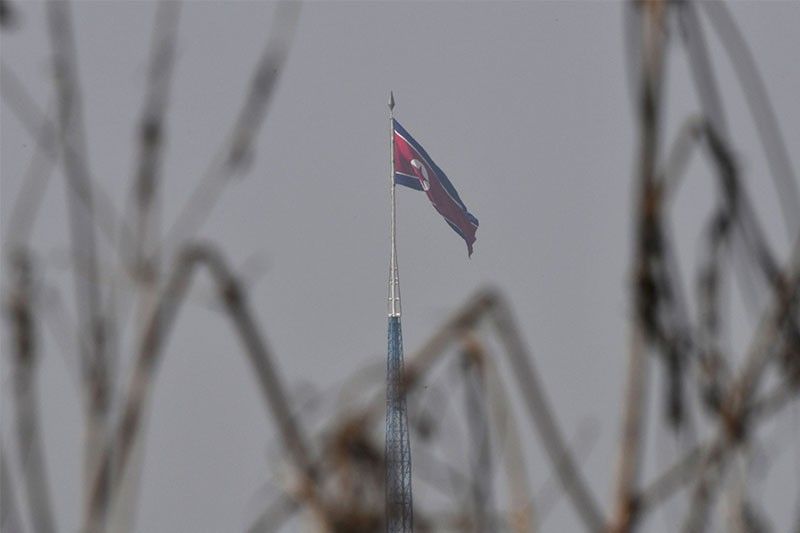 A North Korean flag flutters in the propaganda village of Gijungdong as seen from South Korea's Taesungdong freedom village, in the Demilitarized zone dividing the two Koreas in Paju on September 30, 2019.
AFP/Jung Yeon-je
North Korea says no talks unless US stops hostile policies
(Agence France-Presse) - October 7, 2019 - 8:42am
SEOUL, South Korea — North Korea said Sunday it has "no intention" to continue nuclear talks unless the United States takes steps to end hostilities, a day after negotiations in Sweden broke down.
The discussions in Sweden followed months of stalemate following a February meeting between the North's leader Kim Jong Un and President Donald Trump, and came after Pyongyang's defiant test of a sea-launched ballistic missile on Wednesday.
The North walked away from the Sweden talks saying it was disappointed at the lack of "new and creative" solutions offered by Washington, although the US insisted it was willing to meet again in two weeks.
But a spokesman at the North's foreign ministry said Washington's claims about another meeting was "ungrounded".
"We have no intention to hold such sickening negotiations as what happened this time before the US takes a substantial step to make complete and irreversible withdrawal of the hostile policy toward the DPRK," he said using the acronyms of the North's official name.
In a statement carried by the North's Korean Central News Agency, the spokesman warned that their "dealings" may immediately end if the US sticks to its old playbook.
"The fate of the future DPRK-US dialogue depends on the US attitude, and the end of this year is its deadline," he added.
Good discussions
In Stockholm, the nuclear-armed North's leading negotiator, Kim Myong Gil, blamed the US for not giving up their "old attitude" which led to talks ending "without any outcome".
But Washington called the talks "good discussions", saying the comments by North Korea did not reflect the content or the spirit their eight-and-a-half-hour discussion.
The United States accepted host Sweden's invitation to resume talks in two weeks' time, State Department spokeswoman Morgan Ortagus said.
Ortagus added in a statement that the US "previewed a number of new initiatives" that would allow progress on the statement reached in Singapore at the first Trump-Kim summit last year.
The two leaders adopted a vaguely worded document on the "complete denuclearisation of the Korean peninsula" at their first summit in June last year, but little progress has since been made.
On Wednesday, North Korea claimed to have entered a new phase in its defence capability with Wednesday's test of a submarine-launched ballistic missile -- the most provocative since Pyongyang began dialogue with Washington in 2018.
Trump has said he sees no problem with a string of short-range missile tests conducted previously by North Korea, while insisting his personal ties with the North's leader remain good.
North Korea is banned from ballistic missile launches by the United Nations Security Council resolutions.
The Security Council is expected to hold closed-door talks early next week on the latest test at the request of Britain, France and Germany, diplomats said.
As It Happens
LATEST UPDATE: September 27, 2019 - 5:07pm
The United States formally concluded that North Korea ordered the murder of Kim Jong-Nam, a half-brother and potential rival to ruler Kim Jong-Un, with the VX nerve agent.
"This public display of contempt for universal norms against chemical weapons use further demonstrates the reckless nature of North Korea and underscores that we cannot afford to tolerate a North Korean WMD program of any kind," US State Department spokeswoman Heather Nauert said.
The finding triggered another layer of US economic sanctions against Pyongyang, just as South Korea reported that the regime is ready for talks to end a nuclear standoff.
September 27, 2019 - 5:07pm
North Korea says US aggression and an obsession with disarmament mean another summit between Washington and Pyongyang is looking doubtful, even as it praised US President Donald Trump as "bold" and "wise".
Washington has "done nothing for the implementing the joint statement" from the first US-North Korea summit held in Singapore last year, Kim Kye Gwan, advisor to North Korea's foreign ministry, writes in a statement carried in Pyongyang's official news wire KCNA.
The official then slammed Washington for its joint military drills with the South, which it has long considered rehearsals for invasion. — AFP
September 17, 2019 - 10:00am
US President Donald Trump says that it is "probably not" the right time for him to visit North Korea but he could see doing so sometime in the future.
"I don't think we're ready for that," Trump tells reporters when asked about visiting Pyongyang for a meeting with North Korean leader Kim Jong Un. "I think we have a ways to go yet.
"The relationship is very good," Trump adds, but the time was not right for a visit to Pyongyang. — AFP
September 10, 2019 - 5:06pm
South Korea's military say North Korea fired projectiles into the sea hours after Pyongyang said it was willing to hold working-level talks this month with the United States.
Negotiations between Pyongyang and Washington have been gridlocked since a second summit between the North's leader Kim Jong Un and US President Donald Trump in February ended without a deal.
North Korea twice launched "unidentified projectiles" Tuesday morning in an easterly direction. The objects flew approximately 330 kilometres (205 miles) from the Kaechon area in South Pyongan province, according to the South Korean military. — AFP
August 31, 2019 - 1:40pm
North Korea lashes out at US Secretary of State Mike Pompeo over his comments on Pyongyang's "rogue behaviour" and warned its expectations for nuclear talks with Washington are "gradually disappearing".
Pyongyang's angry words come as working-level talks with Washington remain gridlocked, despite an agreement in June between North Korean leader Kim Jong Un and President Donald Trump to kickstart the process.
Instead no progress has been made in recent weeks, as the reclusive state launched a series of weapons tests in protest at joint military exercises between the US and South Korea. — AFP
August 10, 2019 - 9:28am
US President Donald Trump says that he agreed with Kim Jong Un's opposition to US-South Korea war games, refusing to criticize missile tests that Pyongyang said are a "solemn warning" over the exercises.
Trump says he had received a "beautiful letter" from Kim expressing Pyongyang's anger over the joint war games, which spurred the series of tests of extremely fast, short-range guided missiles.
But hours after Trump said he foresaw having another meeting with Kim, South Korea's Joint Chiefs of Staff said North Korea fired two more apparent rockets into the East Sea, or Sea of Japan. — AFP