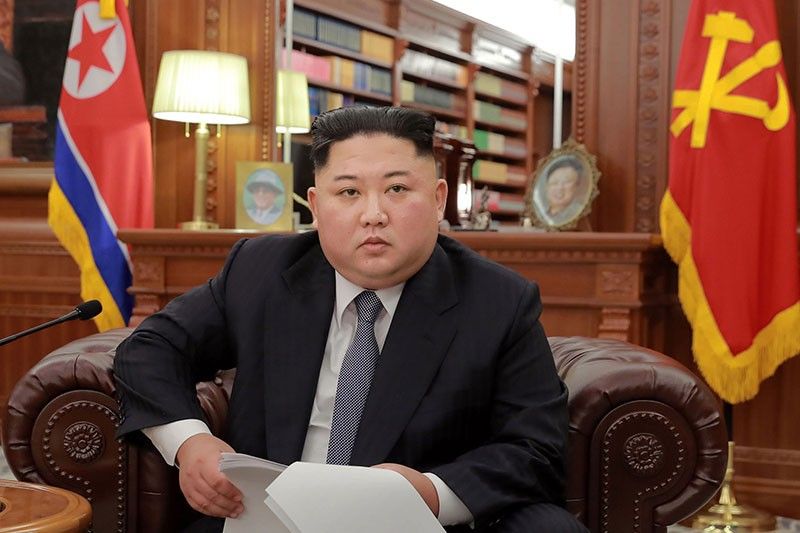 This picture released by North Korea's official Korean Central News Agency (KCNA) shows North Korean leader Kim Jong Un delivering an address to mark the New Year at an undisclosed location on January 1, 2019.
KCNA VIA KNS / AFP
N. Korea should take 'bold' steps towards denuclearisation: S. Korea's Moon
(Agence France-Presse) - January 10, 2019 - 10:57am
SEOUL, South Korea — North Korea needs to take "more bold, practical measures for denuclearisation" to ensure sanctions are lifted, the South's President Moon Jae-in said Thursday with negotiations stalling between Pyongyang and Washington.
"Corresponding measures must be devised in order to facilitate North Korea's continued denuclearisation efforts," he added, such as the US agreeing a "peace regime" and formally declaring an end to the 1950-53 Korean War.
The North has repeatedly pledged to work towards "denuclearisation of the Korean peninsula", a vague term that could be taken to also include US forces in the South and in the wider region.
Moon acknowledged that the agreement North Korean leader Kim Jong Un and US President Donald Trump signed at their first summit in Singapore was "somewhat vague".
He also said there was "scepticism" that Kim's "concept of denuclearisation" will be different from that demanded by the US.
"But Kim has assured many foreign leaders, including myself, Trump, Xi Jinping and Putin, that his concept is no different in any way from what the international community demands," Moon told reporters at the Blue House in Seoul.
"Kim also stated that denuclearisation and the issue of ending the war has nothing to do with the status of US troops in South Korea," he added. "Kim Jong Un understands that the issue is entirely up to the decision of South Korea and the United States."
US strategic assets in the region involved not only North Korea, "but also overall stability and peace in Northeast Asia", Moon said. "I don't think it will be discussed in North-US nuclear talks."
The North Korean leader's trip to China this week was a sign a second Trump-Kim summit was "imminent", he added.
"I think Chairman Kim Jong Un's visit to China will have a very positive effect on the success of the second US-North Korea summit," he told the press conference.
A second summit should produce an agreement that was "more clear on actions by each side", he added.
Moon has actively pursued engagement with the North to bring it to the negotiating table, a stance that has at times seen Seoul and Washington take increasingly divergent approaches.
Conditions for resuming two key economic projects between North and South Korea -- the Kaesong Industrial Complex, where Southern companies used to employ North Korean workers, and Southern tourism to Mount Kumgang in the North "have essentially been met already", he said.
But many analysts say that restarting the schemes would at present violate sanctions imposed on the North over its nuclear and ballistic missile programmes.
Seoul would cooperate with the US and international community to seek to "resolve" the issue of sanctions "as soon as possible", Moon said.
As It Happens
LATEST UPDATE: January 10, 2019 - 9:02am
South Korean officials were briefing the White House Thursday on the outcome of their pathfinding meeting with North Korean leader Kim Jong Un.
Seoul has already publicized that North Korea offered talks with the United States on denuclearization and normalizing ties, a potential diplomatic opening after a year of escalating tensions over the North's nuclear and missile tests. The rival Koreas also agreed to hold a leadership summit in late April.
Top Trump administration officials were getting a chance to hear firsthand from South Korean national security director, Chung Eui-yong, who led the delegation that went to Pyongyang. — Associated Press
January 10, 2019 - 9:02am
North Korean leader Kim Jong Un expressed "concern" about the deadlock in denuclearisation discussions in his talks with Chinese President Xi Jinping, Pyongyang's state media reported Thursday.
Kim "raised concern about the impasse created in the process of improving US-DPRK ties and in denuclearisation talks", the official KCNA news agency said.
Kim said Pyongyang's "basic position of pursuing a peaceful resolution through dialogue remains unchanged", it added.
China is the North's main diplomatic backer and key trade partner, whose forces were instrumental in fighting for it during the 1950-53 Korean War.
According to KCNA, Beijing issued a ringing endorsement of the North's position. -- Agence France-Presse
November 23, 2018 - 9:14am
The head of the U.N.'s atomic watchdog has called on North Korea to allow inspectors back into the country to monitor its nuclear program.
Speaking at a board meeting of the International Atomic Energy Agency, Director General Yukiya Amano notes that Pyongyang had in September talked about denuclearization measures including the "permanent dismantlement of the nuclear facilities in Yongbyon" — a reactor where it produces plutonium. — AP
August 31, 2018 - 8:47am
Russia says it is holding up release of a report by U.N. experts who said North Korea is violating UN sanctions including by not stopping its nuclear and missile programs and by "a massive increase in illicit ship-to-ship transfers of petroleum products."
Russia's UN Ambassador Vassily Nebenzia told reporters after a closed Security Council meeting on the report that he was blocking its release "because we disagree on certain elements of the report."
He said Russia also asked for an investigation into regular leaks of reports on North Korea to the media. The Associated Press and other media reported the panel's latest findings in early August. — AP
June 1, 2018 - 10:07am
North and South Korea are resuming senior-level peace talks that Seoul sees as an important step in building trust with Pyongyang amid a U.S.-led diplomatic push to persuade the North to give up its nuclear weapons.
The meeting at an inter-Korean border village Friday follows a meeting in New York between U.S. Secretary of State Mike Pompeo and senior North Korean envoy Kim Yong Chol. They discussed a potential summit between President Donald Trump and North Korean leader Kim Jong Un.
South Korea plans to use Friday's meeting with the North to set up military talks on reducing tensions across their heavily armed border and Red Cross talks to resume reunions of families separated by the 1950-53 Korean War. — AP
May 31, 2018 - 8:49am
US Secretary of State Mike Pompeo and Kim Jong Un's right-hand man have begun a dinner meeting Wednesday (Thursday morning, Manila time) amid a scramble to organize next month's historic nuclear summit between the North Korean and US leaders.
An AFP reporter saw Kim Yong Chol, a veteran Pyongyang power player and a member of the young autocrat's inner circle, arrive at a New York apartment near the UN headquarters shortly after America's chief diplomat. — Agence France-Presse