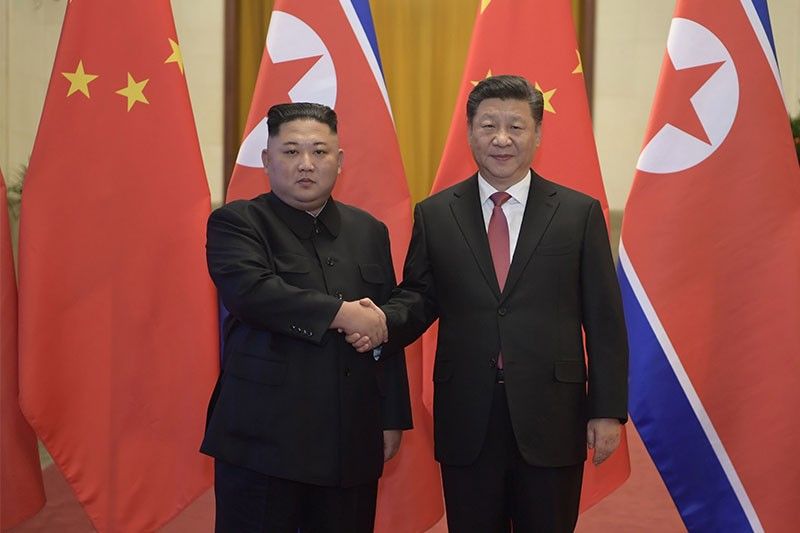 This photo released by China's Xinhua News Agency on January 10, 2019 shows North Korean leader Kim Jong Un (L) and China's President Xi Jinping shaking hands during a welcome ceremony in Beijing's Great Hall of the People on January 8, 2019.
LI Xueren / XINHUA / AFP
Xi told Kim China hopes US, N. Korea will 'meet halfway': Xinhua
BEIJING, China — Chinese President Xi Jinping told Kim Jong Un the Korean peninsula faces a "rare historic opportunity" as he backed the North Korean leader's planned denuclearisation summit with US President Donald Trump, at which he hopes the pair will "meet each other halfway", state media reported Thursday.
The two allies held two days of talks in Beijing this week seen as a strategy session as Kim prepares for his second meeting with Trump, with denuclearisation talks making little progress since the first historic US-North Korean summit.
Kim's fourth visit to China in the past year shows that Beijing -- the North's sole major ally -- retains a vital role in the diplomatic shuffle despite past tensions between the Cold War-era allies.
"Political settlement of the Korean peninsula issue faces a rare historic opportunity," Xi said, according to the official Xinhua news agency.
The Chinese leader said "major progress" was made last year to reach a political solution with joint efforts from China, North Korea and other nations, and the international community expects dialogue to continue.
Discussions between the US and North Korea over Pyongyang's nuclear arsenal have stalled since Kim and Trump's high-profile first summit in Singapore in June where they issued a vaguely worded declaration about denuclearisation.
The US insists that UN sanctions must remain in place until North Korea gives up its weapons, while Pyongyang wants them immediately eased.
China -- North Korea's sole major ally and main trade partner -- also wants the sanctions to be relaxed.
China "supports the DPRK and the United States holding summits and achieving results, and supports relevant parties resolving their respective legitimate concerns through dialogue", Xi said, using the initials of North Korea's official name.
"China hopes that the DPRK and the United States will meet each other halfway," Xi said.
He added that China stands ready to play a "positive and constructive role" to maintain peace and stability and achieve denuclearisation on the peninsula.
For his part, Kim said North Korea "will continue sticking to the stance of denuclearisation and resolving the Korean peninsula issue through dialogue and consultation", Xinhua reported.
The North, Kim said, will "make efforts for the second summit between DPRK and US leaders to achieve results that will be welcomed by the international community".
Trump said Sunday that the United States and North Korea are negotiating the location of their next summit.
In a New Year speech, Kim warned that Pyongyang may change its approach to nuclear talks if Washington persists with sanctions.
Birthday banquet
Relations between China and North Korea had deteriorated in recent years over Pyongyang's nuclear activities.
But ties appear to have warmed, with Kim meeting Xi three times last year, ensuring that his ally remained informed about his dealings with the United States and South Korea.
Xi greeted Kim at Beijing's ornate Great Hall of the People on Tuesday -- believed to be the North Korean leader's birthday.
Xi and his wife Peng Liyuan hosted a welcome banquet for Kim and his wife Ri Sol Ju and they watched an art performance together, according to Xinhua.
Kim visited a pharmaceutical plant that makes traditional Chinese medicine on Wednesday and met Xi again for lunch at a hotel before heading back to North Korea by train.
As It Happens
LATEST UPDATE: January 10, 2019 - 9:02am
South Korean officials were briefing the White House Thursday on the outcome of their pathfinding meeting with North Korean leader Kim Jong Un.
Seoul has already publicized that North Korea offered talks with the United States on denuclearization and normalizing ties, a potential diplomatic opening after a year of escalating tensions over the North's nuclear and missile tests. The rival Koreas also agreed to hold a leadership summit in late April.
Top Trump administration officials were getting a chance to hear firsthand from South Korean national security director, Chung Eui-yong, who led the delegation that went to Pyongyang. — Associated Press
January 10, 2019 - 9:02am
North Korean leader Kim Jong Un expressed "concern" about the deadlock in denuclearisation discussions in his talks with Chinese President Xi Jinping, Pyongyang's state media reported Thursday.
Kim "raised concern about the impasse created in the process of improving US-DPRK ties and in denuclearisation talks", the official KCNA news agency said.
Kim said Pyongyang's "basic position of pursuing a peaceful resolution through dialogue remains unchanged", it added.
China is the North's main diplomatic backer and key trade partner, whose forces were instrumental in fighting for it during the 1950-53 Korean War.
According to KCNA, Beijing issued a ringing endorsement of the North's position. -- Agence France-Presse
November 23, 2018 - 9:14am
The head of the U.N.'s atomic watchdog has called on North Korea to allow inspectors back into the country to monitor its nuclear program.
Speaking at a board meeting of the International Atomic Energy Agency, Director General Yukiya Amano notes that Pyongyang had in September talked about denuclearization measures including the "permanent dismantlement of the nuclear facilities in Yongbyon" — a reactor where it produces plutonium. — AP
August 31, 2018 - 8:47am
Russia says it is holding up release of a report by U.N. experts who said North Korea is violating UN sanctions including by not stopping its nuclear and missile programs and by "a massive increase in illicit ship-to-ship transfers of petroleum products."
Russia's UN Ambassador Vassily Nebenzia told reporters after a closed Security Council meeting on the report that he was blocking its release "because we disagree on certain elements of the report."
He said Russia also asked for an investigation into regular leaks of reports on North Korea to the media. The Associated Press and other media reported the panel's latest findings in early August. — AP
June 1, 2018 - 10:07am
North and South Korea are resuming senior-level peace talks that Seoul sees as an important step in building trust with Pyongyang amid a U.S.-led diplomatic push to persuade the North to give up its nuclear weapons.
The meeting at an inter-Korean border village Friday follows a meeting in New York between U.S. Secretary of State Mike Pompeo and senior North Korean envoy Kim Yong Chol. They discussed a potential summit between President Donald Trump and North Korean leader Kim Jong Un.
South Korea plans to use Friday's meeting with the North to set up military talks on reducing tensions across their heavily armed border and Red Cross talks to resume reunions of families separated by the 1950-53 Korean War. — AP
May 31, 2018 - 8:49am
US Secretary of State Mike Pompeo and Kim Jong Un's right-hand man have begun a dinner meeting Wednesday (Thursday morning, Manila time) amid a scramble to organize next month's historic nuclear summit between the North Korean and US leaders.
An AFP reporter saw Kim Yong Chol, a veteran Pyongyang power player and a member of the young autocrat's inner circle, arrive at a New York apartment near the UN headquarters shortly after America's chief diplomat. — Agence France-Presse