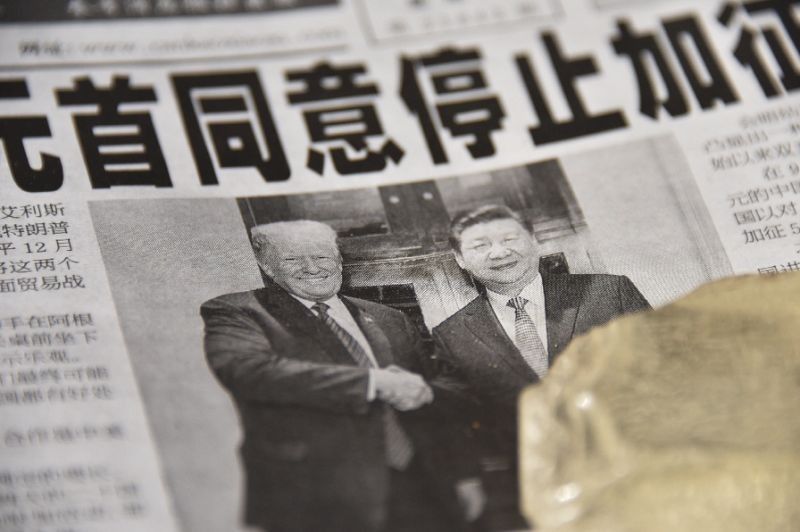 US President Donald Trump and Chinese President Xi Jinping agreed to suspend any new tariffs and give negotiators 90 days to strike a deal.
AFP Photo/GREG BAKER
US wants 'concrete' trade action from China within 90 days
Washington - The United States said yesterday it will need to see "something concrete" from China in the next 90 days to build a real agreement on trade, two days after Donald Trump and Xi Jinping called a truce in the escalating confrontation between the two powerhouses.
Treasury Secretary Steven Mnuchin said on CNBC the US and Chinese had "very specific discussions" in Buenos Aires Saturday evening on steps to defuse their conflict, which involves hundreds of billions in bilateral trade and had roiled world markets for months.
He said for the first time there was "a clear path" to reduce the US trade deficit with China to zero.
"There was a significant commitment from both leaders on what needs to be done over the 90 days and instructions to both teams to negotiate and turn this into a real agreement with specific action items, deliverables and time frames," Mnuchin said.
Following the Trump-Xi talks, which took place over dinner at the end of the G20 summit, Washington agreed to hold off on Trump's threat to slap 25 percent tariffs on $200 billion worth of Chinese goods from January 1, leaving them at the current 10 percent rate.
In return, China is to purchase "very substantial" amounts of agricultural, energy, industrial and other products from the United States.
In a surprise announcement tweeted Sunday night, Trump also said China would "reduce and remove" tariffs of 40 percent on cars, though Beijing has yet to confirm the move.
The US trade deficit with China was $335 billion last year and many manufacturers rely on inputs from the world's number two economy, so eliminating the deficit would be an extraordinary goal.
Trump's aggressive trade actions left in their wake a farm industry suffering from China's retaliation, hitting soybeans especially hard, and a business sector fraught with uncertainty, facing higher costs and holding off on investment.
But Mnuchin said, "I think there's no question the president's tariff strategy has worked. This is the first time they've responded on very, very specific issues."
- Relieved but skeptical -
Financial markets surged on the news of the ceasefire, with the benchmark Dow Jones Industrial Average up 1.2 percent, more than 300 points, about 30 minutes after the open, relieved that some of the immediate threat of further damage was averted.
However, analysts were much more cautious, saying it seemed unlikely a deal could be reached on such a rapid timeline, and pointing to discrepancies in the claims of victory from Washington and Beijing.
"Beyond the political spin, the meeting between Trump and Xi can be considered a success in that the threatened escalation of trade tensions has been pushed back three months and the two parties are once again communicating," Greg Daco of Oxford Economics said.
However "we remain skeptical of a substantial trade deal between the two economic giants."
Dealing with the central issue of China's forced technology transfers and subsidies "will require time, communication and good-will -- a rare trifecta these days," he said.
Carl Weinberg of High Frequency Economics noted that the diverging messages from Xi and Trump after the meeting were creating doubt about what was agreed.
"As far as we can tell, there are big discrepancies between both sides' statements," he said in a research note.
While Washington touted the immediate increase in Chinese purchases of US agricultural products, Beijing's statement was much more open, with no reference to immediate or agricultural products.
Weinberg derided the US statement which said "China will agree to purchase a not yet agreed upon, but very substantial, amount..."
"What kind of kooky language is that?" Weinberg said. "That says nothing was actually agreed upon.
"That probably sums up the conversation."