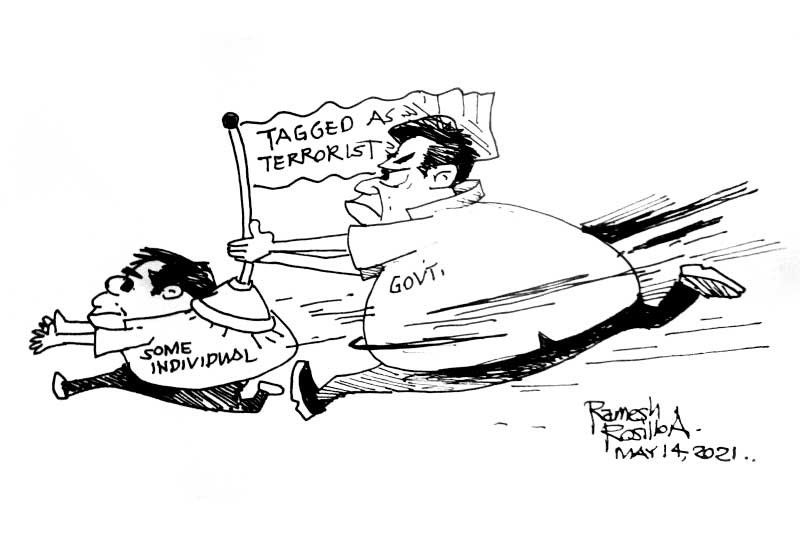 EDITORIAL - Have proof someone is a terrorist? Take them to court
(The Freeman) - May 14, 2021 - 12:00am
Despite the ongoing legal challenges against the anti-terror law, authorities have chosen to release a list of people it has labeled as terrorists.
The list released by the Anti-Terror Council has the names of 19 people it has alleged to be member of the central committee of the Communist Party of the Philippines.
"Based on verified and validated information, the ATC found probable cause, as defined in the anti-terror act, warranting the designation of the following central committee members of the CPP for violations of Sections 6, 7, 8, 9 and 10 of the Anti-Terror Act," read the ATC resolution signed by its chairman, executive secretary Salvador Medialdea.
Again, we call out the irregularity of such a move, casting a shade of guilt on people with the intent to send them scrambling to prove their innocence.
This really isn't unlike some government agency releasing a list of "corrupt" officials and then requiring them to prove that they are not corrupt and should be removed from the list.
Sure, a representative from the ATC said being in the list doesn't mean the person will be arrested on sight. However, damage will already have been done. As per inclusion in the list their assets will have been frozen and reputation tainted. Their very lives may even be put in danger.
The fact that the ATC say it is open to "correcting" the list if those in it can present proof that they are not terrorists casts doubt on how unreliable their verification process really is. Just to mention it, one of those listed as a terrorist was actually cleared of charges for illegal possession of firearms and explosives in 2019.
We don't say this in defense of those in the list who do belong to the communist central committee; we have pointed out time and again that the insurgency here is a scourge we have to grind into the dust. It has existed for far too long. We say this for those who may be put there for no reason other than that they are vocal critics of this administration, or call for some changes that many of those in power may not want.
Again, if there is enough proof to believe someone is a terrorist, then haul him or her to court where the charges are formalized and the evidence is presented.
In other words a proper trial, not a trial by publicity.