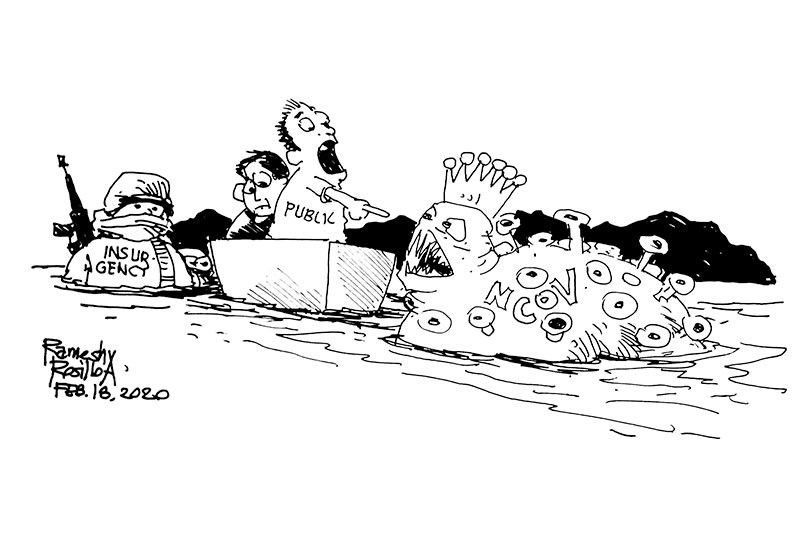 EDITORIAL – A problem we haven't licked
(The Freeman) - February 18, 2020 - 12:00am
Everyone is so focused on the COVID-19 situation it seems the arrest of two alleged New People's Army commanders in Bohol barely made a ripple in the consciousness of the country.
But for those who were aware of it, it is another reminder that we have another problem to solve, a problem that never went away in the first place; the communist insurgency.
And, according to Bohol 2nd District Rep. Erico Aristotle Aumentado, insurgency is once again rearing its ugly head in Bohol after many years.
The communist insurgency in the Philippines is the longest-running internal security problem in Asia and has caused nothing but misery for the people for decades.
Misguided armed cadres continue to fight for a lost cause. They don't seem to realize that majority of the Filipinos will never accept Communism as a way of life. They also fail to realize that even the Communist nation they so admire is now quickly becoming Capitalist, even as its government still holds on to its oppressive ways.
Even their titular head, Communist Party of the Philippines chairman Jose Maria Sison seems to have given up the armed struggle and is now content with living a comfortable life in the Netherlands, happy with being housed and fed by a foreign government, raising a feeble reaction now and then just to remind people he is still alive.
The insurgency is so deeply-rooted in our culture and psyche that even young children have a concept of what a "rebelde" is.
So if it's true, as Aumentado claims, that communist rebels in Bohol are again making their presence felt, this is something that the local and national governments should address as soon as possible.
Don't get us wrong, we are not advocating for total war because that alone doesn't seem to be the solution. How do we know? The government has been doing that for decades to no success.
Because of its deep roots there is no simple solution to insurgency. However, it seems that a combination of a strong military presence, the delivery of basic services, and a stable social justice system is doing wonders for formerly rebel-held areas. This is something local authorities should look into.