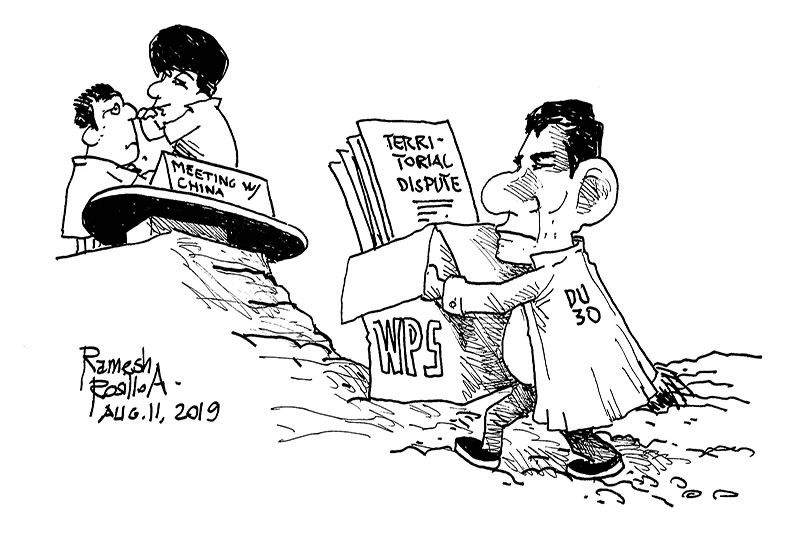 EDITORIAL - Phl must uphold its rights over its territorial waters
(The Freeman) - August 11, 2019 - 12:00am
Now that the Palace has announced that President Rodrigo Duterte will bring the arbitral ruling on the South China Sea dispute before China President Xi Jinping when the two leaders meet in the coming days, the former should highlight the encroachment of Chinese vessels in Philippine territorial waters.
These past days, the Department of National Defense expressed alarm over the reported presence of at least two Chinese research vessels and warships in the seawaters that are part of the Philippine Exclusive Economic Zone.
A Philstar.com report the other day said US Naval College assistant professor Ryan Martinson tweeted photos of two Chinese oceanographic survey ships reportedly navigating in Philippine territorial waters.
The report said Chinese research ship Dong Fang Hong 3 was spotted in northern Luzon on August 7 while survey vessel Zhang Jian was detected 80 nautical miles off the east coast of the Philippines on August 3. Defense Secretary Delfin Lorenzana, however, said the Armed Forces of the Philippines has yet to confirm the report.
Well, let us see if Duterte makes good his promise to bring the sea dispute issue before President Xi. Since assuming office, many Filipinos have become disappointed by his unclear stand on the issue.
Now, it's high time for the present administration, and Duterte himself, to assert the country's claim over its Exclusive Economic Zone. The world, through the arbitrary ruling, has sided with the Philippines and it's just natural for the country to uphold its rights over its territorial waters.
Of course, China is not expected to budge on the sea ruling. In fact, it has been flexing its muscles by strengthening its presence in the disputed areas despite worldwide calls for it to abide by the arbitrary decision.
That Duterte is taking serious steps telling President Xi that what China was doing was a blatant incursion into the Philippine territory should send a strong message to the Asian giant that the Philippines is doing whatever it takes to defend its sovereignty.