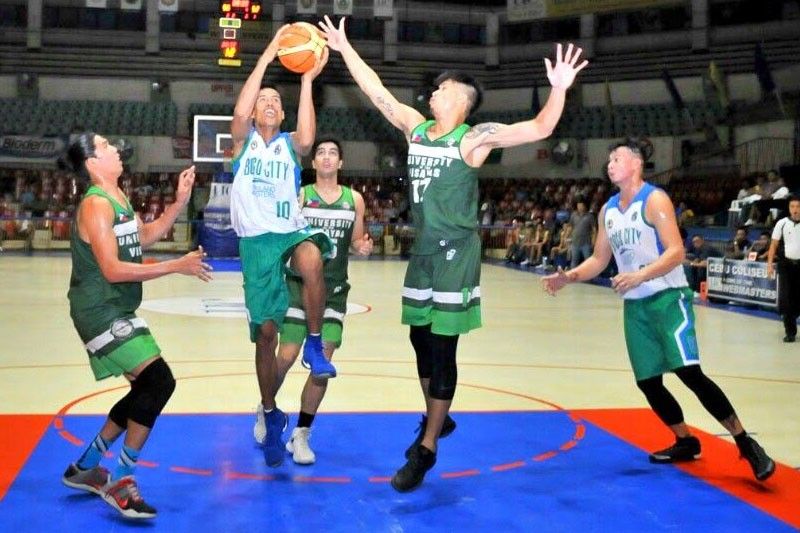 Cebu Landmasters/Bogo's Jojo Tangkay drives strong to the basket during their game against the University of the Visayas/SG-ARQ Builders in the Cebu City Sinulog Cup 2018 Basketball last night at the Cebu Coliseum.
Paul Jun E. Rosaroso
Landmasters/Bogo goes 2-0
CEBU, Philippines — Cebu Landmasters/Bogo won its second straight game in the same way they did the first. They built a comfortable lead, nearly lost this, then went to their veterans anew to stop the University of the Visayas/SG-ARQ Builders, 86-72, at the Cebu Coliseum last night.
Coming from a 37-31 halftime lead, the Landmasters built a 58-48 lead after three periods behind the inside scoring of William McAloney. But UV/SG-ARQ wouldn't give in, going on a hot three-point shooting spree, drilling five straight triples courtesy of five players to slice the lead to just four, 71-67, with 3:48 left in the game.
Finding themselves in the same situation in their first game, the Landmasters quickly "switched" themselves back on, replying with an 11-0 run with McAloney again scoring inside twice and fellow veteran Ferdinand Lusdoc scoring and feeding Travis Mantua for a field goal, giving the Landmasters a comfortable 82-67 lead, 1:39 left.
Rey Suerte added a sixth triple for good measure, but this wasn't enough to get the job done. Coach Junthy Valenzuela rued his team's being complacent but attributed this to his veterans being more offensive-minded, but knowing when to step up whenever needed.
"Just like yesterday, we lost our focus on defense and allowed UV to come back in the game. Then the veterans turned on the switch to go back to winning mode again," Valenzuela said. McAloney led the team with 16 points and five rebounds. Lusdoc also had 16 points while Jojo Tangkay had eight points and eight assists.
UV/SG-ARQ, which lost its second straight game, was led by Toto Segumpan's 13 points. Melvin Butohan added 11. In the only dark spot for Cebu Landmasters/Bogo, Barkley Eboña was thrown out of the game for intentionally elbowing Jossier Hassan in the second quarter. He'll be suspended from playing in their next game today.
Meanhile, PBA D-League team Marinerong Pilipino proved that they were a force to reckon with as they crushed the University of the Visayas/SG-ARQ Builders, 90-70, late Monday night on opening day. Renzo Subido led Marinerong Pilipino with 15 points, including three triples, three rebounds and three assists in only eleven minutes of playing time.
Kyle Toth contributed eleven points on 3-for-4 shooting from the three-point territory, while Abu Tratter had ten points. Rey Suerte was the only bright start for UV/SG-ARQ through his 22 points and five assists. Import Adam Camara had twelve points.
Notes: Some players of Cebu Landmasters/Bogo gave their coaching staff pre-game headaches by not bringing their shorts to the venue. However, this was settled when these were delivered to the venue, albeit some having to get into the ballgame later than usual. (FREEMAN)