Talisay running out of burial niches
August 30, 2021 | 12:00am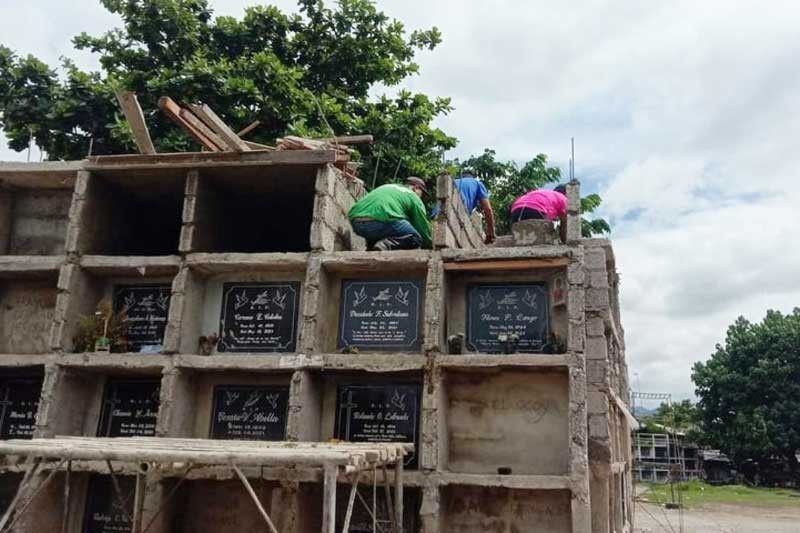 CEBU, Philippines — The Talisay City government has already prepared an additional 200 burial niches but the number is still not enough to accommodate the recent spike in deaths.
According to Gary Togonon, head of Aksyon Agad Team (AAT), they have noticed that funerals at the public cemetery in Barangay Poblacion have become more frequent, particularly in the month of August.
In a day, there may be up to six burials in this cemetery alone.
Togonon said more niches will be built since the 200 that were prepared recently are not sufficient. Construction of additional niches is expected to start this week once the materials will arrive.
He said the niches are being offered free to residents
'Up to 10 deaths a day'
Meanwhile, cadavers are reportedly piling up at the morgue of the Department of Health-run Cebu South Medical Center (previously the Talisay District Hospital), according to an informant who had seen the situation there.
The source, who requested for anonymity, said funeral workers have not fetched some of these bodies because relatives have not made arrangements with the funeral shop due to financial constraints.
Talisay City residents are not faced with this problem, though, since the city is offering free burial for its constituents.
Those not immediately claimed came from cities and towns near Talisay.
The source, who had personal knowledge of the situation, said that as the COVID-19 cases surged, so did the deaths. However, he clarified that the causes of these deaths were different, at least for the cavaders in the hospital's morgue.
"Sagol na kana siya -- COVID ug dili COVID. Naa ra sa usa ka morgue nga magtapok," he said, adding that up to 10 bodies are brought there everyday.
'Alarming'
Talisay City Mayor Gerald Anthony "Samsam" Gullas expressed alarm over the cadaver pileup, but assured that the city will provide help to other local government units that need assistance.
"As far as the City of Talisay is concerned, we already have clear protocols on what we need to do when this happens. If there are other LGUs that need help, they can contact me or the Cebu South Medical Center directly on the needed documents for transfer permits," Gullas said.
"These are needed by IATF protocols para madala tawn (ang patay) sa ilang LGU," he added. — JMD (FREEMAN)