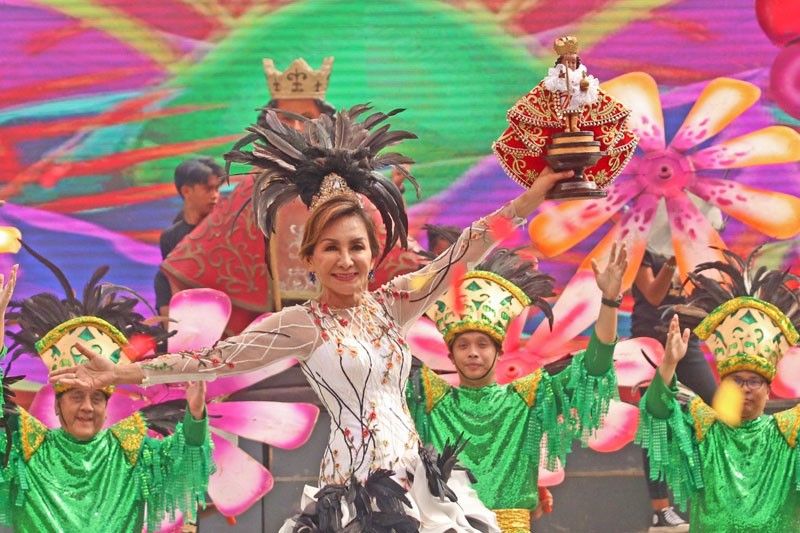 Garcia emerged as the festival queen, miniature tree in hand, as a symbolism of mother nature and her preservation.
Freeman Photo
Garcia back on Sinulog stage
CEBU, Philippines — Being back in the helm at the Provincial Capitol also means being back on the Sinulog stage for Governor Gwendolyn Garcia.
Breaking her six-year hiatus, Garcia graced the stage again with Siloy sa Alcoy Festival performers in a dance offering to Sr. Sto. Niño.
The performance started off with an act showing massive degradation of forests. Dancers enacted illegal logging resulting to the damage of the rainforest that served as the performance's backdrop.
Garcia emerged as the festival queen, miniature tree in hand, as a symbolism of mother nature and her preservation.
Amid the stage of gold and black, Garcia contrasted her background with her blue Philip Tampus overcoat. She eventually receded back to change into another Tampus creation, this time incorporating floral embroidery with black feathers as homage to the distinct features of the Siloy bird.
In this part of the performance, the performers danced in celebration for return of the diversity of the foliage and fauna of the rainforest. Sixth District Board Member Glenn Soco, as a raja, offered Garcia the image of Sr. Sto. Niño.
Award-winning choreographer and the brains behind the presentation Victor Hao-Cuenco explained that the performance highlights the importance of the preservation of nature.
"You have to teach (people) to plant trees, and let them grow for the habitat of the Siloy," Cuenco said.
United Cebu
Prior to her performance, Garcia emphasized that she aimed to present a unified Cebu Capitol as she gleamed that she will be dancing with her chief of staff, Atty. Frank Dinsay, provincial board members and the provincial department heads.
She also commented that this year's Sinulog festival is remarkable as it carries a unified front between the Cebu Provincial Government of Cebu and the Cebu City Government. Garcia is referring to Cebu City's support by providing venue and security for the province's Pasigarbo sa Sugbo and the province's P8M financial aid for the Sinulog.
"Ang Sinulog kanunay man gyud nang gisaulog sa tanang mga Sugbuanon apan talagsaon man ning pagsaulog karon kay makita nato ang talagsaun usab nga pagkahiusa sa Dakbayan sa Sugbo ug sa Lalawigan sa Sugbo. Ug busa, ako nanghinaot nga kining nakita nila na panaghiusa, makahatag kita ug dakong paglaum sa tanan nga Sugboanon," she said.
Garcia added that she hopes that this unity will translate into more benefits for Cebuanos.
With her being back on stage, Garcia also reminisced on past performances.
She said that she never missed a single Sinulog performance during her stints as governor as this was her yearly offering to the child Jesus.
Garcia recalled her last term as governor, during the days of her suspension, when she was advised by friends and family not to dance as they were worried for her safety.
"Bisan pa'y unsa ang mahibato nako, tumanon gyud nako akong saad. Ug mao to nga nisayaw ko ug salamat sa Ginoo nga imbis mga yaga-yaga... ang akong nadungog mao ang kusog kaayo nga syagit sa katawhan atong tungora sa kalipay," she said.
Among the festivals she has danced to were the Haladaya Festival of Daanbatayan town (2006), the Palawod Festival of Daanbatayan (2008), the Tostado Festival of Santander (2009), the Ani-anihan Festival of Tabuelan (2010), the Bonga Festival of Sibonga (2011), the La Torta Festical of Argao (2012) and the Rosquillos Festival of Liloan (2013).
This year, she said she chose the Siloy performers because aside from them being non-contingents and being among the top winners of the relaunched Pasigarbo sa Sugbo, she was especially impressed by the child dancers.
"Adunay special charm kini kay atoang mga Siloy ug uban mga performers pulos mga bata and you know that I've always had a special place in my heart for children. More so, murag haum kaayo kay nagsaulog kita niining paghatag ug pagpangga sa atong mahal nga Sr. Sto. Niño, usa ka bata," she said. (FREEMAN)