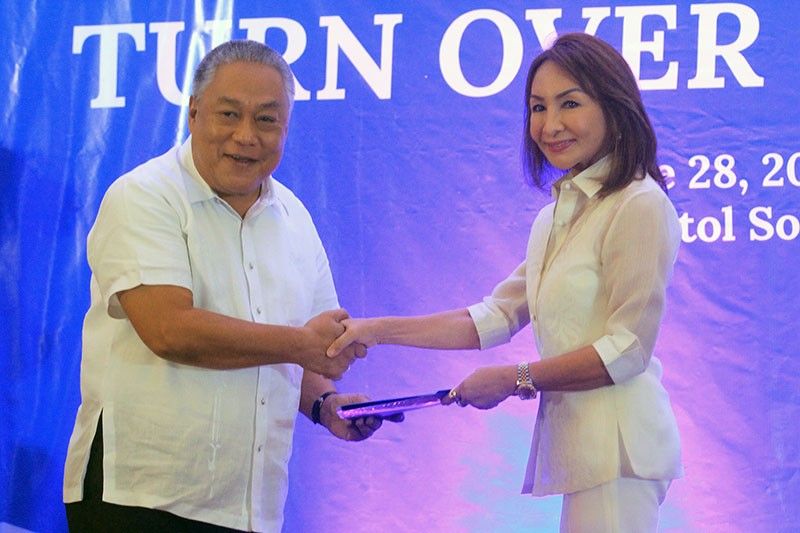 Outgoing Cebu Governor Hilario Davide III shakes hands incoming governor Gwendolyn Garcia during the turnover of gubernatorial post at the Capitol yesterday. Garcia assumes office at noon tomorrow.
Aldo Nelbert Banaynal
Davide confident province will grow more under Gwen
CEBU, Philippines (Updated 1:09 p.m.) — Despite the emotions during the May polls, yesterday's turnover of command in the provincial government was generally pleasant with outgoing Governor Hilario Davide III saying the province will be more progressive under the leadership of returning governor Gwendolyn Garcia III.
"With dignity and pride, I humbly pass on to Governor-elect Gwendolyn Garcia the Capitol leadership knowing fully well that we did our best and achieved sterling outcomes despite of the challenges and given the circumstances," Davide said during the formal ceremony at the Capitol Social Hall.
Davide described his term as governor as "challenging yet fulfilling." He is returning to the provincial government as vice governor.
Garcia, for her part, said: "I accept, too, with equal pride and with equal dignity as Cebuanos and I hope with equal humility that I may measure up with yours, Governor Davide."
"Though still hurting from what I have gone through, I resolved to offer the incoming administration the courtesy, respect, and dignity that it deserved by holding a formal turnover ceremony… and now, the person who had turned over the province of Cebu to the incoming governor is now the recipient of all these documents," Garcia said.
As required, Davide turned over to Garcia documents that include, among others, an inventory of the province's real or immovable properties and movable properties, Government Assessment Report for 2018, Commission on Audit report for 2018, contracts and loan agreements, Local Development Investment Plan, and Annual Investment Plan.
Davide thanked those who worked under him as governor but as far as the workers, especially the job order employees are concerned, the biggest question is who among them gets to stay.
Garcia assured that her transition team, which will also serve as a performance review team, will follow the qualification standards and Civil Service Commission rules in assessing existing employees.
"As we scrutinize each and every regular existing appointment, such qualification standards will be the barometer on whether or not your tenure should continue. Allow me to assure those that will be furthered hire on temporary status as J.O.'s or casuals that even if your contracts of employment would be on a six-month basis, any hiring would also closely adhere to the qualification standards set by the Civil Service," she said.
Atty. Manolette Dinsay, a member of the transition team, said the necessity of the position is one of the factors that will be considered in evaluating the workers.
If there is one thing that's certain, he said, the workforce will be reduced because it is reportedly "oversized" at present.
Capitol has 4,057 officials and employees, 2,296 of whom are under a job order or contract of service.
Yesterday afternoon, Garcia and other allied officials took their oath of office at a separate ceremony at Radisson Blu Hotel in Cebu City.
Court of Appeals Justice Edgardo de los Santos administered Garcia's oath. Afterwards, Garcia administered the oath of other winning officials for congress, province, cities, and towns.
Garcia said she will spend her next three years in public office paying back the "immense" debt of gratitude she owes Cebuanos for re-electing her as governor.
"Let us fight a good fight. Let us finish the course. We will keep the faith," she said. — /JMO (FREEMAN)