Triumphant Hidilyn Diaz set for low-key homecoming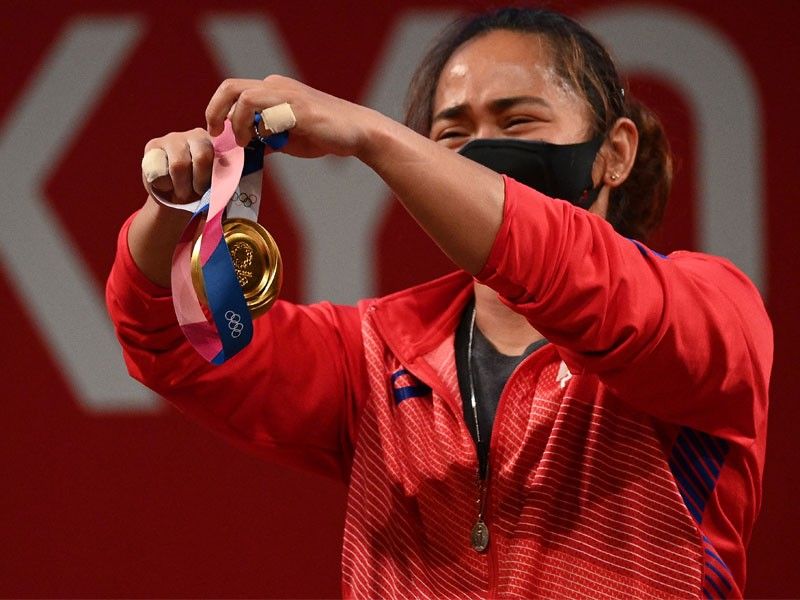 MANILA, Philippines – After a year and half of being away, Olympic hero Hidilyn Diaz is flying back home.
Diaz, the country's first Olympic gold medalist, is scheduled to plane in at 4:45 p.m. today along with Chinese coach Gao Kaiwen and strength and conditioning coach Julius Naranjo and should go to their hotel for the mandatory seven-day quarantine.
TRACKER: Hidilyn Diaz at the Tokyo Olympics
But before going to her hotel, the Philippine Sports Commission (PSC) will bestow her the gold medal of valor as part of the Expanded Athletes Incentives Act that also included a P10 million cash incentive for an Olympic gold medal.
The monetary reward will be given by no less than President Duterte himself in a courtesy call after the Olympics.
Diaz, an Air Force woman, should also get a promotion from the Armed Forces of the Philippines (AFP), which is expected to send its top officials as part of her welcoming group.
But unlike before when she was given a short parade inside the Villamor Airbase after going home with a silver medal from the 2016 Rio Games, her welcome would be a little simpler this time due to the pandemic.
From quarantine, Diaz should go straight to Zamboanga City to the warm and loving embrace of her family, who missed her after spending most of 2020 and this year in Kuala Lumpur, Malaysia to train.
In Zamboanga, she would get a warmer welcome as the city of her birth is planning a grand parade to honor their hero.