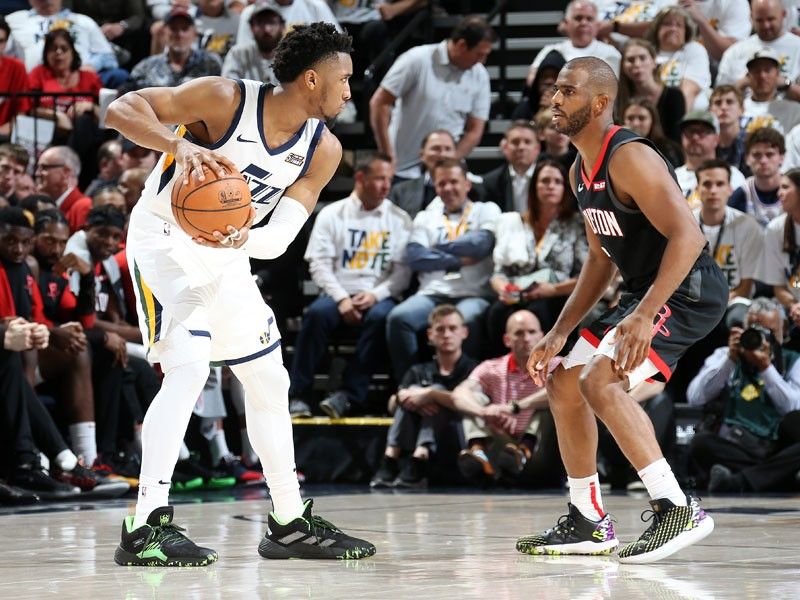 Donovan Mitchell of the Utah Jazz handles the ball against Chris Paul of the Houston Rockets during Game Four of Round One of the 2019 NBA Playoffs on April 22, 2019 at vivint.SmartHome Arena in Salt Lake City, Utah.
Melissa Majchrzak/NBAE via Getty Images/AFP
Jazz dismantle Rockets to stave off elimination
(Agence France-Presse) - April 23, 2019 - 3:35pm
LOS ANGELES – Donovan Mitchell scored 19 of his 31 points in the fourth quarter as the Utah Jazz staved off elimination in Game Four with a 107-91 victory over the Houston Rockets on Monday (Tuesday Manila time).
"It's not over," Mitchell said. "We have another one, and another one, and another one."
Jae Crowder added 23 points, Ricky Rubio tallied 18 points and 11 assists and Derrick Favors finished with 12 points and 11 rebounds for Utah, who trail three games to one.
Utah outscored Houston 31-12 in the fourth quarter to set up game five on Wednesday.
Mitchell said they now realize what they have been doing wrong and what it is going to take to win the series.
"We all been struggling with our shots all series," said Mitchell. "We didn't play hard at the beginning. The last two games we played harder.
"There is no way we were going to go out like that. We figured out what we have to do. The best thing for us is to continue to play team basketball."