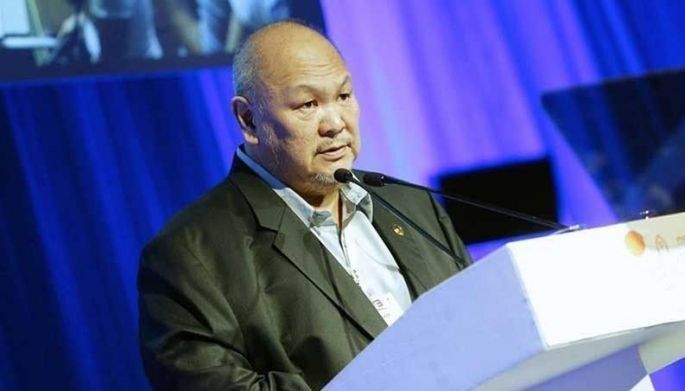 Larong Volleyball sa Pilipinas Inc. president Peter Cayco
LVPI justifies skipping major Asian volleyball tourneys
MANILA, Philippines – Despite the negative backlash in social media, the Larong Volleyball sa Pilipinas Inc. (LVPI) remains firm on its decision to skip three major Asian tournaments.
In a television interview, LVPI president Peter Cayco said he's just smiling at his detractors, who blasted him for pulling out the national squad in the AVC Asian Women's Club Championship, AVC Asian Senior Women's Championship and AVC Asian U23 Women's Championship.
Cayco said the national team may not be able to participate in these tournaments, but they are offering a strong alternative of sending it to China, Japan and Korea for two weeks of intense training.
The Chinese are the reigning Olympic champions while the Koreans are known for their discipline and no-nonsense training approach. Of course, the Nationals are also very much welcome to train in Japan after noted mentor Akiyoshi Kawamoto of the Okayama Seagulls welcomed them with open arms.
With this, the Nationals could avert the prying eyes of the Thais, Indonesians and Vietnamese, whom they will face in the 30th Southeast Asian Games that the country will host this December.
After all, the 18-man national squad is tipped to feature some new faces, probably Filipino-Americans Kalei Mau, MJ Philips and Alohi Robins-Hardy.
"Smile. Just smile," said Cayco said when asked his message to those questioning his move.
"What we're doing is a strategy. We don't want to be scouted by our Southeast Asian neighbors so we will train in seclusion in countries that will not see action in the SEA Games. It's all part of the plan. We have to keep them guessing."
A federation insider said the Thais were shocked when learned that the Philippines withdrew its participation in various Asian tourneys.
The source said the Thais know that Jaja Santiago and Dindin Manabat spent almost a year in a top-flight tournament in Japan while online reports have it that Mau and Robins-Hardy are real deals as well as other rising stars like Angel Canino, Eya Laure, Milena Alessandrini, Alyssa Solomon and Faith Nisperos.
"Reports from Bangkok said Thai volleyball officials are wondering why we skipped these tournaments despite the fact that we're actively participating in the past," the source said.
"They know we're cooking something. But at this point, all they can do is to speculate."
Cayco said with all the talents they have, it is high time for them to barge into the medal podium for the first time in 14 years.
"What we have is a golden opportunity to win a medal of any color," he said.
"We have the talents, the home court advantage and a solid training program. All we have to do is to put everything together and play our best. Skipping the Asian tourneys is just a minor bump. The best is yet to come."