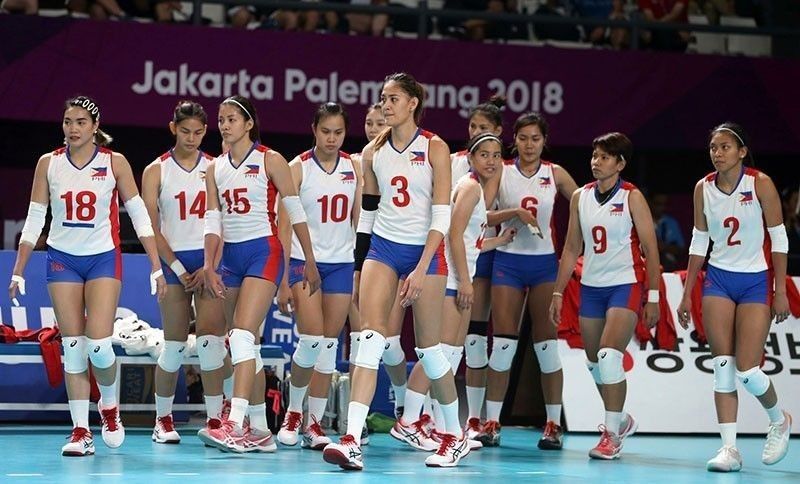 The Philippine Women's Volleyball Team in the 2018 Asian Games in Jakarta, Indonesia
FILE
Philippines to skip 3 major Asian volleyball tourneys
MANILA, Philippines – The Larong Volleyball sa Pilipinas, Inc. (LVPI) took a U-turn when it decided to skip three important Asian tournaments ahead – the AVC Asian Women's Club Championship, the AVC Asian Senior Women's Championship and the AVC Asian U23 Women's Championship.
But LVPI president Peter Cayco said it's all part of the strategy.
In a conversation with Philstar.com, Cayco said they want to keep the national elite team away from the prying eyes of their Southeast Asian rivals as they prepare for an intense battle in the 30th Southeast Asian Games this November.
Cayco said the elite team will definitely have some new faces, including Filipino-American stalwarts, and displaying them in Asian tournaments will only give their regional rivals like Thailand and Vietnam a good idea on how to defend them.
So instead of competing in Asian tourneys, the Nationals will just be sent to Korea and Japan to undergo intense training.
"We anticipate an all-out war in the SEA Games. So we decided that we would rather use the resources we have for intense training in Korea and Japan," said Cayco, adding that they already informed the Asian Volleyball Confederation about their plan.
"This move may be unpopular, but it also shows our eagerness to bring our team back to the medal podium in the SEA Games, which we will host this November."
Cayco added that they are also preparing to launch a regional tournament dubbed as the Southeast Asian Grand Prix.
This will be a four-nation tourney featuring Thailand, Vietnam, Indonesia and the Philippines that would adopt a home-and-away format similar to the Asean Basketball League.
Instead of deploying the elite team, the LVPI will just send the U23 squad to give them an idea on how it feels to compete against the best spikers in the region.
"These players are the future," he said, noting that they managed to assemble a youth squad that is capable of emerging victorious in future international tourneys during their two-day tryouts last month.
"We want to expose them to regional competitions like the SEA Grand Prix so they would be used to playing against the best teams in the region."