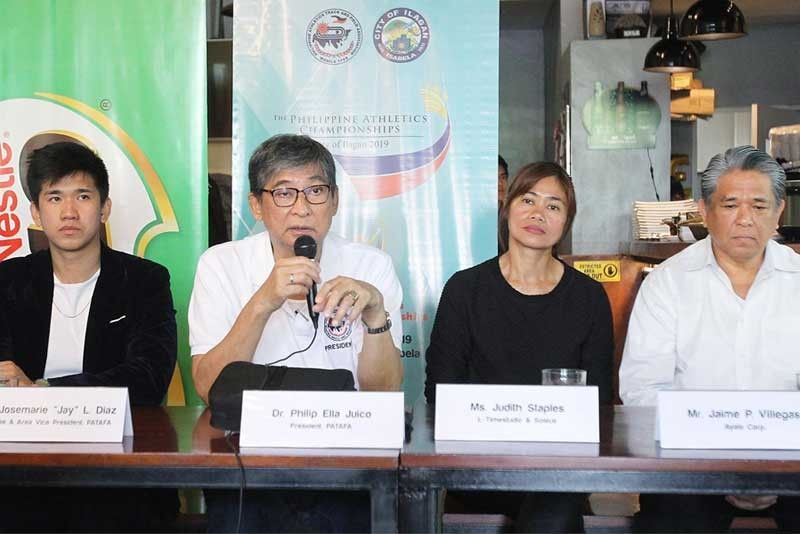 Athletics president Philip Juico (second from left) announces the staging of the 14th SEA Youth Athletics Championships and Philippine Athletics Championships at Ilagan, Isabela. Others in photo are, from left, Jay Diaz, athletics trustee and area vice-president, Judith Staples of L. Timestudio and Soleus and Ayala Corp.'s Jaime Villegas.?
Jun Mendoza
PATAFA holds pre-SEAG international trackfests in March
Olmin Leyba
(The Philippine Star) - January 31, 2019 - 12:00am
MANILA, Philippines — Team Philippines goes full force in two big international trackfests the country is hosting back-to-back – the 14th Southeast Asian Youth Athletics Championships on Mar. 2-3 and the 2019 Philippine Athletics Championship on Mar. 6-8 in Ilagan, Isabela.
Overseas-based aces like Eric Cray, Lily Carter, William Morrison, Alyana Nicolas, Natalie Uy, Kayla Robinson, Kristina Knott and EJ Obiena and Phl-based standouts led by Marestella Torres, Harry Diones and Mary Joy Tabal are set for battle in the PAC against rivals from the 11 Asean countries as well as UAE, Jordan, Hong Kong, Sri Lanka, India, Mongolia and Chinese Taipei.
Middle distance specialist Tara Borlain, meanwhile, leads 20 youngsters from the 13-17 age bracket carrying the fight for Phl against the region's best.
An estimated 1,000 competitors are expected to see action in the two events, which serve as starting point for their buildup to bigger meets such as the Asian trackfest in April and the Southeast Asian Games in November.for the seniors and Asian Youth Athletics Championship Mar. 12-15 in Hong Kong for the youngsters.
"This year, it's going to be a very big one because we have the Southeast Asian Games and the timing of both is rather perfect. The youth teams are preparing for the Asian Youth so many are coming and the seniors will have the Asian Athletics Championships in April," said Philippine Athletics Track and Field Association president Philip Ella Juico during yesterday's press launch in Pasig.
He said the ultimate goal for 2019, is deliver the goods and "put up a good show" in the SEAG on home ground.
"We've got a pretty good team," said Juico, who was joined in the affair by Milo Sports marketing executive Lester Castillo, Ilagan Councilor Jay Diaz, L Time Studio's Judith Staples, and Ayala Corp.'s Jaime Villegas.
"My objective is to surpass the 13 gold medals we got in 1983 (SEAG), which was a record, and I think we can do it with the proper support from the private sector and the PSC (Philippine Sports Commission)," added Juico, who reported that the Phl athletics pool will relocate its training hub to Lingayen, Pangasinan pending release of PSC assistance for their food needs there.
"The venue is 95 percent ready, it's only a matter of putting the finishing touches. As for accommodation, we've added extra rooms at the city hotel and also coordinated with local hotels," said Diaz.