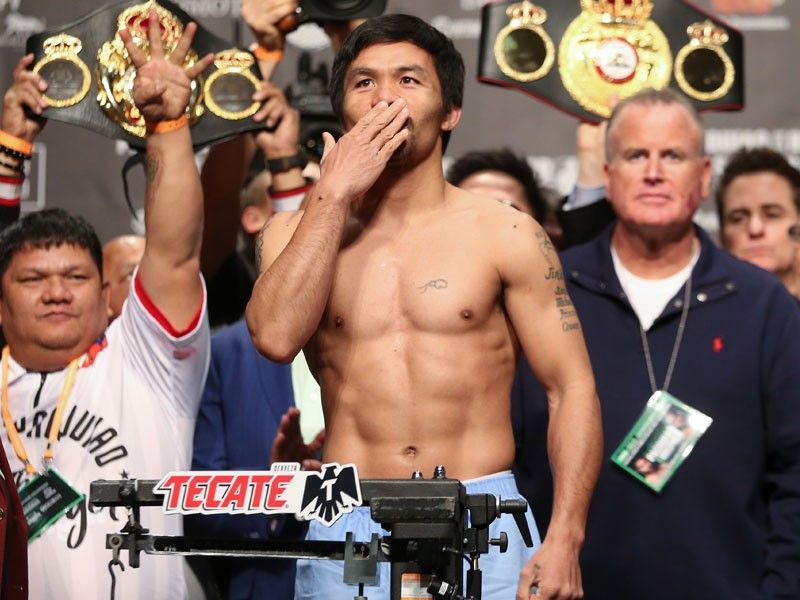 Manny Pacquiao blows a kiss during the official weigh-in Friday at the MGM Grand Garden Arena.
Wendell Ruper Alinea/MP Promotions
Eye patch off: No detached retina for Pacquiao
LOS ANGELES – Manny Pacquiao's left eye was in better condition two days after being scratched during his fight with Adrien Broner, according to one of the Filipino icon's close associates.
Sean Gibbons, an international matchmaker who also manages some of Pacquiao's fighters, shut down rumors that the reigning WBA welterweight champion suffered a detached retina after his 12-round conquest of Broner in Las Vegas.
As concrete proof that his eye has gotten better, Pacquiao took off the patch he had been wearing over it since complaining of pain after the bout.
The fighting senator and his family, who have been staying in an undisclosed location following the break-in at their posh Los Angeles home, spent Monday night watching the NBA game between the Lakers and the visiting Golden State Warriors at the Staples Center.
Not surprisingly, Floyd Mayweather Jr. was in the same building, sitting courtside.
On his Twitter account, Gibbons uploaded a video of Pacquiao and his family arriving at Staples.
January 22, 2019
"Champ feeling great after Saturday night," Gibbons can be heard saying in the background.
Reports swirled on the Internet the other day claiming that instead of a minor injury, Pacquiao suffered a detached retina, which is potentially career-ending.
It was the same eye condition that hounded the great Sugar Ray Leonard.
Gibbons lashed out at those who propagated the information.
"Stupid F reporters writing [expletive] !! Senator had a scratch on the eye !!" he wrote.
Tape on Broner's glove reportedly caused the scratch on Pacquiao's cornea.
Earlier, head trainer Buboy Fernandez, citing information from Pacquiao's doctors, said Pacquiao just needs to rest the eye for at least three days.
"Kailangan lang talaga hindi magalaw nang masyado," he said.
To be sure, however, it's been reported that Pacquiao will have the eye re-examined when he returns to the Philippines sometime this week.