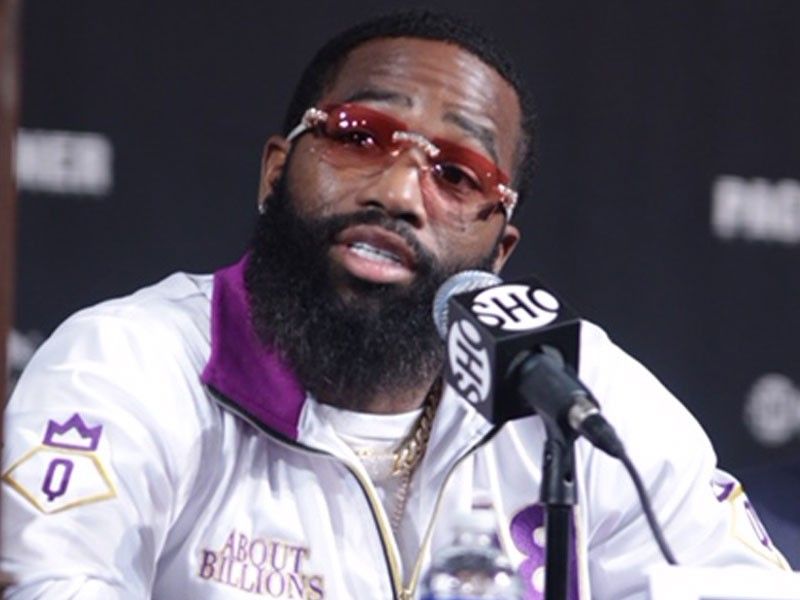 Fearing the beard? Manny Pacquiao's camp has issues with Adrien Broner's beard.
Photo courtesy of Jay Otamias/Philboxing.com
Pacquiao camp wants Broner beard gone
LAS VEGAS – Team Pacquiao has concerns about Adrien Broner's thick beard that they want it either trimmed down or completely shaved off by fight night Saturday at the MGM Grand Garden Arena here (Sunday Manila time).
Pacquiao's head trainer Buboy Fernandez is very vocal against Broner's James Harden-like facial hair, saying it could pose a risk to the Filipino icon when the fight begins.
"Kapag nagdikitan kayo, kapag natusok ang mata mo, paano na ngayon yan? Tayo nga mapuwing lang tayo ng pilik-mata natin, alburuto na tayo di ba (Your eyes might get poked fighting close quarters)?" Fernandez explained in a chat with Filipino scribes Thursday (Friday Manila time).
Fernandez is wary that Broner might take advantage of his inches-thick beard.
"Strategy yan eh. Pwede ka maglagay ng kung ano-ano sa bigote niya. Lagyan mo ng pampatigas, o ano ngayon yan? (It's a strategy. They might think of putting something to make the beard harder)," he added.
Pacquiao's childhood friend said training assistant Freddie Roach is set to raise the issue to the Nevada State Athletic Commission, which will oversee the 12-round welterweight title bout.
Broner had sported the beard prior to his fight with Jessie Vargas last year, but was clean-shaven by the time he set foot on the ring.
Mike Stafford, one of Broner's trainers, said he expects their fighter to do the same against Pacquiao.
But in case Broner decides to keep it just for the sake of annoying his opponent's camp, Team Pacquiao had been told not to worry too much.
"I look at it positively. Kapag nasugatan siya nang meron siyang balbas, mas mahirap patigilin (If Broner gets cut, it would be harder to stop the bleeding). Kasi hindi mo ma-access eh," Los Angeles-based Filipino dentist Dr. Ed Dela Vega.
Dela Vega had worked as Pacquiao's cutman for the Lucas Matthysse fight last year. He also supplies the boxer with high-grade mouthpieces.
"Hindi mo makikita ang cut. Dudugo nang dudugo yun (You won't be able to see the cut. It will just continuously bleed).
For his part, MP Promotions head Joe Ramos just wants Broner to trim it a bit.
"We feel that it's a little bit long that's why we brought it up," said Ramos, adding Pacquiao has been told about the matter.
"But no issue. Whether he has a beard, he has anything, Manny will beat him," he said.