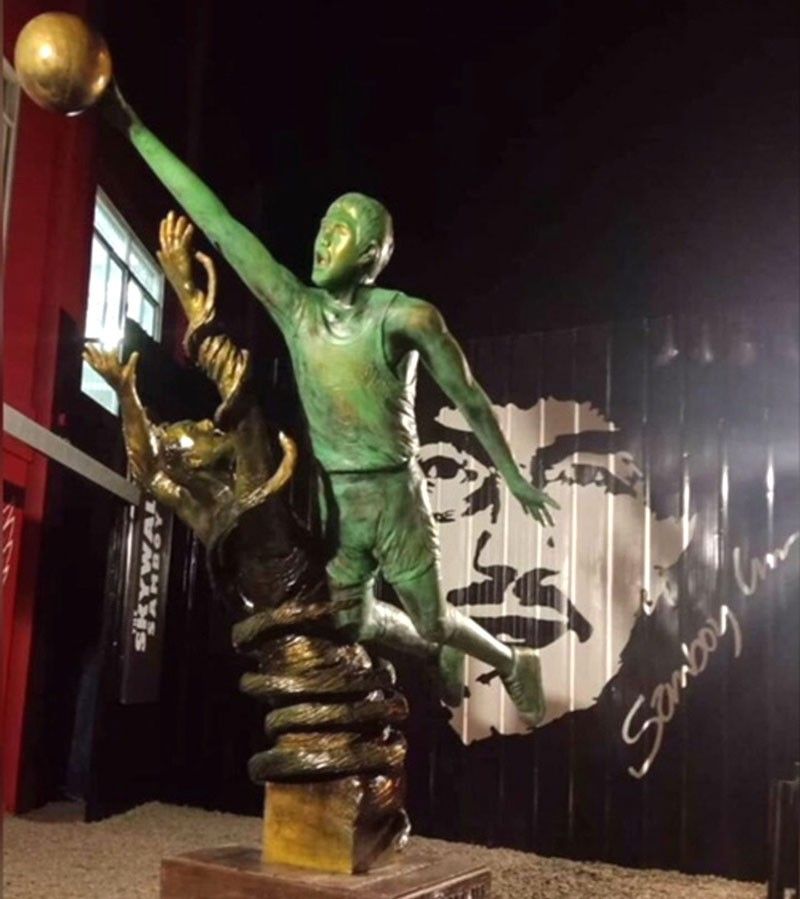 Samboy Lim's statue and mural in Valenzuela.
Samboy Lim's family remains hopeful
MANILA, Philippines — It will be four years to the day on Nov. 28 since PBA legend Samboy Lim suffered a cardiac arrest and lost consciousness during a basketball game at the Ynares Sports Arena in Pasig. He was rushed to The Medical City and admitted in emergency without a pulse. Lim was revived, placed on therapeutic hypothermia for 48 hours, confined for nearly two months and now lives in a Wack Wack condo unit, still unable to see or speak.
Lim, 56, is cared for by a 24-hour nurse, undergoes physical therapy every two days and occupational therapy once a week. In the last two years, he hasn't gone to the hospital for treatment. In his condo building, Lim often leaves his 30th floor unit in a wheelchair to soak in daylight in a fourth floor balcony. Next year, his family hopes he can attend his 21-year-old daughter Jamie's graduation at UP. Jamie, a math major, is in line for summa cum laude honors.
Lim's former wife Lelen Berberabe has supervised his care from Day 1, providing for his every need. "His attention is sometimes better but still not consistent," she said. "Once a week, we feed him through the mouth. He's learning to swallow all over again. We want him to taste gravy, ice cream and the soft food he's given. He is responsive at times. He can open his eyes although his brain isn't able to process sight. When he wants to say yes, he closes his eyes for a few seconds. He has some movement in his right thumb but his left arm can't move so the fingers in his left hand have atrophied. He smiles when we tell funny stories and cries to express emotion. We turn on the TV when there's a PBA game and you can sense that he's listening closely to what's going on."
Lim's brain was without oxygen for roughly 23 minutes as he wasn't administered CPR after his collapse. Damage was severe but there remains activity in the brain. Berberabe said Lim is able to process who his visitors are and has shown signs of memory. "He likes music by Queen so I told him about the movie 'Bohemian Rhapsody' and played his favorite Queen songs," she said. "I always talk about our daughter Jamie who's a karate champion. Jamie's known in school more as Samboy's daughter even if I finished at UP." Berberabe graduated summa cum laude in psychology and was a law school salutatorian at the state university.
For about 3 1/2 years, Lim has been under the care of nurse Elaine Kay Indong. He has never had bed sores and Indong manages the use of splints for his legs, intake of medicine and overall treatment. She's been a blessing to the family. Lim has a feeding tube, called a PEG (percutaneous endoscopic gastrostomy), in his stomach and a tracheostomy tube in his windpipe to ease breathing. Berberabe and Jamie make sure Lim is given maximum care 24/7.
Last Sunday, Lim was honored at the unveiling of a Skywalker statue, mural and emblem by Rep. Eric Martinez in Valenzuela. Martinez' dream is to make Valenzuela the country's basketball capital and he has opened NBA-themed gyms all over the city with tributes to the Boston Celtics, LeBron James, Kobe Bryant, the San Antonio Spurs and Michael Jordan. He also plans to erect statues to honor Philippine legends Caloy Loyzaga, Robert Jaworski, Ramon Fernandez and Allan Caidic. There's a Skywalker league for kids in Valenzuela, too.