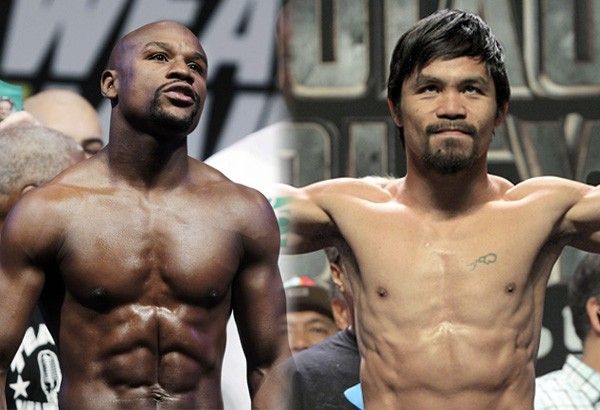 Floyd Mayweather Jr. and Manny Pacquiao
Pacquiao to Mayweather: Easy fight, huh?
MANILA, Philippines – Manny Pacquiao's eyes lit up trying to imagine himself inside the ring with Floyd Mayweather Jr. in a rematch that should happen as soon as possible.
"Easy fight, huh?" Pacquiao said at around 1:30 a.m. Tuesday after a long night of chess with friends at his rented mansion in Dasmarinas Village in Makati.
"Tingnan natin kung hindi pa niya ma-occupy lahat ng sulok ng ring (Let's see if he doesn't end up occupying all corners of the ring)," he said of Mayweather, the most elusive boxer in history.
Pacquiao also confirmed plans of staging his next fight in the United States, regardless of his tax issues and opponent.
"Kahit hindi si Floyd, sa US and laban (Even if it's not Floyd, it's the US). Matagal na ako hindi nakapunta sa US eh (It's been a while I've gone there)," Pacquiao said.
The last time Pacquiao fought in the US was in November 2016, against American Jessie Vargas. He may be looking at Las Vegas as venue.
Pacquiao wants to fight on December 8 but said he could push the date to January 12 or January 19, especially if it's against Mayweather.
"Kaya naman (It's possible)," said Pacquiao, who plans to begin light training by the end of the month. He added that there's no need for a tune-up fight if he'd face Mayweather next.
"Bakit pa? Eh, kakalaban ko lang nung July (What for? I just fought last July)," said Pacquiao, coming off an impressive TKO win over Lucas Matthysse.
Mayweather, he said, won't need any tune-up fight as well, even if the 41-year-old American hasn't fought since beating Conor McGregor in August 2017.
"Mayabang 'yun (He's a braggart). He said it's an easy fight," said Pacquiao, hoping to seal his next fight this week — Mayweather or someone else.
"All the others are available," said Pacquiao, who moved his family to nearby Dasmarinas Village while their Forbes Park home is under renovation.
Prospects of a rematch of their highly-lucrative 2015 encounter shot up after Mayweather and Pacquiao bumped into each other during a rave party in Tokyo last Saturday.
"Maganda kasi nagkahamunan at nagkaprangkahan (It was nice because we challenged each other and there was taunting)," he said.
Mayweather announced that he's coming out of retirement to face Pacquiao in December, and vowed to take away the Filipino's WBA welterweight crown.
"Easy fight, easy payday," Mayweather said.
Pacquiao hinted that talks are on but said there's a very slim chance he would see Mayweather when the latter visits Manila this week.
"Nasa GenSan ako (I'll be in General Santos)," said Pacquiao.
"Kung December, dapat ma-finalize na (If it's December, we need to finalize it)," he said.
But he prefers Mayweather.